Trump's Dismissal of How Bush Habla Español is Trouble for GOP
Are Republicans about to turn Bush's clout with Latinos into a liability?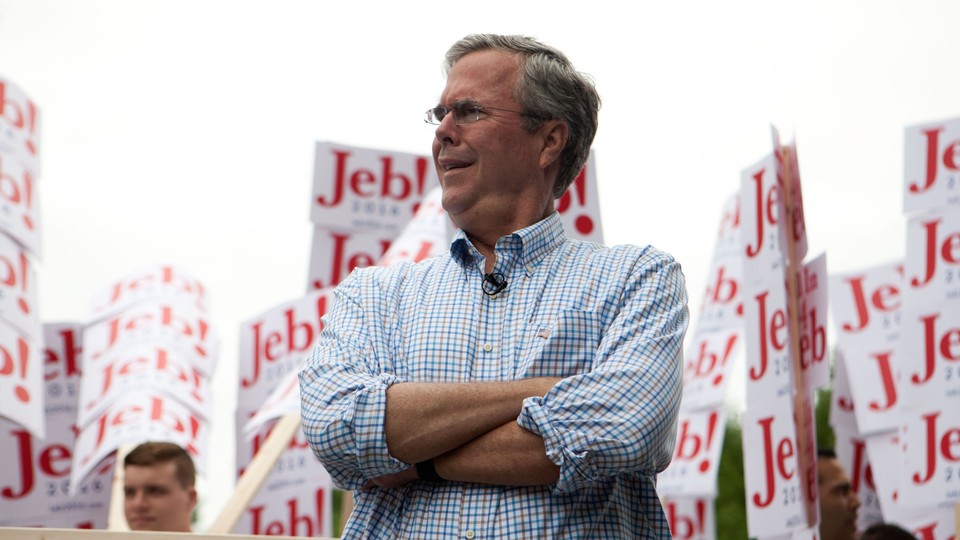 Jeb Bush's Spanish skills have gotten him into some trouble lately. First, the Republican presidential candidate accused Trump of not being a true "conservador" during a campaign stop in Miami. Then he told reporters that the business tycoon only says "barbaridades."
Now Trump is painting Bush's bilingualism as un-American, telling Breitbart news Wednesday that Bush should speak English—not Spanish—in the United States. Another Republican hopeful, Carly Fiorina, echoed Trump's comments Thursday on CNN, stating that English should be the country's official language.
That won't go over well with Latinos, who are already upset at Trump for calling Mexicans "rapists" and for kicking respected Univision anchor Jorge Ramos out of a press conference last week. But so far, Trump's anti-Latino tactics seem to be winning him love from the Republican Party's far-right wing. Meanwhile, Bush is trailing him in the polls.
Bush impressed Latino viewers last month during his debut interview on Spanish-language network television, where he discussed immigration reform and foreign policy in fluent Spanish on Telemundo. But is winning the Latino vote enough to get Bush into the White House?
Trump seems to be betting against that.