What to Watch in the Republican Debate
Really, it's pretty simple.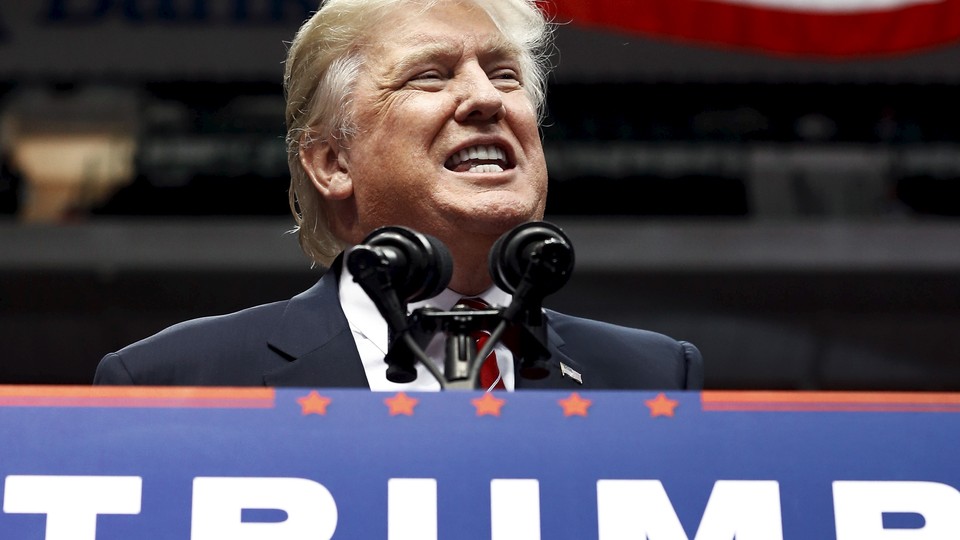 Trump Trump Trump Trump Trump. Trumpety-Trump. Trump-a-Trump; Trump Trump; Trump Trump.
This is what you are going to be watching for in Wednesday's Republican debate—as if I have to tell you.
There will be a number of subplots, such as: How does Donald Trump treat the other candidates?
How do the other candidates treat Donald Trump?
How do the moderators treat Donald Trump, and vice versa?
Which glimmering facet of Trump's unidimensional self will he bring to the stage? (The preening Trump? The egotistical Trump? The self-satisfied Trump? The pompous Trump?)
You will have to watch to find out, won't you?
The debate between the top 11 GOP candidates, broadcast from the Reagan Library in California by CNN, airs at 8 p.m. Eastern, preceded by a debate of four lesser-polling candidates at 6 p.m. You can watch it online.
Trump, the well-established Republican frontrunner, will be flanked onstage by his nearest competitors, beginning with Jeb Bush, who has been aggressively attacking Trump from the right in recent weeks. Bush hopes to make a case to Republican voters turned off by Trump that he's their best alternative, while also rebutting Trump's charge that he is "a low energy person."
Next comes Scott Walker, the onetime Iowa frontrunner whose campaign has been on a sharp downward trajectory in recent weeks. He adopted a meek, above-the-fray strategy in the first debate last month, but is expected to be much more aggressive this time around, as he bids to claw his way back to relevance.
Then there's Ben Carson, the retired neurosurgeon, who has been rising in the polls lately. Like Trump, he is an outsider candidate; unlike Trump, he has a gentle demeanor and appeals to social conservatives. He and Trump have also been feuding lately, with Carson questioning Trump's faith and deftly rebutting Trump's attacks on his energy level: "You don't have to be loud to be energetic."
Ted Cruz, who has cozied up to Trump, comes next; Cruz and Trump recently co-headlined a D.C. rally against the Iran deal, and most observers believe the Texas senator hopes to eventually siphon off Trump's supporters.
Pundits scored Marco Rubio's last debate performance well, but he didn't get a bounce in the polls; he's struggled for oxygen in the crowded field and could use a memorable moment.
Mike Huckabee, who won Iowa in 2008, has struggled for traction this time around; perhaps he can uncork some of his trademark folksiness and remind people why they used to like him.
Rand Paul's once-vaunted campaign has struggled mightily, to the point where he's now an afterthought. He played the attack dog in last month's debate, going hard at Trump and taking on Chris Christie, to no apparent avail.
John Kasich is the candidate pundits perpetually see as a sleeper pick for the GOP establishment; he stood out in the last debate, which was held in Ohio, the state he governs, and is polling well in moderate New Hampshire, where he's aired television ads. But he still ranks near the bottom of the pack nationally.
Christie, the once-formidable New Jersey governor, recently joked he might "go nuclear" if he doesn't get enough debate airtime. Judging by the way his campaign has been going, it might take an actual mushroom cloud to get voters' attention.
Carly Fiorina, who turned in an impressive performance in last month's junior-varsity debate, was the final addition to the lineup. CNN amended its criteria to reflect her sudden (but still relatively small) surge in support. Expectations will be high based on her last effort; she's also recently taken Trump to task for insulting her looks. Moderators are likely to pit Fiorina and Trump against one another, giving her a chance to call out Trump's sexism (something moderator Megyn Kelly tried to do last time).
The happy-hour debate features Rick Santorum, Bobby Jindal, George Pataki, and Lindsey Graham. Rick Perry would have been in it, too, but he dropped out on Friday. Jim Gilmore (ever heard of him? He used to be governor of Virginia) was polling too low even to make the pre-debate; he appears to be a candidate in name only.
But really, we all know this is going to be all about Trump, the Republican Party's impossible conundrum. It's him and a bunch of other candidates, all of whom badly need a breakout performance, on a very crowded stage. The insults will fly, and no one will be happier about that than Trump: As he recently said, "I hope they attack me, because everybody who attacks me is doomed."