Trump and Bush Are Still the Most Talkative GOP Debaters
Fiorina made up for lost time, and Cruz faded into the background.
If the first Republican primary debate in August was like a speak-when-spoken-to Q&A panel, the second in September was more like a free-for-all boxing match. And according to a National Journal tally of how long each candidate spoke, it wasn't always a fair fight.
Unlike the earlier Fox News debate, the moderators were quick to pit candidates against one another with questions designed to instigate arguments and criticism. Time limits were loosely enforced, and candidates were regularly allowed to interject, talk over one another, and derail planned questioning.
That's reflected in the candidates' total speaking times, which were much more lopsided than the first time around.
The two biggest talkers from the first debate—Donald Trump and Jeb Bush—still had the most to say during round two. In each of the two events, they cumulatively accounted for nearly one-third of talking done by candidates.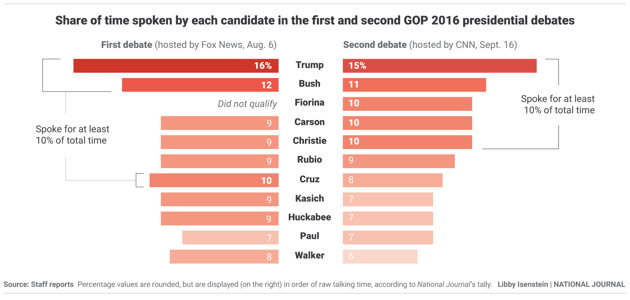 Carly Fiorina and Ted Cruz, on the other hand, saw the most change in this debate. Cruz had ranked third most talkative in August, but he dropped to the bottom five this time around. And while Fiorina's low poll standings disqualified her from the main Fox News debate earlier this summer, she secured the last spot in the second primetime debate thanks to a last-minute rules change by CNN and quickly made up for lost time, narrowly trailing Bush and Trump in airtime.
Trump's and Bush's dominance cannot be solely attributed to their being more vocal than the rest—they were also called on the most.
In the Fox News debate, moderators doled out questions somewhat evenly among candidates. CNN moderators were much less consistent, singling out Trump in a question 20 times, and Bush 13, but addressing less-fortunate candidates like Mike Huckabee and Scott Walker as few as two or four times.