Trey Gowdy Recruited for Majority Leader Race
Multiple members want the Benghazi panel chairman to run, but colleagues are confused about whether he would actually do it.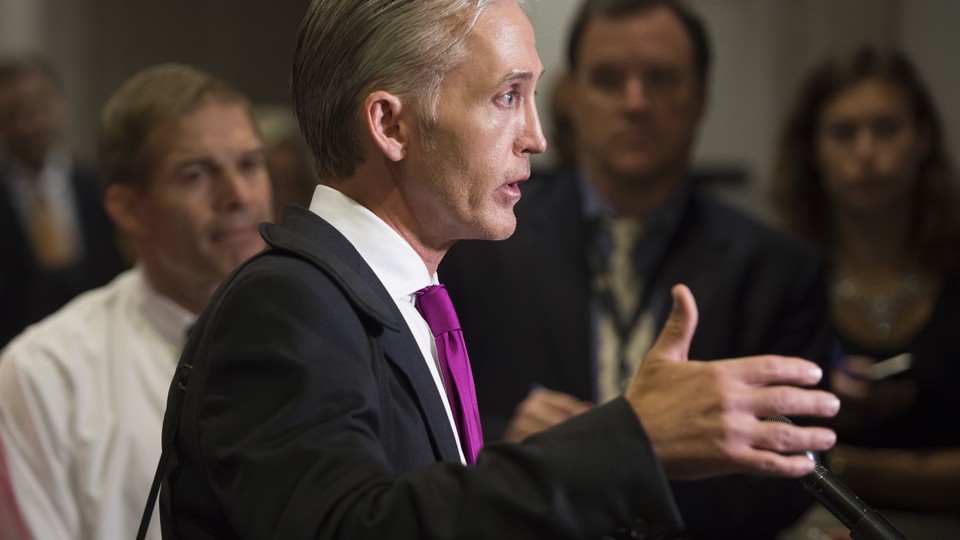 Multiple House Republicans are urging Rep. Trey Gowdy to jump into the race for majority leader, a move that comes as the South Carolina Republican has a high-profile role as chairman of the House Select Committee on Benghazi.
Whether Gowdy actually wants the job—or would accept it if it were pushed on him—was an open question for much of Tuesday.
After multiple members called for him to run for the position, a spokesperson for Gowdy rebuffed the effort Tuesday morning without categorically ruling out a run to replace Majority Leader Kevin McCarthy, who is running for speaker now that John Boehner is stepping down.
"Chairman Gowdy is focused on the Benghazi Committee and will serve in that capacity so long as the committee exists. He appreciates the confidence of his colleagues and looks forward to tonight's conference discussion," the aide said.
A few hours later, Rep. Mick Mulvaney, a fellow South Carolina Republican, said on Facebook and Twitter that Gowdy flatly told him he's not going to run for majority leader.
"I just talked to Trey for 20 minutes. He made it clear to me, in no uncertain terms, that upon further reflection last night and today, he is OUT of any consideration for any leadership position. He wants to focus on his work on the Benghazi commission," Mulvaney wrote.
"While I think he would have been a great majority leader, I absolutely respect this decision," he said.
But Rep. Jason Chaffetz, the chairman of the House Oversight and Government Reform Committee who helped spark the boomlet by touting Gwody on Fox News Channel Tuesday morning, gave a different take on Gowdy's intentions.
"Trey Gowdy is not the kind of person who's going to go out and overtly campaign for it, but if the conference rallies behind him I think he would reluctantly serve. I and a lot of others believe he would do the best job of uniting the conference and making our case to the American people," Chaffetz told reporters during House votes Tuesday afternoon.
Told of Mulvaney's assertion that Gowdy was out of the race, Chaffetz countered: "I've talked to Gowdy as recently as a few minutes ago so I feel pretty confident in that position."
Finally, Gowdy himself delivered what appeared to be a Shermanesque answer Tuesday evening: "I've never run for any leadership position and I don't intend to start now. I don't know how to be any more definitive."
Along with Chaffetz, Rep. Mia Love announced her support for Gowdy on Twitter Tuesday morning. Rep. Lee Zeldin also said Tuesday that he wants Gowdy to run, calling him "an effective leader with tremendous intellect, moral character, charisma, vision, and heart."
If Gowdy entered the race, he would face at least two other lawmakers seeking to replace McCarthy: Steve Scalise, who is currently the majority whip, and House Budget Committee Chairman Tom Price.
Gowdy, who was elected in 2010 after knocking off incumbent GOP Rep. Bob Inglis, has cachet in conservative circles.
The former federal prosecutor is currently best-known for his role as head of the Benghazi panel, which has been aggressively probing Hillary Clinton's use of a private email system as secretary of State, a controversy that's complicating her presidential run.
She's slated to appear before the panel on October 22 in what promises to be among the most high-profile events of the 2016 election season.
This story has been updated.
---
Daniel Newhauser contributed to this article