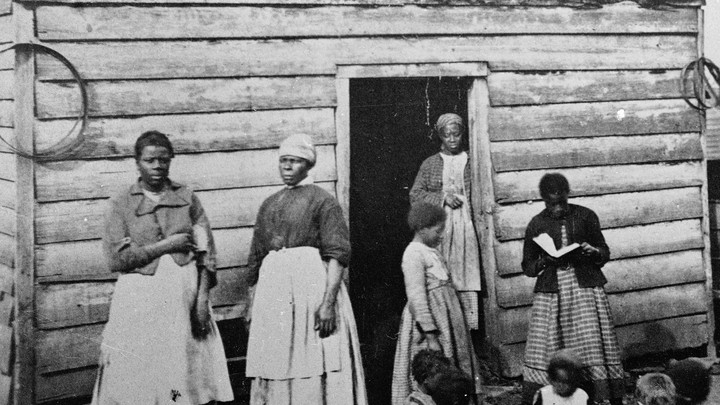 Yesterday, DeRay Mckesson, the civil rights activist and Twitter firebrand best known for his work with the #BlackLivesMatter movement, posted a tweet with the hashtag #GenerationReader. "I'm a 3rd #GenerationReader," he wrote. "My great-grandmother could sign her name. Intergenerational trauma is real." Then he prompted the rest of the Internet: "What #GenerationReader are you?" 
The post garnered narratives ranging from first-generation readers to people who felt reminded of the privilege that comes with having several generations of literacy in their family.
The narratives also bring to light some interesting illiteracy and proficiency data points. Federal education data shows trends for White and Black students.
In the United States today, just a third of all fourth-graders and less than 40 percent of 12th-graders are reading proficiently. For Black children, that figure is less than 20 percent. While that number is depressingly low and has remained relatively constant since the early 1990s, it's better than it was a generation or two ago, when illiteracy was high.
@deray Im a 3rd #GenerationReader My grandparents taught themselves how to read after leaving school at 8yrs old to work in the cotton field

— SpiritualNubian (@NubianQueenIAm) September 24, 2015
After the Civil War, school enrollment among Blacks rose from just 10 percent in 1870 to 34 percent in 1880. In 1870, 80 percent of blacks were illiterate.
During World War I, about a quarter of Black Americans could not read, compared with about 7 percent of the overall population.
I'm a 2nd #GenerationReader my grandmother didn't know the correct spelling of her name for 62 years. https://t.co/nwxEqHH3wh

— Tess. (@MyNamesTessa) September 24, 2015
I'm a 1st #GenerationReader. My father could sign his name. His words of wisdom have withstood the test of time. https://t.co/4RWF5iP4ac

— Martha Bryant (@mhawkusa) September 25, 2015
By the end of World War II, more than 97 percent of Americans could read. But illiteracy among Black Americans was high, at 11 percent, due to a combination of racism, segregation, lack of access to quality education, and poverty.
By 1979, national illiteracy was at less than 1 percent, and Black illiteracy was at 1.6 percent. Yet Blacks continue to disproportionately attend high-poverty schools with fewer resources.
I'm a 2nd #GenerationReader, but just barely. Grandma needs help signing her name. What #GenerationReader are you? https://t.co/DwucOrsJep

— Olivia Cheng (@heyits0livia) September 24, 2015
While illiteracy has largely disappeared, actual reading proficiency remains stubbornly low for all racial groups. Slightly less than half of Asian and White 12th-graders are considered proficient, while less than a quarter of Latinos are proficient, and just 16 percent of Black 12th-graders read proficiently.
Thanks @deray for #generationreader; as a 4th+ generation reader, it has been an important reminder of privilege I take for granted.

— Kate McKiernan (@k8egreen) September 25, 2015
i'm a 4th #GenerationReader. Never thought abt how much of a blessing that is til just now. https://t.co/nhFuGU5WKq

— Prof. TrillHoney (@AllSheDoIzFLYY) September 24, 2015
isn't it worth celebrating black writers' triumphs in a craft many of our ancestors couldn't even access? #generationreader

— Porscha (@Porscha_) September 25, 2015
This story is part of our Next America: Workforce project, which is supported by a grant from the Annie E. Casey Foundation.
We want to hear what you think about this article. Submit a letter to the editor or write to letters@theatlantic.com.
Emily Jan
is the art director of TheAtlantic.com.
Emily DeRuy
is a former staff writer at
The Atlantic
, where she covered education.