This Group of Georgia Latinas Transforms Jobs Into Formal Businesses
Women entrepreneurs bond over business plans and common experiences at one nonprofit.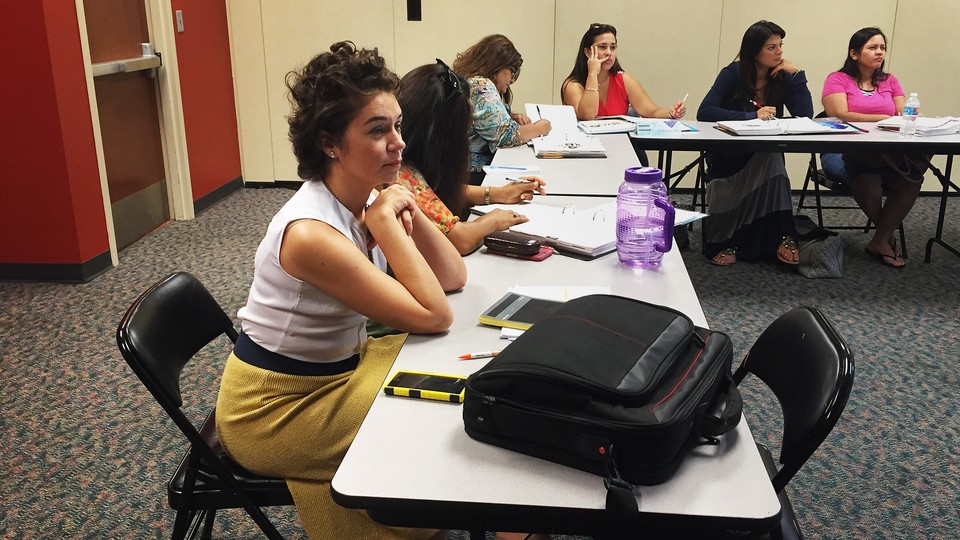 ATLANTA—Maria Soledad Azuri could see the city changing.
More Latino immigrants were making their way here, following a building boom sparked by the 1996 Olympics. At the same time, the number of women starting businesses in this southeastern hub was climbing.
Both of those things were established facts. But what the 37-year-old licensed social worker saw, and what was so often overlooked, was that the two were inextricably linked. Latina immigrants were becoming a formidable economic force in Atlanta.
What Azuri saw, too, was a void. There were organizations helping immigrants and groups supporting women business owners. But no one was working to empower Latina business owners specifically.
"If we want to start making a dent in underemployment," she said at her Atlanta office during a brief lunch break recently, "this is it."
So the Latin American Association, a nonprofit that has been working since 1972 to provide social and legal services to Atlanta's Latino community, brought Azuri on in July of last year to launch and manage its Latinas' Economic Empowerment Program.
The response has been overwhelming.
Free evening and weekend classes in Spanish educate women about business plans, social-media strategies, and filing the paperwork necessary to transform informal cleaning services and trucking operations into professional businesses.
"We want to do things for ourselves," said Virginia Torres, a 53-year-old Mexican immigrant who has worked retail for years but would like to open a Mexican folk art and clothing business.
"It's like I have a puzzle, but I don't know how to put it together," said Maria Portales, 37, a Colombian immigrant who wants to expand her eco-cleaning service. "I get that from here."
That the classes are in Spanish is important, but what really draws these women is the sense of community, the acknowledgement by Azuri and her instructors that simply translating a business course aimed at American-born women doesn't cut it.
There are so many social, psychological, and cultural factors at play, said Azuri. "We can't not account for those things."
Torres, a Georgia resident for 27 years, has been sexually harassed and verbally assaulted. She remembers an aggressive male customer demanding to see her ID when she carded him at the gas station where she worked 15 years ago. Back then, there weren't many other Latinas around who knew what she was going through.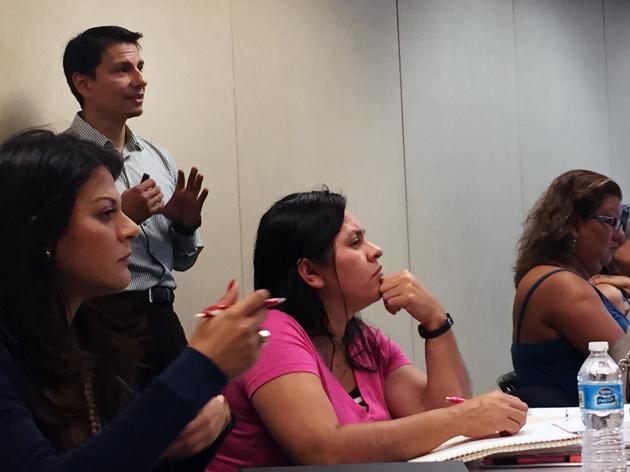 "The isolation that marginalization brings is deafening," Azuri said. "Belonging is a huge determinant of people's economic success."
So in addition to talking about business strategies, women talk about raising children in an unfamiliar country and immigration worries. Some without papers were nervous about sign-in sheets at schools because they thought the forms might make their way to immigration enforcement. Azuri made sure to clarify that's not the case. One Peruvian OB-GYN who can't practice in the U.S. was shocked at the licensing barriers and sheer cost of living. The women talk about the depression that can result from leaving a lucrative job to carve out a new life from scratch.
"There's nothing else like it here," Azuri said of the program.
The need appears to be increasing, too.
Georgia has topped the nation in the growth of women-owned businesses in the past couple of years, with significant gains among Latinas. Since the late '90s, the number of Latina-owned businesses in Georgia has climbed more than 325 percent to around 15,000. The purchasing power of the state's Latinos totaled $17.6 billion in 2014, up 1,232 percent since 1990.
Yet, poverty remains a debilitating issue within the community. So many of the businesses operate in the dark economy, without the bank loans and licenses that could help them flourish. Azuri estimates that most of the women in her classes are supporting four- or five-person families on less than $28,000.
In many ways, these women have been driven toward launching their own professional businesses out of necessity.
Many Latino families in the Atlanta area were hit hard by the loss of construction jobs during the Great Recession. Juan Peralta, an instructor here, has seen a recent increase in the number of women forced to make ends meet because their husbands were deported. Azuri also noticed a recent spike in women fleeing violence and poverty in Central America.
Backed by a $300,000 grant from the Coca-Cola Foundation, the program has served several hundred women with free business classes and learning materials since October. In the next couple of years, the plan is to give more than two dozen women entrepreneurs microloans to help them lift their families out of poverty.
But it's about far more than the money for the women. It's about finding, finally, a community and regaining the confidence to pursue their version of the American Dream.