The U.S. Isn't Doing Much to Resettle Syrian Refugees. That Probably Won't Change.
Political pressure and a daunting screening process make it hard for the U.S. to accept many more Syrian refugees.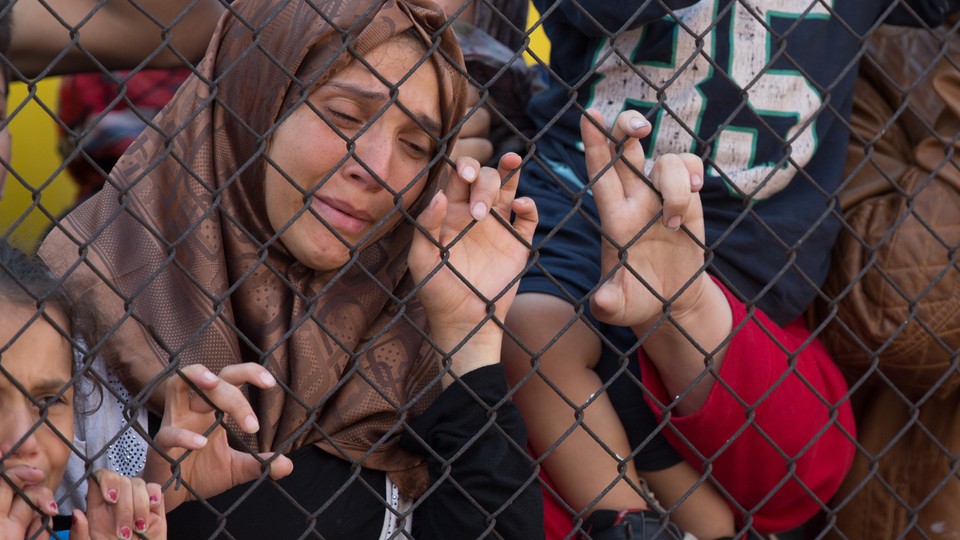 The image of a drowned 3-year-old boy in small sneakers has revitalized the call from humanitarian groups asking the world to protect fleeing Syrians.
But it is not just European countries who are grappling with how to absorb the 4 million Syrians who have fled their country since the beginning of the unrest and an estimated 130,000 who are estimated to need to be permanently resettled. The Obama administration is facing mounting pressure to accept more refugees for resettlement here at home.
As the deadline looms for the administration to set annual refugee target numbers at the end of September, aid groups and a coalition of members on Capitol Hill are asking the president to dramatically increase the number of Syrian refugees admitted to the U.S. In 2015, the U.S. had a target of allowing 70,000 refugees total into the United States. Refugee advocates and senators want to see that number almost doubled. They want 65,000 Syrian refugees—half of the total number that the United Nations estimates will need to be relocated—to be resettled in the United States by the end of 2016.
"The Syrian refugee crisis is perhaps the most serious challenge to the legal obligation to protect refugees since World War II," 14 Democratic senators wrote in a letter to the president in May. "We cannot expect countries hosting Syrian refugees to continue shouldering such a disproportionate burden if the United States and other industrialized countries do not begin resettling many more Syrian refugees."
The annual Presidential Determination on Refugee Admissions is about to be set and advocates see it as an opportunity. It broadly outlines the number of refugees to be resettled from various regions. The numbers are meant to be targets, not caps, but sometimes—as in the case of volatile regions like the middle east—the number of actual refugees resettled in the U.S. falls far below the targets that are set. In 2015, for example, the U.S. government set a target to allow 33,000 refugees into the U.S. from the "Near East and South Asia," but only 18,570 were actually admitted as of the end of July. Of those, just more than 1,000 were Syrian refugees.
Raising that number to 65,000 spaces for Syrians alone is considered highly unlikely, especially in an upcoming presidential election year in which GOP candidates such as Donald Trump have made inroads with voters by echoing anti-immigrant sentiments.
"The conflation of Islamophobic arguments with the Syrian refugee crisis has become a perfect storm," says Naomi Steinberg, the director of Refugee Council USA, a coalition of nongovernmental groups that assist refugees. "It has become deeply troubling."
Leaders of the House and Senate Judiciary committees and a small group of other House and Senate members will meet Wednesday with Secretary of State John Kerry and Assistant Secretary for Population, Refugees, and Migration Anne Richard to discuss the annual refugee admissions numbers.
Ultimately, the decision will fall to the White House. It does not appear that the White House is interested in drastically expanding the number of refugees being admitted.
During the White House briefing Thursday, press secretary Josh Earnest told reporters that "there is certainly capacity in Europe to deal with this problem and the United States certainly stands with our European partners."
In a letter to Sen. Dick Durbin in July, the State Department also lent little indication that the administration was ready to significantly boost the number of Syrian refugees admitted to the U.S.
"The United States anticipates admitting 1,000 to 1,500 Syrian refugees for permanent resettlement in Fiscal Year 2015 and a somewhat higher number, though still in the low thousands, in FY 2016," Julia Frifield, the assistant secretary of legislative affairs at the State Department wrote. "Measured against more than four million Syrian refugees currently hosted in the Middle East, our program is a modest but important contribution to the global effort to address the Syrian refugee crisis."
One of the greatest obstacles, refugee advocates say, is that important U.S. security checks on refugees, especially since 9/11, are highly involved and take months, and sometimes even years, to process. Each refugee must be interviewed by a Homeland Security Department official, and undergo cultural orientation and health screenings. In the volatile Middle East, carrying out those interviews takes time and can be dangerous.
"We probably should be committing to a much larger number than we have so far, but even if we did the refugees would not be coming in any more quickly," says Daryl Grisgraber, a senior advocate at Refugees International who specializes in the displacement crisis in the Middle East.
For Syrian refugees who have been in war zones where terrorist groups such as ISIS are present, the process can take even longer. Advocates say some refugees fleeing may have been forced to interact with groups like ISIS, or even pay ransoms to keep family members alive. Sorting out which interactions are security breaches and which were key to a refugee's survival is a tedious process.
"People are being forced into all kinds of desperate things during wartime. We cannot say these people are not eligible for resettlement because they gave a drink of water to an enemy combatant," says Grisgraber.
Still, it is for those reasons that some members on Capitol Hill have spoken out against increasing the number of Syrian refugees.
In a letter to National Security Adviser Susan Rice in January, House Homeland Security Chairman Michael McCaul, a Republican from Texas, wrote that the administration could "not allow the refugee process to become a backdoor for jihadists."
"The resettlement of such a high number of Syrian refugees raises serious national security concerns." McCaul wrote with other members. "The United States has a proud history of welcoming refugees from all over the world, however, the Syrian conflict is a special case."
The plight of Syrian refugees has even become a focal campaign point for 2016 candidates. Despite a humanitarian crisis, Democratic contender Hillary Clinton avoided a clear answer as to how much and whether the refugee target numbers should be raised. She instead said in a Friday interview with MSNBC that "I think the entire world has to come together. It should not be just one or two countries or not just Europe and the United States. We should do our part, as should the Europeans. But this is a broader, global crisis."
Meanwhile, one of her primary opponents, former Maryland Gov. Martin O'Malley, released a statement calling for 65,000 Syrian refugees to be admitted to the U.S. by the end of 2016.
Republicans have used the Syrian refugee crisis to attack Obama's foreign policy.
According to The Washington Post, New Jersey Gov. Chris Christie told voters in New Hampshire that "this president has allowed these folks to be slaughtered." Rubio told Fox News that the refugee crisis was in part due to the fact that the Obama administration had moved too slowly on their policy in Syria.
The decision about Syrian refugees is Obama's, but there is not a lot of optimism that the White House is prepared to open the U.S. to tens of thousands of Syrians just yet.