The Troubling Case of Richard Glossip
He was scheduled to be executed Wednesday evening, but an Oklahoma court granted a last-minute stay to consider evidence Glossip may be innocent.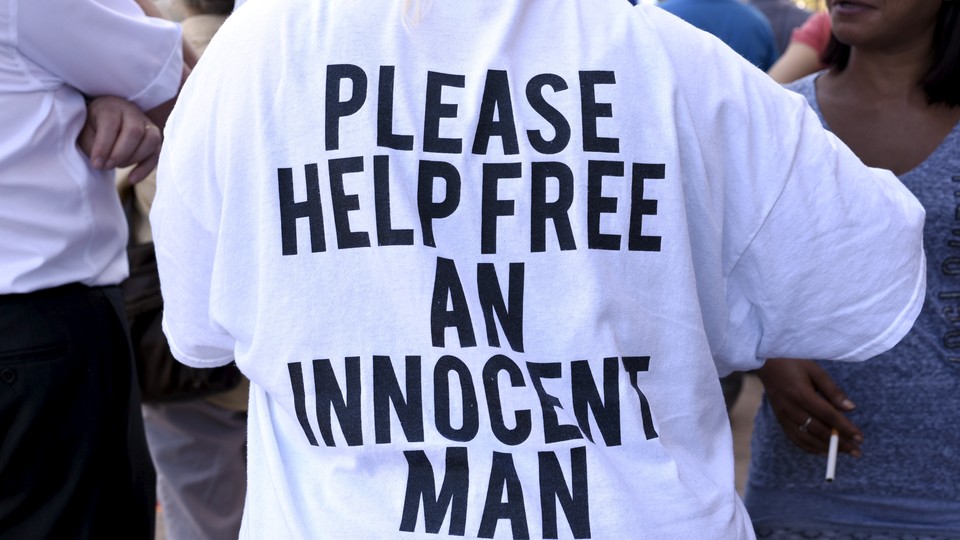 Updated on September 16 at 1:17 p.m. ET
Oklahoma's highest criminal-appeals court granted Richard Glossip an eleventh-hour stay of execution Wednesday until September 30 to hear new evidence he may have been framed.
Glossip's name is already synonymous with the problems plaguing American capital punishment. After the botched execution of Clayton Lockett in Oklahoma last year, he and three other death-row inmates sued the state department of corrections to prevent their own executions with the controversial sedative midazolam. In Glossip v. Gross, the U.S. Supreme Court upheld Oklahoma's lethal-injection protocol in a sharply divided 5-4 opinion.
Now, Glossip is challenging his conviction itself on grounds of innocence. A number of excellent reporters have written extensively about the case and the questions swirling around it. Liliana Segura and Jordan Smith at The Intercept first wrote about Glossip's case in July, just days after the Supreme Court ruled against him and the other death-row inmates.
All sides agree that Justin Sneed fatally bludgeoned motel owner Barry Van Treese to death in January of 1998. But the stories diverge on whether Glossip commissioned Sneed to commit their boss's murder. Murder-for-hire can make the conspirator eligible for the death penalty in many states, even if he or she was not present at the murder. But Segura and Smith reported that Sneed's daughter tried to alert Oklahoma officials last October that her father's testimony about Glossip's role in the murder could be inaccurate:
In a letter to the Oklahoma Pardon and Parole Board, she wrote that, based on her many communications with her dad, she "strongly believe[s]" that Richard Glossip is an innocent man. "For a couple of years now, my father has been talking to me about recanting his original testimony," she wrote. "I feel his conscious [sic] is getting to him."
The case for Glossip's innocence hinges solely on whether or not Sneed lied. His motive would be obvious: Prosecutors spared Sneed the death penalty in exchange for his testimony against Glossip. In a recent interview with Cary Aspinwall at The Frontier, Sneed refused to recant his earlier testimony that Glossip paid him to commit murder. According to Aspinwall, Sneed's family members suggest his daughter was manipulated into sending the letter, which didn't reach the parole board in time to be considered.
As concerns about Glossip's possible innocence grew over the summer, a broad array of public figures urged Oklahoma Governor Mary Fallin to stay Glossip's execution for 60 days to allow new evidence to be heard, including Sister Helen Prejean, former Senator Tom Coburn, and former University of Oklahoma head coach Barry Switzer. Oklahoma City District Attorney David Prater dismissed their efforts a "bullshit P.R. campaign" on Monday.
Fallin announced Tuesday she saw "no reason to cast doubt on the guilty verdict reached by the jury or to delay Glossip's sentence of death" and ruled out a temporary reprieve. Glossip's legal team then petitioned the Oklahoma Court of Criminal Appeals, the state's highest criminal-appeals court, to intervene. The court granted the stay less than eight hours before his scheduled execution at 5 p.m.