Kim Davis Is Winning
The Rowan County Clerk's resistance to the erosion of religious liberty is reenergizing the broader movement.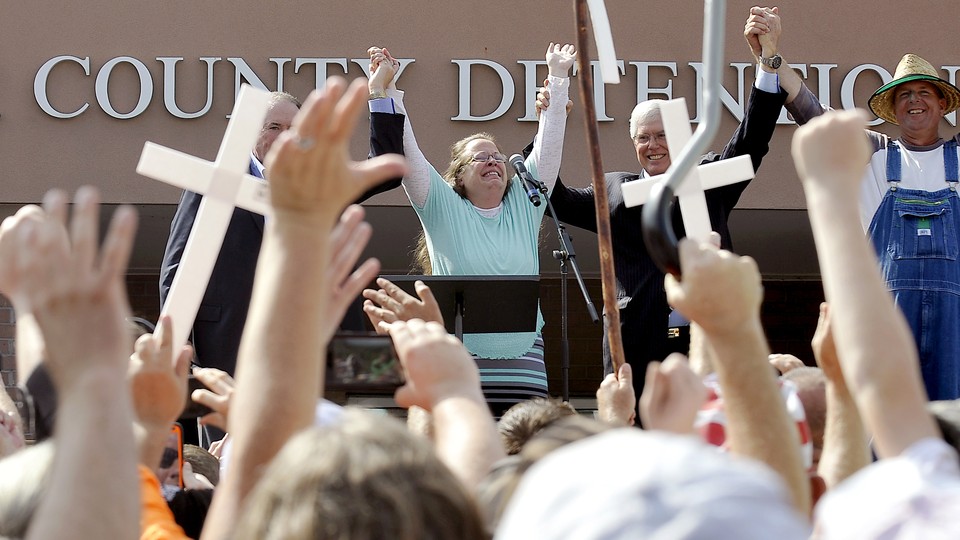 After Obergefell came down, Kim Davis wasn't the only clerk who objected to same-sex marriage. She was just the only one who refused either to perform her job, or quit it. In Texas, Rusk County Clerk Joyce Lewis-Kugle stepped down, as did Live Oak County Clerk Karen Irving. Cleburn County, Arkansas, lost its clerk, as did Grenada County, Mississippi; the clerks office in Decatur County, Tennessee, lost its entire staff.
As it became clear that the clerk of Rowan County, Kentucky, wasn't going to back down, she was roundly mocked on political left. Religious-freedom cases will emerge in light of same-sex marriage, legal experts said, but this isn't the winner; after all, clerks are government employees, tasked with executing laws.
Welp, Kim Davis and her lawyers just tussled with a federal judge, and they pretty much whooped him.
To review what's happened so far: Shortly after the Supreme Court legalized same-sex marriage in June, Kim Davis instructed the employees in her office to stop issuing marriage licenses, whether for gay or straight couples. She maintained that signing her name to same-sex marriage licenses would be a violation of her religious beliefs, and since she's the Rowan County clerk, this would include any license from the office that carried her name. In the middle of August, U.S. District Judge David Bunning ordered Davis to start issuing marriage licenses again. Davis refused to comply. Last Thursday, Bunning held her in contempt of court, and Davis spent Labor Day weekend in jail.
On Tuesday, though, Bunning reversed course.
After remanding Defendant Davis to the custody of the U.S. Marshal, five of her six deputy clerks stated under oath that they would comply with the Court's Order and issue marriage licenses to all legally eligible couples.

On September 8, 2015, Plaintiffs filed a Status Report at the Court's behest. According to the Report, Plaintiffs have obtained marriage licenses from the Rowan County Clerk's Office.1 The Court is therefore satisfied that the Rowan County Clerk's Office is fulfilling its obligation to issue marriage licenses to all legally eligible couples, consistent with the U.S. Supreme Court's holding in Obergefell and this Court's August 12, 2015 Order. For these reasons, the Court's prior contempt sanction against Defendant Davis is hereby lifted.
This is not a total victory for Davis—the order comes with pretty specific requirements for the clerk and her employees. For one thing, people have to be able to get a marriage licenses from the Rowan County Clerk's Office: "Davis shall not interfere in any way, directly or indirectly, with the efforts of her deputy clerks to issue marriage licenses to all legally eligible couples," Bunning wrote in stern bolds. Lawyers representing the Clerk's Office have to file a status report every two weeks for the foreseeable future, ensuring that five of the six deputy clerks of Rowan County are complying with the law.
Davis's lawyers, however, have said she's not satisfied with this arrangement; she claims that any marriage license that carries either her name or the name of her office would be a burden on her religious exercise. So, unless marriage licenses start carrying the name of another office, like the county executive, Davis will still have objections.The communications director at Liberty Counsel, the law office that's representing Davis, said Davis won't return to work until Friday or Monday. If she once again orders her deputies to stop issuing marriage licenses, she might be heading back to jail.
The gay-rights movement won with images of loving couples. The religious-liberty movement will win with images of jailed Christian women.
The judge has not shown much regard for the legal merits of Davis's claims, and it's far from clear that she's chosen the right venue for her complaints. But this is a political fight as much as it is a legal one. Increasingly, religious conservatives fear there will not be space in public life for those who oppose same-sex marriage, especially after the defeat of Obergefell. Davis embodies resistance to the perceived silencing of religious viewpoints. As soon as Bunning ordered Davis into the custody of federal marshals, the optics were lost. Just as the gay-rights movement won the marriage fight with images of loving couples and happy, gay-parented children, so the religious-liberty movement is bolstered by images of middle-aged women jailed for defending their beliefs.
As if things in Kentucky weren't already legally tangled, Bunning has now effectively granted a religious accommodation to Davis. Rowan County may just be the beginning. Davis, an elected official, can't be fired. To remove her from office, the governor would have to call a special session of the state legislature, and hope that it would vote to impeach her.
And a special session may be coming, but if so, it seems more likely to have a very different purpose. According to the Lexington Herald-Leader, "57 of the state's 120 elected county clerks have asked Governor Beshear to call a special session of the state legislature to address religious concerns related to same-sex marriage licenses." And all those attorneys general who were gearing up for a fight in the days after Obergefell have now seen that it's possible to score political points by fighting these sorts of cases, whether or not they can prevail on the legal merits.
But most of all, the Davis case should serve as a reminder to the left that religious-freedom claims are potent, especially in the 21 states, like Kentucky, that have special laws protecting religious groups. From birth control to same-sex weddings, many recent religious-freedom claims have depended on symbols, like signing your name to a government form or baking a cake for a ceremony. Go ahead and scoff, but meanwhile, Kim Davis will have her next victory speech ready for a press conference full of supporters.