The Science Teacher
For Lamar Smith, serving as chairman means being a recruiter and an evangelist for a panel that gets to "explore the universe."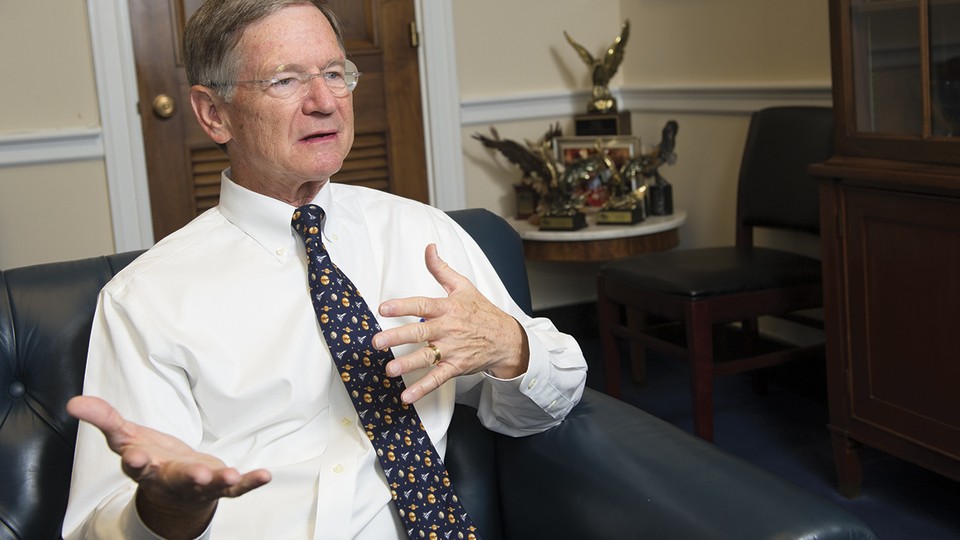 With a burst of energy, Rep. Lamar Smith led me into his Rayburn office one Thursday morning in September. The Texas Republican showed off his office gem: a framed photograph of a picture taken by the Hubble Space Telescope. He pointed to his tie sprinkled with space shuttles and planets and stars, and then told of another, one adorned with a large picture of a rocket blasting off into space, gifted to him by Buzz Aldrin, the second astronaut to walk on the moon.
Smith sat down on the couch, and, as he dove into a conversation about some of his favorite topics—science, space, and technology—he handed me a piece of paper with a collage of pictures: students working with technology; a DNA strand; a motherboard; an astronaut; a scientist; and a quote in the center that states, "The Science Committee offers members the opportunity to play an exciting part in the discoveries of science, the exploration of space, and the application of new innovations."
That sheet is part of a PowerPoint presentation he made to the powerful GOP panel—the steering committee—that wound up choosing Smith as chairman. And it's a tool he uses to recruit members. At the start of the session, Smith analyzed the biographies of incoming freshmen to see if their district or personal interests aligned with the committee's jurisdiction. He then sent an explanation of the committee to almost half of the new class, a recruiting tactic that has helped garner more interest than there are vacancies.
"That, I think, has led to members wanting to be active, led to members wanting to show their interest," Smith says. "And I don't want to limit this to Republicans—I think Democrats are interested in the committee's jurisdiction, too—but it's nice to see some of the Republicans who are excited about being on the committee, and that was the goal, and I think we have achieved it."
For Smith—who's in his second term as chairman and has served on the committee since he came to the Hill—working for the Science, Space, and Technology Committee isn't just part of the congressional daily grind but rather the natural outcome of a lifelong interest in the panel's jurisdiction. In high school, he won the Bausch & Lomb science award. In college, he took physics and astronomy. When he was in law school, he obtained his private pilot's license.
But this is just who Smith is: hardworking to the bone. It's not unusual for him to wake up at 5 a.m. and leave the office around 11:30 p.m. He's been known to read a book and then send his committee members a report.
"He will say, 'I read this book, and here's a summary of what I learned, and I recommend it' or 'I don't,'" said Rep. Cynthia Lummis, who is no longer on the committee but chaired the Energy Subcommittee last session.
And the Wyoming Republican added heaps of praise: "Honestly, in terms of teaching new members how to chair a committee on a bipartisan basis, respectfully and with success, there's no better teacher. There are some people that you would hope that every member would have an opportunity to serve under when they arrive here as an example of exemplary leadership. Lamar Smith is one of them."
There are some who say the committee has a history of bipartisanship but has become more divided in recent years. The ranking member, Rep. Eddie Bernice Johnson, said she has a good working relationship with Smith but that she's frustrated with partisan fighting. "It's disheartening because I think it's just a waste of time for such an important committee," the Texas Democrat said.
Smith bragged that a number of bills out of the committee have already passed on the House floor, with a significant number having Democratic cosponsors. (Johnson referred to some of the bipartisan bills as "minor.")
But boiled down, Smith's argument is this: There are some philosophical areas where Democrats and Republicans are simply going to disagree. And then there's the panel's aggressive oversight of the Environmental Protection Agency.
"Obviously, when you conduct active oversight of the administration, there are going to be some people who want to try to protect the administration—but that is the responsibility of any committee—but we really had been active in our oversight of the administration because it's so well deserved, so that will continue," Smith said.
During our interview, he proudly pointed to a committee fact: He was the first House Science, Space and Technology Committee chairman in 21 years to issue a subpoena. And he's issued not only one, but six, during his tenure as chairman.
The Science Committee was one of several panels to receive a new privilege this year: unilateral subpoena power, which means Smith can issue a subpoena simply with his own signature.
"[I] appreciated the faith that the leadership is showing in us to give us that authority and responsibility," Smith said. "We don't take it lightly. We have a procedure."
That procedure is a three-pronged approach. First, the committee requests information. Second, it sends a follow-up saying the committee is serious about the request. And lastly, the panel sends a message that says if its request isn't granted, then it will be forced to use the "compulsory process" (read: subpoena).
While aggressive oversight of the White House is committee practice, that hasn't lost Smith respect across the aisle. And Smith doesn't close himself off from Democrats. He's easy to reach, said Rep. Alan Grayson, the Energy Subcommittee ranking member. Whether it's over text, phone, or on the House floor, the Florida Democrat said he can always discuss committee ideas with Smith directly.
"We don't always agree, but I always get a fair hearing. But when we do agree, the fact that I'm a Democrat is never held against me," Grayson said. He added: "[Smith] has a deep appreciation for the potential of committee legislation improving science, improving technology, and creating a better life for Americans. He's dedicated to his work."
Smith radiates love for the committee's subject matter. In the 1990s, Hubble released its first "Deep Field" photograph. The space telescope had taken pictures in a dark spot of sky, and what came back was a photograph dotted with galaxies. Smith was enamored with the picture. He had copies printed, passing out a total of about 1,500 of those photographs to his constituents in a year. And this photo, framed and hanging in sight of his desk, is that office gem he so enthusiastically pointed to at the start of our interview.
"People want to know why we explore the universe. That's as good of an answer as I can give them, is, 'Think what was in that tiny speck of sky where nothing was thought to exist,'" Smith said. "That says something about the infinitude of space. It says something about how much we have yet to learn about the universe."