The Republican Presidential Debate: Everyone Thinks They're the Winner
"It was a beautiful time." "Went great." "I can't complain too much."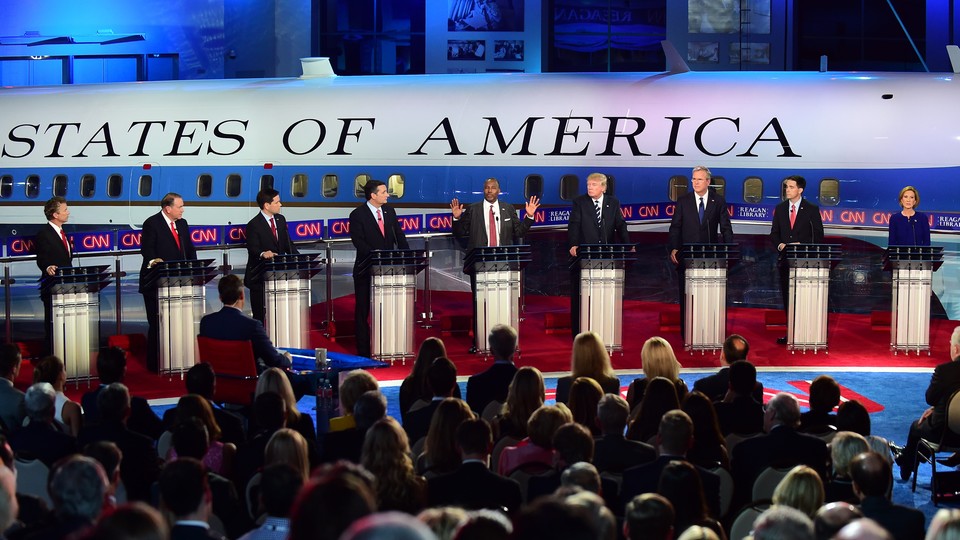 In the second debate of the 2016 presidential cycle, everyone was a winner—that is, according to the candidates themselves.
In postdebate interviews and releases, the candidates stuck to similar scripts: The debate was too long, but somehow they didn't get enough time to speak; opponents performed well, but they were better. And then there was Bobby Jindal, whose camp claimed he "neutered" establishment opponents.
Here, a roundup of what the candidates on both the top and bottom rungs had in the way of self-evaluation.
DONALD TRUMP
"It was a beautiful time, I had an amazing time," Trump told CNN immediately following the three-hour prime-time debate.
He had fairly high praise for the 10 people he shared the stage with: No one "did poorly," he said. Trump was impressed with each contender's performance.
When CNN asked Trump if he feels he's a head above his fellow Republicans, the mogul demurred, claiming that he'd "never say" he stands above the rest. Then, moments later, he did: "Everybody did well, but I think I did very well."
CARLY FIORINA
The Fiorina campaign issued a release in the wee hours of Thursday morning saying she "established herself as the strongest leader on that debate stage." But in an interview a few hours later on MSNBC's Morning Joe, Fiorina played it more modestly.
"I went into this debate understanding that half the people watching had never heard my name and didn't know I was running for president. ... There were things that I wanted to say last night and then there are other things that you need to say based on what's happening around you," she said. "I was satisfied that I said what I needed to say last night."
Pushed to respond to what one of the hosts characterized as an "overwhelming" positive response to her performance, she said she's "gratified," but didn't go any further.
She said she hopes what "people saw last night is that I can win this job and I can do this job."
CHRIS CHRISTIE
The New Jersey governor told Morning Joe's anchors that he felt "pretty good this morning":
He didn't get too much time, as the morning-show hosts noted. "I did the best I could last night with the time they gave me," Christie said.
The Morning Joe anchors said he spent about seven minutes speaking in the three-hour debate; NPR tallied it at a little over 12.
"With me ... it's always been about quality not quantity," he joked, later elaborating that he'd like to have more airtime. "I think we all would," he said. "But I didn't feel like anybody stepped on me last night, I got to say the things I wanted to say."
In an interview with CBS on Thursday morning, Christie called the 32-minute stretch in which he wasn't asked a direct question "the most boring 32 minutes of the debate."
JOHN KASICH
The Kasich campaign sent out a fundraising email late Thursday morning declaring "[a] win," and quoted feedback from analyst Larry Sabato, Yahoo's Matt Bai, and former George W. Bush press secretary Ari Fleischer.
"Gov. John Kasich showed America that he is ready to lead and has the experience to build consensus and tackle our most difficult challenges," the email read.
JEB BUSH
In an interview on Fox on Thursday morning, Bush said he "took [Trump] on" and that the debate, in his estimation, "went great."
"I was aggressive like I always am," Bush said, pushing back on the idea that he's not combative enough.
On YouTube, the Bush campaign released two short videos: one comparing him to Ronald Reagan, and one rounding up positive "reviews" he'd received from journalists and pundits in the hours after the debate. One review came from Karl Rove, the "architect" of his brother's White House reelection: "Jeb Bush did exactly what he needed to do tonight which was to show that he would take a punch and give a punch to Trump and show that he was an energetic guy and I thought he came off very well."
BEN CARSON
Carson wasn't quite so optimistic in his self-assessment, saying the debate's format didn't give candidates enough time to answer questions. He said the event seemed designed for those who're talented at speaking in sound bites, whereas he'd rather have time to "really develop the story for people."
"Having said that, you know my people tell me during the debate we acquired 300,000 new Facebook friends and a million dollars," he told Megyn Kelly on Fox. "So I can't complain too much."
TED CRUZ
The Texas senator had a downright Trumpian adjective to describe how the debate went: "Terrific."
Like many of his fellow contenders, he would've liked more time to speak—CNN, he said, followed the Fox debate model of not asking him enough questions. But he was "happy" with his performance because it showed he's a "consistent conservative" to voters, he told Fox's Bill O'Reilly.
Cruz criticized the behavior of some of his fellow candidates: "I think the people that are hurting across this country aren't interested in a bunch of schoolchildren." Presumably, the senator considered himself to be among the adults in the room.
RAND PAUL
"I think it was a good debate," Paul told Kelly on Fox after the contest concluded. "I think we mixed it up really well."
The Kentucky senator had a prediction to accompany his measured estimation: His numbers "will solidify" and he thinks a "reshuffling" of standings is imminent. "It's gonna be a brand-new race come next week," he said. Which would be helpful for him, as he's been polling toward the bottom of the top tier.
MARCO RUBIO
In a series of emails Wednesday night and Thursday morning, the Rubio campaign was aggressive with their declarations that Rubio was the obvious debate winner. Similar to Fiorina's postgame interview approach, though, he didn't spend time with self-aggrandizement.
"No matter what happens you've got to do the best you can in the time allotted to communicate your message," he said. "Each of these," meaning the debates, "are an opportunity for us to aspire to the highest office in the land, to tell people who we are and what we would do if they give us a chance to be president. And that's what I try to do at all of these debates."
SCOTT WALKER
Speaking with reporters after the debate, the Wisconsin governor expressed a sense of accomplishment, that "more than airtime, [voters are] looking at the quality of what you say, what you mean, and what you're going to do," according to a report in the Milwaukee Journal-Sentinel.
Walker was one of the most silent candidates during the debate, but said he couldn't have done anything more to capture more airtime.
"I aggressively interrupted Jake Tapper a bunch of times along the way," he said, presenting himself, as he has recently, as a tough guy (he rides a Harley after all). "And short of an absolute brawl, I don't know what more one could do."
MIKE HUCKABEE
Asked by CNN's Alisyn Camerota about the most memorable moment of the debate, Huckabee didn't talk about his own performance. Rather, he went the honest route: "I think it's when it was over and we got to get off our feet."
Though a Huckabee communications staffer told Breitbart News on Wednesday night that Huckabee "absolutely crushed it," the candidate himself was willing to spread the wealth around, telling Camerota that he'd pick any one of his fellow candidates for his future Cabinet.
Still, like others, he was dissatisfied with the amount of time he had to speak, though he offered a possible solution: "If all of the other guys would drop out and endorse me, then I will just do an interview the next time—it won't be a debate."
RICK SANTORUM
In a Fox interview, Santorum disagreed with some pundits' assertion that Graham won the earlier debate. "I felt very, very good about our performance," he said, before criticizing Graham's positions on immigration and the conflict in Syria.
"Lindsey was as he always is, a very lighthearted and fun guy to be with … [but] whether it is on our manufacturing policy, on our immigration policy, I think we hit very squarely where Republicans are and I think we're gonna do very well."
LINDSEY GRAHAM
In an interview on CNN Thursday afternoon, Graham didn't explicitly weigh in on how he performed the night before, other than to briefly acknowledge his one of his zingers.
But Graham's campaign was heavy on the congratulations, highlighting in one email 15 pieces of praise he received in the press, including evaluations highlighting how he "dominated" the undercard debate. It looks like the campaign's favorite headline, emphasized at the top of the email, was the following from Slate: Lindsey Graham Won CNN's First GOP Debate. It Wasn't Close.  
BOBBY JINDAL
Along with the positive-article-sharing many campaigns have been doing, Jindal's distributed one of the more assertive messages in the hours following the debate. Not only did he win it, his campaign manager wrote, but he "neutered the Republican establishment in D.C." in the process.
—
We'll keep this updated if we see any more interviews out there, in particular from Gov. George Pataki, who's been quiet in the hours since the debate save for a few tweets.