The Rehab of a Global Warming 'Disaster'
The 2009 Copenhagen climate change summit has a lousy reputation, but its image could improve with age.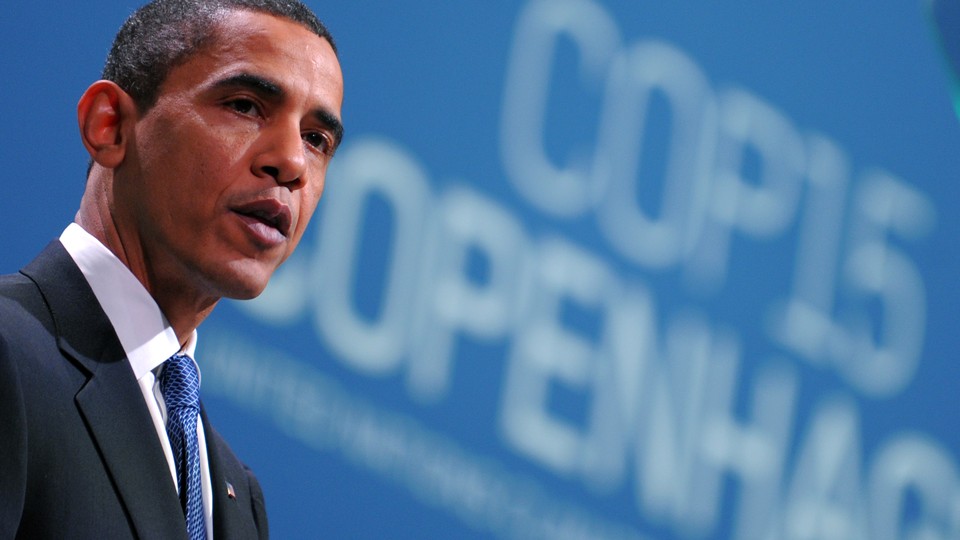 It's fair to say that the 2009 United Nations climate conference in Copenhagen is not fondly remembered.
Verdicts rolled in quickly after chaotic, bitter global-climate negotiations in the Danish capital there ended just days before Christmas. Most ranged from "meh" to downright brutal after the conference weighted with high expectations concluded with only a vague interim accord that punted many decisions into the future.
"Disaster" and "failure" were the assessments of Sweden's then-environment minister Andreas Carlgren. "People are justified in being disappointed," said President Obama, who helped salvage the interim agreement as talks neared meltdown.
The crowded conditions, all-night talks at the end of the meeting, and difficulty in getting back to the United States after an East Coast blizzard only added to the bad memories.
Six years later, the most important round of United Nations global-climate talks since Copenhagen loom in Paris, where negotiators hope to reach a final international pact to knock the planet off the path of warming projections that scientists warn will bring catastrophic dangers.
If those December talks go well, they could rehabilitate the memories of the Copenhagen meeting.
The Copenhagen Accords, warts and all, will have laid the foundation for the hoped-for Paris accord in several ways. (Perhaps paradoxically, it also went badly enough to provide organizers a road map of what not to do at a climate negotiation—most notably, don't bring in world leaders at the end of the talks).
"I think the messy process in some ways obscured some of the substantive progress," said David Waskow, director of the international climate initiative at the World Resources Institute.
It established that all major polluters—not just developed nations—would take steps to rein in emissions that each nation determines domestically, known as a "bottom-up" approach that's a sharp break with the Kyoto Protocol.
The three-page outcome also included a first-time aspiration of keeping the rise in global temperatures to less than 2 degrees Celsius above preindustrial levels, a target that scientists say will help avoid some of the most dangerous climatic changes.
Elsewhere, it also set out a target of mobilizing $100 billion annually from a variety of sources by 2020 to help developing nations fight climate change, and called for establishing some type of checking up on nations' carbon-cutting pledges (called "measurement, reporting, and verification" in climate-summit-speak).
The basic structure was substantially fleshed out and formally adopted at a smoother conference in Cancun, Mexico, the following year.
Waskow says Copenhagen "left something to be desired" in terms of both process and substance, such as the absence of measures to ensure that nations return to the table at regular intervals over time with commitments to increase their climate efforts.
Still, he credits Copenhagen with establishing important precedents in terms of engagement by a wide range of nations and starting to tackle questions of transparency of national efforts.
That's a similar verdict to what Obama gave at the time. "[E]ssentially that rather than see a complete collapse in Copenhagen, in which nothing at all got done and would have been a huge backward step, at least we kind of held ground and there wasn't too much backsliding from where we were," Obama said.
Elliot Diringer of the Center for Climate and Energy Solutions, a veteran of international climate summits, and others say one reason Copenhagen has such a lousy reputation is because so much was expected of the talks.
"Copenhagen was doomed to 'failure' by wholly unrealistic expectations," he said. "It was perceived as a catastrophe in part because it didn't deliver what was expected, even though there was no way that it could."
Still, he said, "The agreement that emerged helped start us on a more productive pathway."
Recently released troves of email from Hillary Clinton's time as secretary of State show that one person who questioned Copenhagen's crummy reviews early was John Podesta, the influential Democratic strategist who is now chairman of Clinton's presidential campaign.
A Dec. 20, 2009 email to recipients including Clinton's then-chief of staff Cheryl Mills from Podesta, who then led the liberal Center for American Progress, states: "Hope you are getting a little rest after one hell of a week." It then notes, using initials for Obama and Clinton, that "notwithstanding some press whining, I thought BHO and HRC did a fabulous job in Copenhagen and that the schedule structure has a much better chance of success than sticking with Kyoto architecture. Congrats to all."
Diringer said there are huge strides that must be made in Paris in terms of holding nations accountable for their pledges, and a structure that pushes nations' emissions cutting pledges to become stronger over time.
And big questions remain about the ultimate structure of a deal in Paris, which appears to shaping up as a hybrid of national emissions pledges that are not binding at the international level, coupled with other measures around topics such as verification and review that are part of a binding accord.
Nobody is predicting that Paris will solve the global-warming problem. Far from it. Countries' emissions-cutting pledges submitted to the United Nations ahead of the Paris talks are highly unlikely to put the world on track to hold the temperature rise to 2 degrees.
Christiana Figueres, the U.N.'s top climate official, told reporters in Brussels last week that the so-called nationally determined contributions would allow an estimated rise of 3 degrees, which she noted is well below the current trajectory but still unacceptable.
But while advocates are seeking far more ambition, it's possible that if Paris results in a meaningful accord, its roots will be traced back to those fractious talks six years earlier.
"Copenhagen laid the ground for a lot of action. Over time, history will see that," Waskow said.