The Problem With Obama's Climate Proposal for Alaska
Editor's Note:
This article previously appeared in a different format as part of The Atlantic's Notes section, retired in 2021.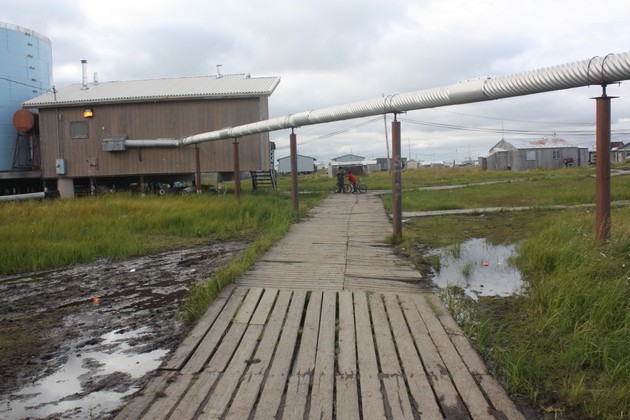 In the tiny Arctic town of Kotzebue, President Obama will today announce a new slate of programs targeted at "building resilience" to climate impacts in remote Alaskan villages. From what I've seen in Alaska, this approach has many flaws.
Obama will announce that he's tapping the Denali Commission, a federal agency created in 1998, to coordinate federal, state and tribal resources and developing plans to address the impacts of climate change. But the commission's inspector general recommended that it be suspended, and said that it had lost $100 million, according to a 2013 story in the Alaska Dispatch News.
"I have concluded that [my agency] is a congressional experiment that hasn't worked out in practice," Mike Marsh, the inspector general of the Denali Commission, wrote in 2013, according to the Washington Post. "I recommend that Congress put its money elsewhere."
The idea of "building resilience" has its own flaws, as Robin Bronen, the executive director of the Alaska Immigration Justice Project, told me. For too long, the government has been focused on building sea walls and other infrastructure to fight back the sea (a $2.5 million sea wall completed in 2006 in Kivalina was destroyed the next year, for example).
"Part of the challenge is nobody wants to think that relocation is your long-term adaptation strategy," she told me.
But it's become increasingly evident that relocation is a must for many villages. A 2003 GAO report said that four villages were in "imminent danger" and needed to be relocated, by 2009, the GAO had upped that number to 31.
Yet Obama's proposal commits just $2 million for voluntary relocation of villages. The Army Corps of Engineers estimates the cost of relocating Newtok could reach $130 million. Kivalina could cost $95-125 million to relocate, and Shismaref could cost $100-200 million.