The Pre-Pope Campaign
Faith groups get ready—the Washington way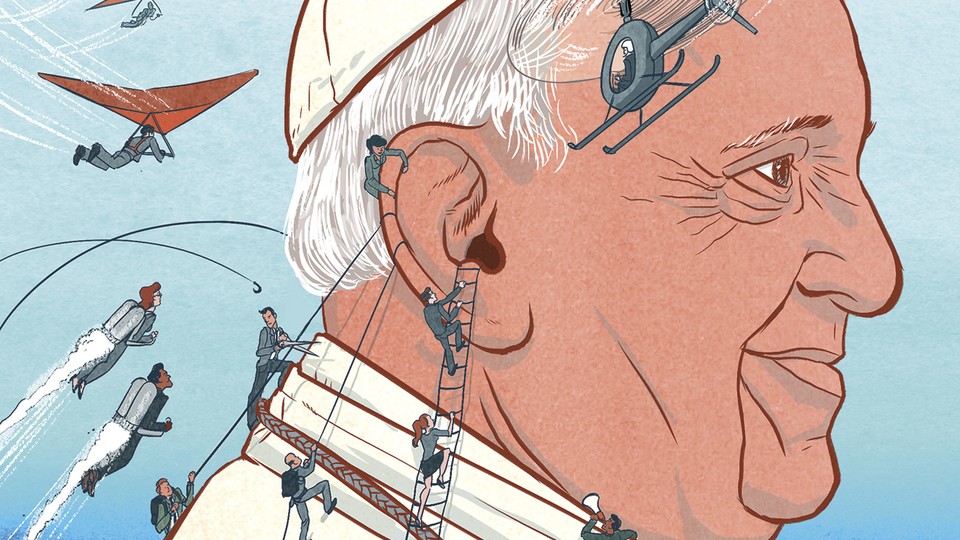 In late August, a few weeks before Pope Francis's much-anticipated visit to the United States, Lutheran pastor David Beckmann went to Rome to offer the pontiff some advice. Inside the walls of the Vatican's Apostolic Palace, a towering structure that contains the Sistine Chapel, Beckmann, who heads up the Christian anti-hunger organization Bread for the World, met with Archbishop Paul Gallagher. Beckmann told Gallagher, the pope's secretary for relations with states, that American faith leaders stand ready to "echo and affirm" any call from the pope to end hunger—if, of course, Francis decides to talk about that when he makes history as the first pope to speak to a joint session of Congress on September 24.
But the pastor had also come all the way from Washington, D.C., to offer some (gentle, deferential) suggestions about how the pope might convey his message. If Francis were to deliver, say, a critique of capitalism, he told Gallagher, it might be better received on Capitol Hill if he first noted that free markets can also be a force for good.
"I've got the deepest respect for him. I mean, who am I? But with the deepest respect, Americans like technology. They like Google and Amazon and Microsoft. What I think may happen is that people who don't want to hear what the pope has to say may try to paint him as a Latin American leftist," Beckmann told me later. "I hope that doesn't happen. This is too important for that to happen. I am praying that his visit helps bend our history towards justice." (The Vatican confirmed that the meeting took place but declined to comment further.)
Beckmann's urge to act as a kind of outside messaging consultant to the Vatican was a hyper-Washington impulse—and in the excitement over Francis's visit, members of D.C. faith-based organizations are displaying an impressive array of them. It is not hard to understand why: The pope is a powerful influencer; he's also an unpredictable one. Faith leaders know well that Francis's speech could help, hurt, or marginalize their respective agendas. And the urgency of the moment is bringing out the Beltway in many of them.
While Beckmann is sweating the details of Francis's messaging, others are determined to make sure their adversaries don't use the occasion to get a leg up. In July, for instance, a network of interfaith organizations sent a letter to the pope welcoming him and his words "of hope and challenge." The missive appears rather anodyne, but, as is often the case in Washington, it contains something of a coded message.
"We sent the letter, in part, because I had heard that the Vatican was getting a lot of negative messaging from very conservative Catholics in the U.S. saying that he would need to tone down his message and take a more conservative approach," says Sister Simone Campbell, the executive director of NETWORK, a national Catholic social-justice lobby.
Another condition familiar to D.C. denizens: the against-all-odds hope that their pet cause will have a big moment. Hoda Hawa of the Muslim Public Affairs Council told me she hopes the pope will bring up the Iran nuclear deal. Austin Ruse of the Christian conservative group C-FAM wants Francis to talk about a series of videos that anti-abortion groups and many Republicans allege show Planned Parenthood officials discussing the sale of fetal tissue. "Frankly, I would be disappointed if he didn't mention the videos," Ruse said. "I have no doubt he knows about the videos. " Archbishop Vicken Aykazian of the Armenian Orthodox Church told me he wants the pope to talk about peace in the Middle East and Africa—but he tempered his hope with the awareness that Francis has a lot on his plate. "He might use the word 'Middle East.' He might, I don't know, I'm not sure. He can't mention every continent where there are problems, of course."
Then there are those who don't know whether they'll be cheering or booing, but, one way or the other, they're determined to make their feelings known. Take Reverend Harry Knox, a minister in the Metropolitan Community Church and president of the Religious Coalition for Reproductive Choice, a pro-abortion-rights, pro-contraception interfaith group. His organization plans to draft talking points reacting to the pope's speech. They hope to like it, but they'll be ready for the alternative. "We're prepared for a prophetic response that would be clear and passionate in opposition if the pope says something that we disagree with," Knox says.
Jon O'Brien, president of the pro-abortion-rights organization Catholics for Choice, exhibited another very D.C. behavior: expectation-lowering. He told me he believes Francis's visit has the potential to knit Catholics closer together, but he also preemptively downplayed the significance of whatever the pope might say. "We've been through two papacies, John Paul and Benedict, where they railed against birth control, condoms, abortion, you name it, and Catholics are still making those decisions for themselves," he told me. "So it's not as if the view of a pope is going to cause people to suddenly change everything. Sure, he's the pope, but that's not the way that change really happens in the church. The church is not a building in Rome. When we talk about the Catholic Church, it means all of us in the church."
And what Washingtonian—even one with a heart full of optimism—could resist taking a swipe at Congress? "There is tremendous hope on the part of faith leaders that he will use this as an opportunity to speak bluntly," says Jim Winkler, president of the National Council of Churches. "We have a Congress that has not taken the kind of strong steps to reduce economic inequality that are needed, a Congress that has not been willing to address climate change." Notes Jose Aguto, a legislative secretary for the Quaker Friends Committee on National Legislation, "Congress has been caught up in a web of partisanship for far too long, and now would be a beautiful time for him to help cut some of those strands."
Finally, even the most ardent advocates inside the Beltway sometimes show a bit of world-weariness. Frank DeBernardo of the pro-LGBT Catholic group New Ways Ministry would like Francis's words to pave the way toward a more inclusive church. But he'll settle for a speech that doesn't make things worse: "Our hope is that he will speak something positive about LGBT concerns—and perhaps, at the very least, not say anything negative. Because of the newness of the marriage-equality decision, we hope that he would affirm that decision or, at the very least, not say anything about it."