The Pope's Very Political Speech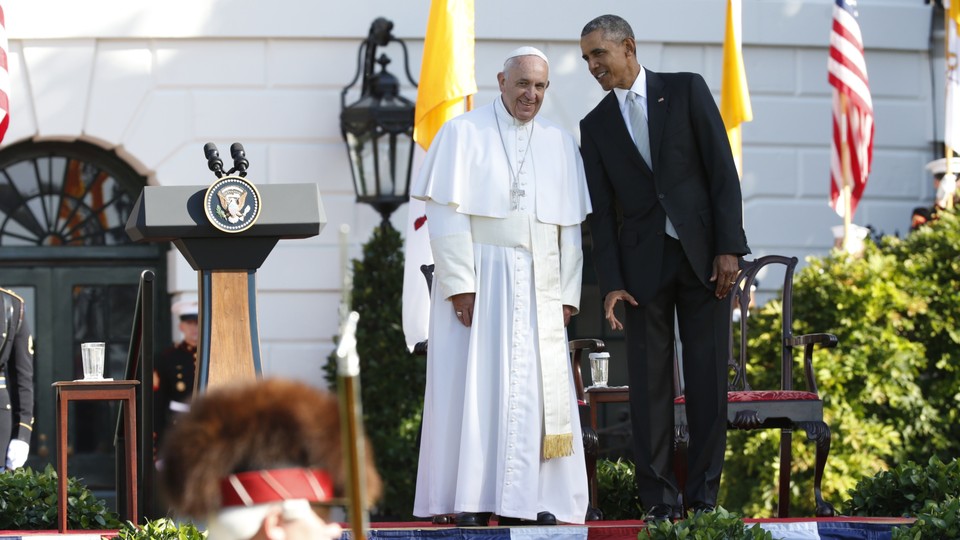 Editor's Note:
This article previously appeared in a different format as part of The Atlantic's Notes section, retired in 2021.
Yesterday, my colleague Emma wrote wisely about the dangers of viewing Pope Francis through a partisan American political lens. Yet even if the bishop of Rome isn't a politician, any speech he delivers on the White House lawn, with President Obama by his side and dozens of members of Congress in attendance, is bound to have political repercussions.
Partisans on both sides were hoping for something to bolster their causes, and in short remarks, delivered in careful, slow English, Francis offered something for everyone.
So Francis tosses one to conservatives with religious liberties and one to liberals with climate change, huh?

— David A. Graham (@GrahamDavidA) September 23, 2015
Conservatives were pleased to hear Francis's comments on religious liberty, a hot-button issue all summer:
With countless other people of good will, [American Catholics] are likewise concerned that efforts to build a just and wisely ordered society respect their deepest concerns and their right to religious liberty. That freedom remains one of America's most precious possessions. And, as my brothers, the United States Bishops, have reminded us, all are called to be vigilant, precisely as good citizens, to preserve and defend that freedom from everything that would threaten or compromise it.
Then, rather more to the left's delight, Francis spoke at some length about climate change. "Mr. President, I find it encouraging that you are proposing an initiative for reducing air pollution," he said. "Accepting the urgency, it seems clear to me also that climate change is a problem which can no longer be left to a future generation." He linked that to income inequality:
Pope quotes Martin Luther King re: climate & development. "We have defaulted on a promissory note - and now is the time to honor it." Wow!

— Joshua DuBois (@joshuadubois) September 23, 2015
And Francis talked about immigration as well, saying, "As the son of an immigrant family, I am happy to be a guest in this country, which was largely built by such families."
The pope may not be a politician, but that doesn't mean he's not political.