Pope Francis Challenges Congress to Make America Great Again
Lots of clapping, a bunch of frowning, and some dozing elder statesmen at one of the most anticipated speeches of the year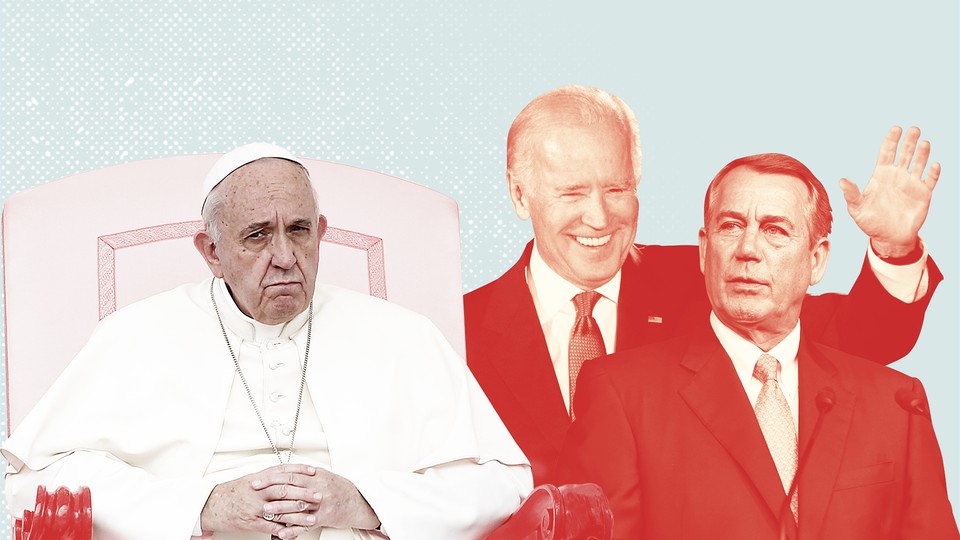 Updated September 23, 11:32 am
Lots of big applause moments, a few confused frowns, some dozing elder statesmen, and some Republicans staying firmly in their seats. That's what the room was like on Thursday as Pope Francis addressed Congress—the first time a pope has ever made such a speech. He called for the global abolition of the death penalty, more effort to care for the poor and the environment, an end to armed conflict, and protection of the family—including traditional marriage. It was a grab bag of issues, but it was mostly spoken in Francis-y language: through the lenses of care, cooperation, stewardship, and justice.
And Francis ended
his speech
with a challenge for Congress, and for the millions of other Americans who were listening:
A nation can be considered great when it defends liberty as Lincoln did, when it fosters a culture which enables people to "dream" of full rights for all their brothers and sisters, as Martin Luther King sought to do; when it strives for justice and the cause of the oppressed, as Dorothy Day did by her tireless work, the fruit of a faith which becomes dialogue and sows peace in the contemplative style of Thomas Merton.
During the speech, the best thing to watch was the aerobics. Congressional addresses are notorious for their thick politics of who sits and who stands and who claps when, and this speech was no different. Francis was flanked on either side by two Catholics, John Boehner and Joe Biden, who hold very different views on issues the pope talked about, including climate change, family, and poverty. Perhaps the two politicians made a pact of mutually assured sitting, because neither got up with the applause moments, but early on, Boehner wiped away some tears.
Though Francis is no politician, he certainly knows how to get a big cheer from an American audience. His opening line—"I am grateful to address this Joint Session of Congress in the land of the free and home of the brave"—got huge applause from both sides of the aisle. Because the pope doesn't speak English very well, the beginning of the speech was a bit of a struggle—frown lines were visible on the foreheads of Secretary of State John Kerry, Supreme Court Justice John Roberts, and even House Minority Leader Nancy Pelosi, who at times looked like an eager fourth-grade teacher trying to coach her favorite student along. Newt Gingrich, seated with his wife in the balcony, appeared to nod off at one point, and Ruth Bader Ginsburg earned a nudge from her seatmate, Sonia Sotomayor, as she, too, dozed.
Francis picked up more of a rhythm as he moved into the speech, and the room engaged more as some bigger ticket issues came up. Immigration, and the role of the stranger, was a theme throughout. "We, the people of this continent, are not fearful of foreigners, because most of us were once foreigners," he said. "I say this to you as the son of immigrants, knowing that so many of you are also descended from immigrants." This earned a tear—or at least, a gesture at tear-wiping—from Marco Rubio. Francis repeatedly used the word "dream" to talk about those who are new to this country, and mentioned this particularly frequently during a section on Martin Luther King, Jr. The Pope was referencing the American dream, and also King's famous dream of racial harmony. But he spoke at a moment when the term has also been embraced by "the dreamers," young immigrants and children of immigrants who have come to the fore of the immigration-reform movement.
When Francis called for the global abolition of the death penalty, he got a shriek and a jump in the air from Nydia Valásquez, a Democratic congresswoman from New York. Calls for action on the environment also got big shouts and applause, as did his statement on the family. "I cannot hide my concern for the family, which is threatened, perhaps as never before, from within and without," he said. "Fundamental relationships are being called into question, as is the very basis of marriage and the family. I can only reiterate the importance and, above all, the richness and the beauty of family life." This one got ups from both Democrats and Republicans; perhaps this was a bit of a Rorschach Inkblot test moment, with people from each party hearing what they wished in that statement.
After the pope concluded his speech, he addressed a crowd from the terrace looking out over the west side of the Capitol. He mostly spoke in Spanish—"buenos dias!"—and asked the audience to pray for him, as is his custom. And in a very American way, he closed with a rousing "God bless America!"
In the American political context,
the teachings of Catholicism get split down the middle in a weird way
. The two Catholics, Boehner and Biden, who flanked the pope during his speech exemplify this well.
Both men have been fairly open about their faith in their public lives. In an interview this summer, Boehner said, "
I have my conversations with the Lord. They start in the morning early, and they go on all day long. You can't do this job by yourself." And in
an interview with America magazine in September
, Biden talked about the way Catholic social doctrine has shaped his views. "Jesus Christ was sort of the human embodiment of what God wanted us to do," he said. "Everything Jesus did was consistent with what, generically, we're supposed to do: treat people with dignity."
On the one hand, a Republican could argue that it's impossible for a Democrat to defend abortion and still claim to be a Catholic. Biden's solution is a hedge: "I'm prepared to accept that the moment of conception is human life," he said in the America interview, "but I'm not prepared to say that to other God-fearing and non-God-fearing people." And a Democrat could say that the pope's latest encyclical, Laudato Si, definitively shuts down any Catholic Republican who hasn't taken a stand on climate change. From Boehner, another hedge: "Clearly we have had changes in our climate," he told reporters in January. "I'll let scientists debate sources and their opinion of that change."
At his speech at the White House on Wednesday, Francis spoke about both religious liberty and climate change, pet topics of the right and left, respectively. He met with Obama, but he also met with the Little Sisters of the Poor, a religious order which is fighting the administration's so-called birth-control mandate. This speech to Congress was certainly politically charged, but it's hard to say that one side won—in a room where almost all Democrats voted to authorize the Iraq war more than a decade ago, it's hard for politicians of any party to take credit for authentically ending global war.  In a country which continues to be a leader in carbon emissions, it's hard for anyone to claim leadership on climate issues. This speech was a challenge to all leaders, from every party.
And it was a good dose of Catholicism. "The whole world is getting to see the basically essential elements of what constitutes Catholicism," Biden said to America. "I'm excited, frankly, as a practicing Catholic."