The Polling Data That Explains Ben Carson and Donald Trump's Anti-Muslim Statements
Many Republicans and white evangelical Protestants hold negative views of Muslims—and the 2016 contenders want to win votes.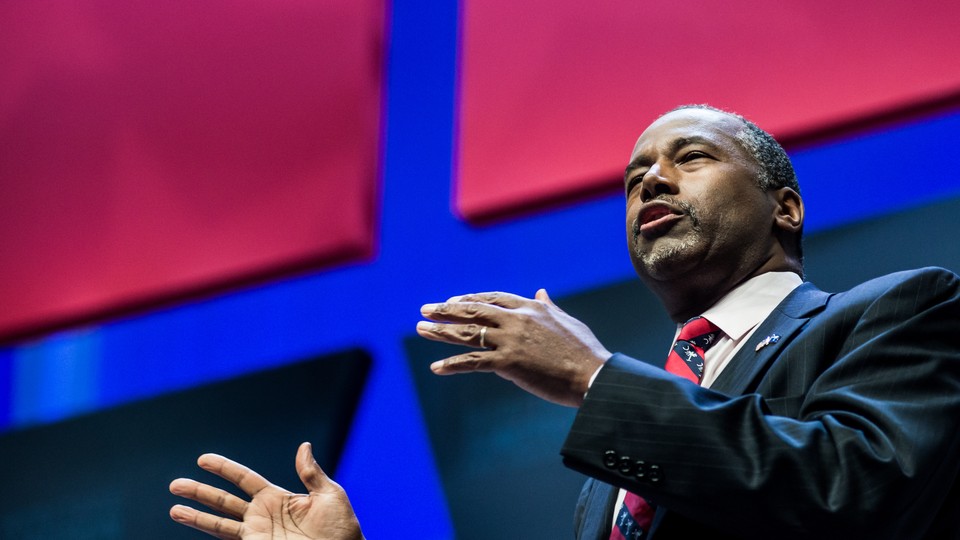 After Donald Trump refused to condemn a string of anti-Muslim remarks at a New Hampshire town hall and Ben Carson declared that the U.S. should not elect a Muslim president, backlash was swift.
Democrats and Muslim civil-rights organizations leapt to denounce the Republican presidential candidates' statements. Hillary Clinton tweeted: "Can a Muslim be President of the United States of America? In a word: Yes. Now let's move on." The Council on American-Islamic Relations was more blunt, calling for Carson to drop out of the presidential race.
Polling data helps explain Trump and Carson's stand. Anti-Muslim sentiment is deeply felt among a substantial segment of Republican voters. Negative views towards Muslims are particularly prevalent among white evangelical Protestants, a key slice of the electorate for the Republican primary and a voting block that many of the 2016 GOP contenders are in fierce competition to win.
Republicans rated Muslims more negatively than any other religious group and were more likely than Democrats to hold an unfavorable view of Muslims, according to a survey conducted by the Pew Research Center in 2014. Roughly two-thirds of Republicans and Americans identified with the tea-party movement believe that Islam is out of step with American values, the Public Religion Research Institute reported in 2011.
In short: When Trump and Carson speak skeptically of Muslims, that message is likely to resonate with a significant share of the Republican electorate.
The self-styled outsider GOP contenders are competing to win support from evangelical voters, a voting bloc that has proven to be a powerful force in previous Republican primary seasons, helping catapult Rick Santorum, a decidedly dark-horse candidate, to victory in the 2012 Iowa caucus.
Trump and Carson have been neck-and-neck in a fight for evangelical votes in recent weeks. Carson has amassed increasing support from evangelicals, and a Quinnipiac University poll this month showed Carson edging out Trump with white evangelicals in Iowa.
Casting aspersions on Muslims could help Trump and Carson align themselves with factions of that group. White evangelical Protestants had the most negative view of Muslims compared to other religious groups, according to 2014 Pew data.
The white evangelical Protestant segment of the electorate, which tends to vote Republican, has held steady in recent years, even as the share of white Protestant and white Catholic voters has declined, according to a 2012 Pew analysis. In Iowa, the share of white evangelical Protestants has actually risen over the past several presidential elections, according to Pew data. And Christian conservatives have a track record of consistently showing up to the polls in the Iowa caucus.
Carson and Trump have made clear that they are vying for that support, and appear to be searching for ways to one-up the other as they fight for evangelical favor.
In an apparent nod to the fact that anti-Muslim sentiment resonates with primary voters, Carson campaign manager Barry Bennett told the Associated Press on Monday that "Republican primary voters are with us at least 80-20."
Earlier this month, Carson also questioned Trump's religious devotion. "Humility and the fear of the Lord are riches and honor and life and that's a very big part of who I am. I don't get that impression with him," Carson said of Trump while speaking in California.
When Trump hit back, he touted his evangelical support. "Wow, I am ahead of the field with Evangelicals (am so proud of this) and virtually every other group, and Ben Carson just took a swipe at me," he tweeted shortly after.
Trump and Carson's willingness to offend also feeds another narrative that has so far appealed to conservative voters and bolstered their credibility as outsider candidates: The idea that they are not afraid to speak their minds, even if what they say is a far cry from being politically correct.