The Newest Crisis on Capitol Hill: Who to Invite to See the Pope
There are very few tickets to see Francis when he speaks to Congress later this month—and that means tough calls on the Hill.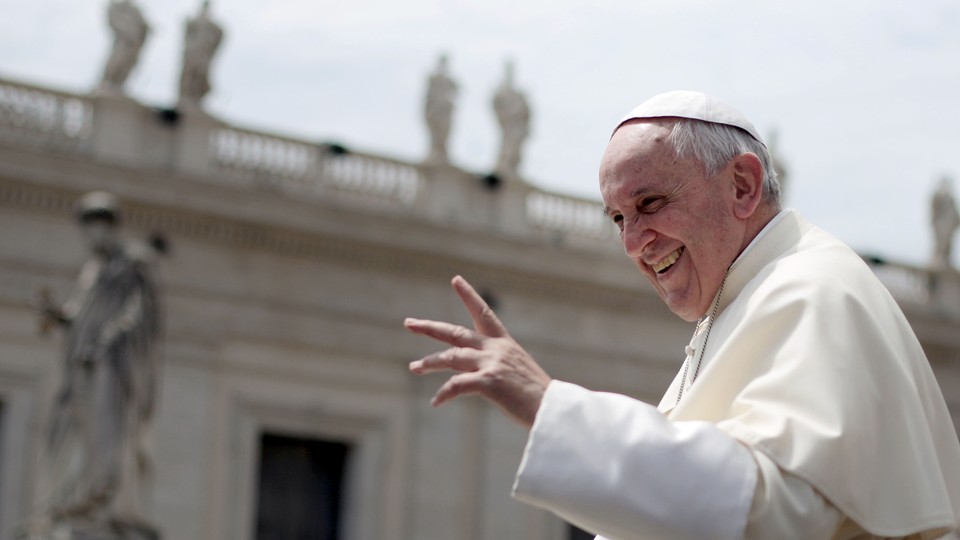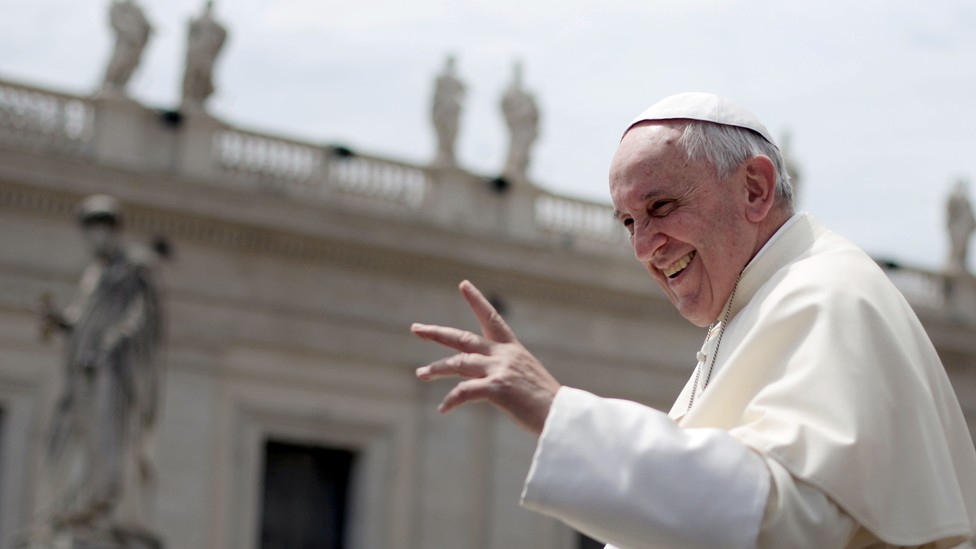 Kirsten Gillibrand has narrowed it down to five nuns.
The New York senator—a devout Catholic who regularly reads Scripture—is trying to decide whom she will invite to see Pope Francis speak to Congress on September 24. When Francis arrives in Washington, it will mark the first time any pope has delivered an address to a joint session of the House and Senate. The visit has also left elected officials with a tough choice: Each lawmaker is allowed to invite one very special guest to join him or her in watching the pope speak from the House gallery.
"We still haven't decided which nun, but we're inviting a nun," Gillibrand said in an interview at the Capitol on Tuesday. The senator has identified five nuns who "work in charitable areas that the pope very much supports" and who she is currently considering extending an invitation to. But, of course, there are the logistics to take into account as well. "It's a big expense, so we have to see who can actually make it," Gillibrand added.
Pope Francis's planned visit has set off a flurry of anticipation on Capitol Hill and unleashed speculation over what exactly the pope will say. That creates an opportunity. House and Senate offices could use the giveaway to win favor with friends in high places or show devotion to constituents or family members. Tickets are in demand. But as a result, any decision also carries the risk that someone, somewhere might feel snubbed.
"There's a lot of people who would love to see the pope. It's a really hard decision to make," Sen. Steve Daines of Montana said in an interview. (Daines ultimately settled on "a very dear friend who is a very devout Catholic," someone who he thought "would probably enjoy and appreciate it the most.")
Thom Tillis, a Republican senator from North Carolina, hasn't made a decision yet, but he has had plenty of people asking about the ticket. "A lot of people know I'm Catholic and I've got a lot of Catholic friends," Tillis said, adding: "I wish I had more [tickets]!"
Apart from the VIP guests who get to watch Pope Francis speak in-person, each office has a slate of tickets to give away for a standing-room-only spot on the West Lawn of the Capitol, where guests can watch a live broadcast of the event. (To sweeten the deal, Francis is also expected to stroll onto the Speaker's balcony to make a brief appearance in front of the crowd gathered outside.)
As a result, Capitol offices are flooded with requests for tickets.
"A lot of people are asking about it," Sen. Shelley Moore Capito of West Virginia said. Capito called up her guest personally to extend the invitation, after deciding to ask Bill McCoy, the pastor of First Presbyterian Church in the senator's hometown of Charleston, West Virginia. "I called him today, and he was very excited about it," she said. "The pope is the spiritual leader of the world and Bill has been a big spiritual force in my life so I thought it would be a wonderful thing to share with him."
To deal with demand, lawmakers are getting creative. Senator Chuck Schumer set up a lottery, letting New York state constituents try their luck for a winning ticket. His office was quickly inundated with thousands of requests, according to Matt House, a spokesman for the senator.
Over on the other side of the Capitol, Representative Rod Blum of Iowa has asked parishes in his district to nominate individuals worthy of seeing the pope speak. The names of those nominated will be entered into a drawing for the ticket and Blum has promised to pay for the cost of the trip out of his own pocket.
Many lawmakers have decided to give the ticket to a family member, and for at least some, that choice was an easy one to make.
"It was not a hard decision. It would have cost me a marriage if I would not have given it to her," Sen. Jon Tester of Montana said of giving a ticket to his wife, Sharla, adding: "She absolutely said, 'I want to go.'"
Sen. John Barrasso of Wyoming and Sen. John Hoeven of North Dakota also left the final decision to their respective wives.
Barrasso's guest ticket is going to his 92-year-old mother, herself a practicing Catholic. "It was my wife's decision," Barrasso said in an interview, "Because of course my wife would have had the ticket. My wife was the first choice, but she said, 'You should take your mother.'"
Hoeven's wife, Mikey, also decided how to dole out the ticket. The North Dakota senator, a devout Catholic, had planned to give the ticket to his wife. But after she found out that a close family friend who volunteers at their church was looking for a way for his son to see Francis, she decided to pay it forward. "Mikey said, 'Well, how about I give him my ticket,'" Hoeven said. "She felt really good about this young man wanting to see the pope. They're a wonderful family and my wife is a staunch Catholic, so it just goes to her whole faith and the concept of service before self."
Others are looking toward the faith community to give away the guest spot.
Sen. Barbara Boxer of California invited Sister Simone Campbell, a nun who heads up NETWORK, the national Catholic social-justice lobby. The invitation went over well. "I am humbled to say that I got one of the treasured tickets to be in the Chamber when the pope speaks," Campbell said in an interview. "I had no idea what a coveted thing it was."
Republican Sen. Rob Portman of Ohio asked Sister Margarita Brewer, a friend of his who has spent her career serving the greater Cincinnati community.
And plenty of members still have yet to decide—or at the very least, announce—who will get their tickets.
"Can we get back to you on that? We're still figuring out our official process," Senator Kelly Ayotte of New Hampshire said, adding: "It's just been an internal discussion in the office."