The House Votes to Defund Planned Parenthood, With Each Side Convinced the Other Will Suffer at the Polls
It's unclear whether the measure will even come up in the Senate, but there could be political consequences anyway.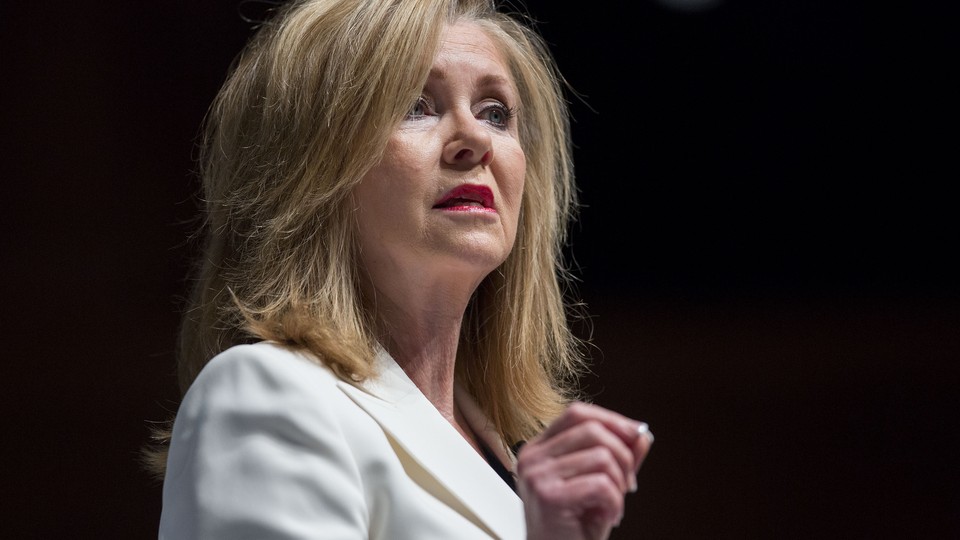 The House voted along party lines to end federal funding of Planned Parenthood on Friday, as the partisan battle continues to escalate ahead of a possible government shutdown.
It is unclear whether the bill, which was approved 241-187, will even be taken up by the Senate, where it would almost certainly fail to get the handful of Democratic votes it would need to head to the White House and President Obama's veto pen. It's also doubtful the bill will quiet conservative lawmakers' calls for a funding to be removed for Planned Parenthood in a spending bill that must pass by Sept. 30 to keep the government running, an issue dividing the Republican Party and sparking the question of whether this year will be a repeat of 2013.
But what is clear is that Democrats are united in their confidence that they are on the winning side of the issue, and that when November comes around next year, the chaos created within the Republican Party—as well as the debate itself—will have worked in their favor.
"The public is with us," said Rep. Diana DeGette, co-chair of the Pro-Choice Caucus. "In some ways, it's even more of a mystery why they would bring these bills up now, given that the public is so solidly in support of Planned Parenthood."
But GOP Rep. Martha Blackburn said the bill's supporters were on the right side of history.
"The discussion today is not about videos or women's access to health care," Blackburn said. "It is about our most basic right—the right to life. It is also about doing what taxpayers sent us to Washington, D.C., to do. It is about continuing the process to protect our most vulnerable."
The House also voted on a bill strengthening an existing abortion bill on Friday, which passed along party lines as well.
The defund bill would have blocked all $450 million of federal funding from going to Planned Parenthood. About $60 million is appropriated through Title X funding, and the rest comes from Medicaid, Medicare, and the Children's Health Insurance Program. On Tuesday, the Senate will vote on Sen. Lindsey Graham's legislation banning abortions after 20 weeks.
The controversy over Planned Parenthood stems from the release of a series of sting videos that Republicans allege show the organization selling fetal tissue, which is illegal. But Planned Parenthood denies the allegations, saying it donates the tissue for medical research and is only reimbursed for overhead costs.
Several House committees have launched investigations into the organization, and two of them have held hearings this month that ended in bitter partisan debate. While Republican leadership is doing all it can to avoid another government shutdown, pointing to the investigations, reconciliation, and the presidential election as ways to win the fight, conservative members have been adamant that no funding should be given in a must-pass spending bill.
But during Friday's vote, Rep. Trent Franks, one of the most vocal opponents of Planned Parenthood—who has signed onto a letter saying he will oppose a spending bill giving the organization funding—seemed to have softened his tone. He told reporters he thinks using the reconciliation process to defund Planned Parenthood is "the right strategy," although he would not say whether he would vote for a spending bill containing funding for the organization.
"I've suggested that, I've encouraged leadership in that direction. Time will tell. But they're in an impossible conundrum, and I think they're doing the best they can," he said.
But Democrats don't think Republicans will get out of this so easily.
"This is going to keep going. Over 30 Republicans have signed a letter saying they don't vote for a continuing resolution that funds Planned Parenthood," DeGette said.
And that's not necessarily going to be such a bad thing for them in November, some Democrats say.
"I think that women in this country can see through this, that this is an attack not just on an organization, but on women's right to be able to have the health care that they want, at the place that they want, from an organization that has been so incredibly helpful to women over the years," said Rep. Jan Schakowsky, who has been active in defending the organization. "The insult—I think that's how women feel, and actually the public."
"I think it is," she added when asked if she thought this is a winning issue for Democrats. "But I certainly have not approached it as a political issue. I believe they have made a calculation politically, that it's good for them—what are they thinking?"