The Future of Space Exploration, According to Congress
Mars, Europa and the search for life in deep space.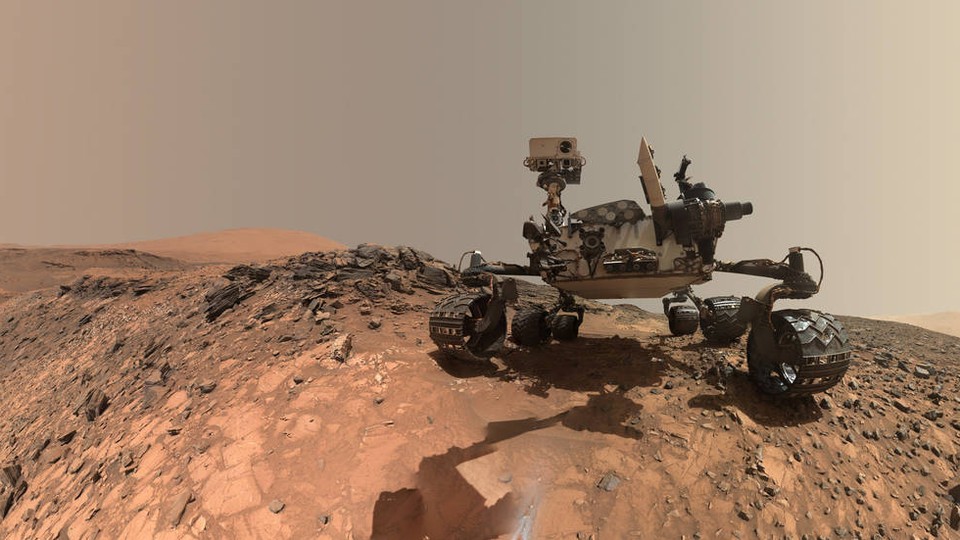 Lamar Smith dreams of one day traveling into outer space.
The chairman of the House Science, Space, and Technology committee has an intense interest in all things extraterrestrial and loves to talk about the future of space exploration, a topic that has long been near and dear to his heart.
"People are fascinated by the universe and by what's up there and by what the United States and other countries are doing in space," Smith said in an interview, adding: "The idea that we're discovering Earthlike planets and other solar systems is sort of the next big thing in space and it's attracted a lot of attention."
Although Smith, 67, isn't likely to get his chance to fly in space, the Texas Republican has a chance to shape the future of American space exploration—and help determine just exactly what the 'next big thing' will be. The House science panel is charged with the authorization legislation that sets spending benchmarks, and priorities, for NASA.
Exploration is a priority not just for Smith, but for the panel's Democratic members as well. "NASA has inspired me and I know without a doubt that it inspires so many young people out there who will be our next great generation of scientists, engineers, and astronauts," ranking member Eddie Bernice Johnson, also a Texan, said.
So what comes next when it comes to space? Landing a human on Mars is a major priority on both sides of the aisle and there is bipartisan agreement on the need for a NASA roadmap on how to get there, though there are disagreements over the best way to achieve that goal.
There is enthusiasm for continuing to study the solar system, the search for life elsewhere in the universe, and ensuring that NASA has the ability and the funding needed to explore deep space. Republican members are particularly excited about the potential to explore Europa, one of Jupiter's moons, as well as intent on getting American astronauts back to Earth's moon again one day.
Democrats and Republicans also want to make sure that the U.S. does not have to rely on Russia to transport its astronauts to the International Space Station.
NASA's successful mission of sending the New Horizons spacecraft hurtling past Pluto deeply inspired many Americans as well as members of Congress, and created an opportunity on Capitol Hill to talk about what the future of space exploration should look like.
Of course, all of the many things that America may endeavor to achieve in space cost money. And in an era of budget cuts and belt tightening, it has not always been easy to make sure that the money is there. The House and Senate have not been able to agree upon a NASA authorization bill since 2010. Two broad NASA authorization bills have passed out of the House in recent years, but there has not been floor action for NASA authorization in the Senate.
That makes it harder for Smith's committee to set priorities for the space agency, but, even so, the panel has served as a powerful platform—and megaphone—for space exploration, regularly convening hearings and calling in expert witnesses to talk about what comes next and what NASA needs to succeed.
After Pluto's New Horizons mission, the panel brought NASA mission specialists to Capitol Hill. The committee has invited NASA Administrator Charles Bolden to the Hill, and worked with NASA to set up a satellite feed so that American astronauts on the International Space Station could tell committee members, in their own words, what life is like in space.
While not directly related to NASA, in May, the House passed the SPACE Act, a piece of legislation that originated in the space subcommittee that aims to spur growth in America's commercial space sector, helping companies such as Elon Musk's SpaceX and Virgin Galactic continue to develop space exploration missions and projects.
Despite bipartisan support for space travel, however, NASA has also been a subject of a highly partisan debate.
In April, the committee passed a NASA authorization bill on a party-line vote increasing funding for deep-space-exploration programs and planetary exploration above what had been suggested by President Obama's administration. The bill supported increased funding for the Space Launch System as well as the Orion crew vehicle program.
The legislation drew criticism from Democrats and NASA for cutting money for Earth science relative to current funding levels and what the administration requested. Bolden said that the bill "guts our Earth-science program and threatens to set back generations worth of progress in better understanding our changing climate."
Republicans defended the allocation as a way to protect space travel and rebalance scarce resources at NASA, saying that Earth science has seen funding increases in recent years. Chairman Smith has also been highly critical of the administration's commitment to deep space exploration.
"I don't want to cut NASA, I don't want to cut what we do in space, and that's why I'm resisting the administration's transferring funds from NASA to climate change. I want to keep NASA, NASA," Smith said.
Democrats say that Earth science is just as deserving of funds as any other NASA priority—a schism that has sparked ill will and deepened partisan fault lines on the panel.
"NASA's research in Earth science, which deepens our understanding of our own planet and environment, and the agency's work in aeronautics research are equally as important as our human space-exploration priorities," Bernice Johnson said. "The challenge before Congress, and in particular this committee, is to not only support human space exploration, but all of NASA's long-term goals that make it a multimission agency."