The Feminisms of Hillary Clinton and Carly Fiorina
Are the two women running for president so different when it comes to talking about feminism?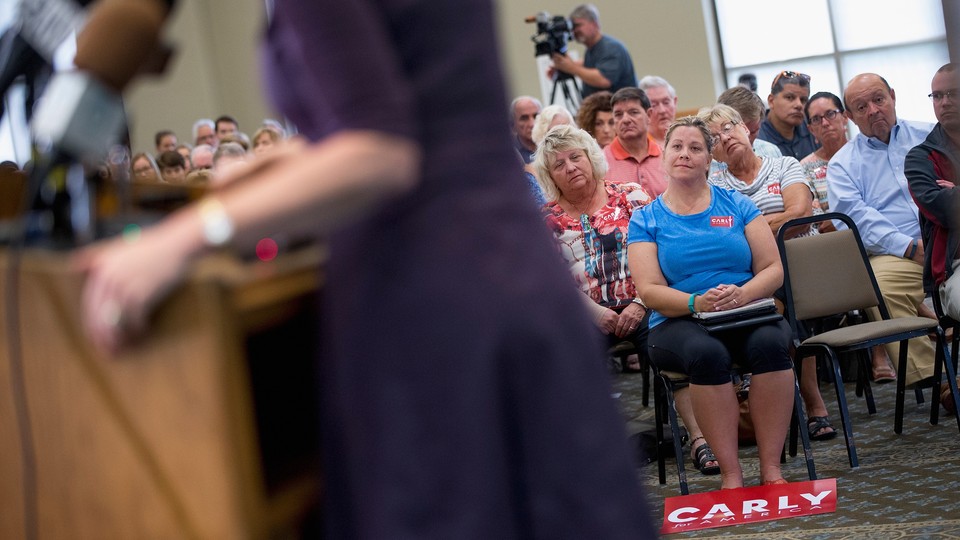 News flash: Hillary Clinton considers herself a feminist.
In an interview for the Lenny email newsletter with Lena Dunham, the liberal feminist auteur/actress/public intellectual, Clinton offered a broad definition of feminism, and in the process stumbled upon an unlikely sisterhood with Carly Fiorina, the only other woman in the presidential race.
"I think the question on every Lenny reader's lips is: Do you consider yourself a feminist?" Dunham asked the Democratic primary front-runner.
Clinton's reply:
Yes. Absolutely. I'm always a little bit puzzled when any woman, of whatever age but particularly a young woman, says something like, "Well, I believe in equal rights, but I'm not a feminist." Well, a feminist is by definition someone who believes in equal rights! I'm hoping that people will not be afraid to say—that doesn't mean you hate men. It doesn't mean that you want to separate out the world so that you're not part of ordinary life. That's not what it means at all! It just means that we believe women have the same rights as men, politically, culturally, socially, economically. That's what it means. And if you don't believe that about yourself as a woman, please, go ask yourself: Why? What is holding you back? And it's not going to be good for you as a woman to be denying the fact that you are entitled to equal rights. And so, yes, I'm a feminist, and I say it whenever I'm asked.
Fiorina, likely the first GOP presidential candidate to openly self-identify as a feminist, has given a remarkably similar answer on what feminism means to her. She agrees that women and men need to be treated equally, but disagrees on specific ways to level the playing field.
In June, Fiorina simultaneously called herself a feminist while insisting that the liberal definition of feminism is not helping to embiggen the tent.
"Today, only 23 per­cent of wo­men identi­fy with the term 'fem­in­ist.' Lib­er­al ideas aren't the an­swer. Their ver­sion of fem­in­ism isn't work­ing. It is time for a new defin­i­tion," Fior­ina said. "A fem­in­ist is a wo­man who lives the life she chooses. We will have ar­rived when every wo­man can de­cide for her­self how to best find and use her God-giv­en gifts. A wo­man may choose to have five chil­dren and homeschool them. She may choose to be­come a CEO, or run for pres­id­ent."
As a former embattled CEO of Hewlett-Packard, Fiorina has a lot of experience working in the male-dominated arena of Silicon Valley. At a recent town hall event in South Carolina, Fiorina told the crowd that climbing the corporate ladder in the "man's world in technology" was difficult at times.
"My very first business meeting was held in a strip club. That was awkward, really awkward," Fiorina said. "When I finally became a boss for the first time, my new boss introduced me to my new subordinates as, 'This is Carly Fiorina; she's our token bimbo.'"
It's an anecdote she's been telling since 2006, when she delivered the commencement address at the University of Maryland's business school. The use of the word "bimbo" also harkens back to Sarah Palin's vice presidential run in 2008, though she weaponized that word in her attacks against liberals and the lamestream media, not as proof of gender bias in politics.
A New York Times story published Monday explored the cognitive dissonance being experienced by some liberal feminists when they look at Fiorina: They are encouraged to see a forceful, intelligent woman taking on the likes of Donald Trump, but disagree with many of her stances on issues like abortion and federally mandated paid maternity leave, which Fiorina opposes.
But Fiorina has offered more compassionate views on other issues that affect women. She has said she supports the idea of paid family leave, just not a federal mandate for it. And in June, she offered a surprisingly open-minded view on transgender rights—comments that have not gotten nearly as much attention as her comments on Planned Parenthood.
"I think people ful­fill their po­ten­tial when they are able to be who they are and to be open about who they are," she said in a conference call with reporters at the time. "Be­ing a wo­man is about a lot more than our bod­ies, and what we look like. And that, in fact, is the real point of today's speech, that re­gard­less of how a wo­man looks, that a wo­man has a lot of po­ten­tial, and when that po­ten­tial is used, as the facts un­deni­ably demon­strate, the world is a bet­ter place."
Clinton would likely agree with that statement. The rub lies within, as Fiorina would say, how to best unlock women's potential for success. For Clinton, that means implementing institutional reforms. For Fiorina, that means encouraging individual agency. It's a helpful avatar for understanding how Republicans and Democrats tend to understand problems.
Some liberal commentators suggest that Fiorina cannot be a true feminist, because she is nothing more than a peddler of female "respectability politics."
But it's clear that Fiorina isn't just subscribing to the same "respectability politics" when it comes to feminism; she clearly thinks there are areas of institutional sexism in the world, including her firsthand experience in the corporate world.
The issue for liberals, then, is not one of respectability but of ideology, and for many progressive feminists, opposing abortion precludes your ability to call yourself a feminist.
Male candidates rarely, if ever, get asked whether they consider themselves feminists. It would be enlightening to compare Fiorina's answer with that of one of her male colleagues. And, like Clinton's and Fiorina's answers, the feminist question can give a good insight into how a candidate thinks not only about gender, but about inequality and justice writ large. Still, it's unlikely someone like Lena Dunham will be tapped to moderate the next GOP debate.