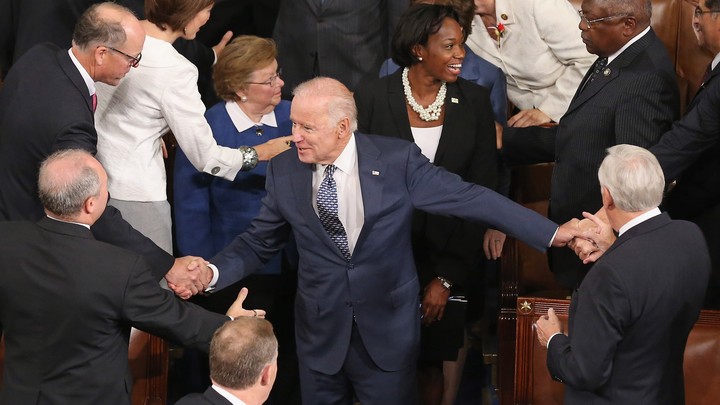 A key operative behind the effort to convince Vice President Joe Biden to run for president is asking friends and allies to submit résumés if they're interested in jobs on a potential Biden campaign.
The solicitation—obtained by National Journal—reflects the growing levels of excitement and anticipation inside the Draft Biden movement, despite great uncertainty over whether Biden will actually launch a White House bid.
Scott Dworkin, a Washington-based consultant whose firm, Bulldog Finance Group, leads the fundraising operation for the Draft Biden 2016 super PAC, wrote the email, which went out Wednesday afternoon. Dworkin instructed anyone interested in working for "the potential Biden campaign" to submit his or her résumé to a colleague of his at Bulldog Finance. Dworkin's message included the disclaimer: "(No this does not mean he's running)."
Here is the email:
From: Scott Dworkin <scott@xxxxxxxxxxxxxxxxxxx.com>
Date: Wed, Sep 23, 2015 at 2:03 PM
Subject: Resumes for Biden
To: Sam Jones <sjones@xxxxxxxxxxxxxxxxxxx.com>
If you or any friends have any interest in submitting your resume for the potential Biden campaign please submit to Sam who is ccd!  (No this does not mean he's running)
Scott J. Dworkin Founder & CEO Bulldog Finance Group O: (202) xxx-xxxx scott@xxxxxxxxxxxxxxxxxxx.com
(Dworkin declined to comment.)
The Draft Biden effort launched out of a Starbucks in Chicago in March, the handiwork of a political activist and veteran of the Afghanistan and Iraq wars named Will Pierce. The group has since been covered by The New York Times, CNN, and The Wall Street Journal; in April, Jimmy Fallon name-checked the group in a bit on The Tonight Show. Several recent additions to the group—among them Josh Alcorn, a top aide to the late Beau Biden, the vice president's elder son who died in May—have lent legitimacy to the Draft Biden super PAC.
Separately, Reuters reported Friday that Draft Biden is also staffing up in 11 states with Democratic primary elections on Super Tuesday next March. 
Biden himself has given supporters, donors, and the media plenty of reasons to suspect he might run. When ABC's George Stephanopoulos asked him in January if he'd take on Hillary Clinton, he replied, "Yes, there is a chance." He's recently visited three important primary states—Iowa, New Hampshire, and South Carolina—where he promoted President Obama's economic agenda while also feeding speculation about his own ambitions. And a few weeks ago, Biden met in private with Robert Wolf, a prominent New York fundraiser and one of Obama's closest allies on Wall Street, who bundled millions of dollars for the president's 2008 and 2012 presidential campaigns.
Bloomberg Politics's John Heilemann, who first reported the meeting, asked Wolf if he had any fresh insight into Biden's plans. Wolf demurred. "If he doesn't know yet," he said, "how would I?"
We want to hear what you think about this article. Submit a letter to the editor or write to letters@theatlantic.com.
Andy Kroll
is a journalist living in Washington, D.C., and a fellow at the Investigative Fund.