The Diploma Divide
Higher education increasingly does more to stratify than to dislodge privilege. Congress should examine why.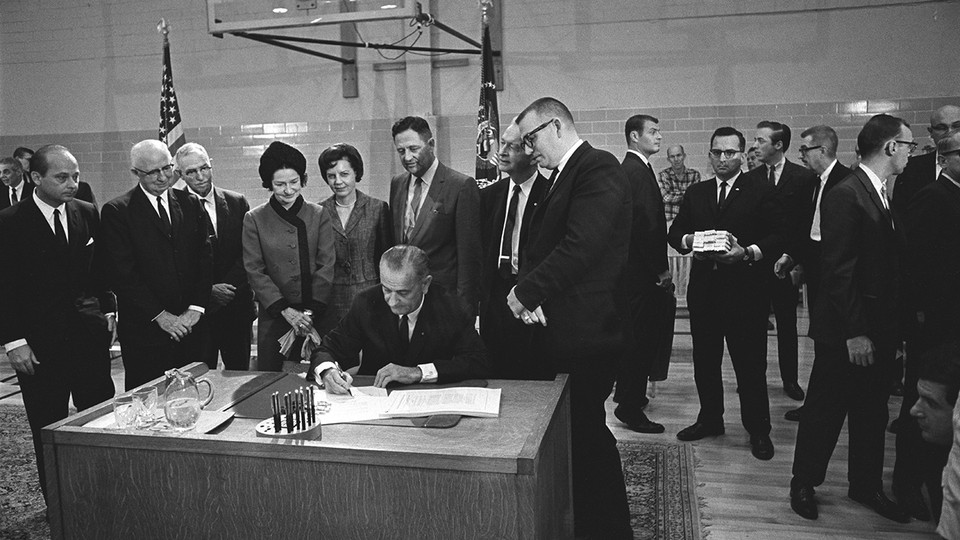 When President Lyndon Johnson signed the landmark Higher Education Act in November 1965, the setting he chose spoke as loudly as his words. Johnson inked the bill at his alma mater, Southwest Texas State Teachers College in San Marcos, Texas (now Texas State University), behind a desk he had used while working for the school administration to help pay his way. "I want you to go back," he told his audience, "and say to your children, and to your grandchildren ... that we have opened the road "... and we expect them to travel it."
Nearly 50 years later, the nation has advanced toward Johnson's soaring vision of democratizing access to higher education. In 1970, 46 percent of high school graduates from families in the bottom quarter of the income scale proceeded directly to college; now 62 percent do. The share of African-Americans aged 25 to 29 holding college degrees is about three times larger now than in the early 1970s; Hispanics have gained nearly as much.
President Lyndon Johnson signs the Higher Education Act at Southwest Texas State College on November 8, 1965. (LBJ Library photo by Frank Wolfe)But other trends are more discouraging. With tuition steadily rising, debt from student loans has skyrocketed. African-American, Hispanic, and low-income students who start college remain much less likely to finish than students from white or affluent families. One reason, as the Georgetown Center on Education and the Workforce has documented, is that most African-American and Hispanic students are channeled into the public colleges with the least resources, while the most selective schools that spend significantly more per student remain as preponderantly white as two decades ago. Higher education stands in the American imagination as the great escalator for upward mobility. But our colleges and universities now do as much to stratify as to dislodge privilege.
Washington can confront this corrosive dynamic as Congress begins reauthorizing the higher-education law, which governs federal assistance to colleges and students, such as Pell Grants. One reason for optimism is that Lamar Alexander, the Tennessee Republican and former Education secretary who chairs the Senate Health, Education, Labor and Pensions Committee, and ranking Democrat Patty Murray of Washington state have committed to producing a bipartisan bill this fall. Alexander and Murray followed a similarly collaborative process this spring to break a deadlock that dated back to George W. Bush's presidency over restructuring the K""12 school-testing and accountability regime established by the No Child Left Behind law. Their bill wasn't perfect—it needs stronger measures to ensure that schools don't, in fact, leave at-risk kids behind. But it passed the committee on a unicorn-rare unanimous vote, and it offers the framework for a genuine bipartisan consensus when it reaches the Senate floor, probably within days.
Alexander and Murray, as they examine the higher-education law, have identified some encouraging priorities, including addressing affordability, streamlining the notoriously complex federal financial-aid form, rethinking the way universities are accredited (to encourage more innovation), simplifying the income-based repayment option for student loans, and combating sexual violence on campus. Those are all worthy goals. But Congress needs to broaden its lens to examine the underlying forces that are producing a two-track system that increasingly devotes the most resources to educating the children who already start life with the greatest advantages. As Undersecretary of Education Ted Mitchell said recently, "College, the ticket to the middle class, must not become a luxury good."
Three issues are especially urgent. One is finding federal carrots and sticks to discourage states from disinvesting in public colleges and universities, which most students attend. From 2001 to 2012, the share of educational costs covered by state appropriations at public colleges and universities dropped from 68 percent to 44 percent. That has shifted costs partly to Washington, through higher Pell Grants, but mostly to parents and students: Although the maximum Pell Grant has more than doubled since 1995, it now covers a smaller share of costs at public universities than it did then. Washington can't keep pouring more dollars into the higher-education bucket if states are siphoning them from below.
Congress also needs to examine the endowment gap. Federal law allows university endowments to appreciate tax-free. As the Nexus Research and Policy Center recently calculated, that provides federal subsidies to high-endowment private institutions that dwarf the government dollars provided to public universities in the same state: On a per-student basis, for example, Harvard receives nearly five times as much in tax breaks as Massachusetts spends at its flagship public university. Nexus recommends taxing the richest endowments to bolster funding for institutions serving more low-income students, but allowing rich schools to offset the tax by expanding their own need-based scholarships.
Finally, Congress should examine the online-learning revolution. Done right, online courses can expand access and restrain costs. Done wrong, they threaten to further stratify higher education by relegating lower-income kids to time only with a screen while reserving in-person instruction for their more affluent classmates. Across all these issues, the guiding principle should be reinvigorating Johnson's vision of a higher-education system that operates to reward talent rather than reinforce privilege.