The Billionaire Candidate and His Blue-Collar Following
Class, not ideology, has boosted Trump's unconventional rise.
One of the defining characteristics of Donald Trump's support in early polls of the Republican presidential race is that he transcends the party's usual ideological boundaries. But his backing tracks other fault lines that reflect the party's shifting center of gravity—and create starkly different challenges for the rivals now trailing the mercurial businessman in the polls. In particular, Trump in recent polls is displaying striking strength among the party's growing ranks of working-class voters without four-year college degrees.
The billionaire developer is building a blue-collar foundation.
Trump displayed significant stability across ideological lines in three recent surveys: a Quinnipiac University national poll of potential Republican voters in late August and the NBC/Marist Polls of GOP voters in Iowa and New Hampshire released on Sunday.
In the Quinnipiac survey, Trump drew support nationally from 31 percent of likely Republican voters who described themselves as moderate or liberal, 26 percent who called themselves somewhat conservative, and 25 percent who identified as very conservative. The NBC/Marist Polls divided voters only between moderates and conservatives; Trump's showing in both Iowa (28 percent among moderates, 26 percent among conservatives) and New Hampshire (29 percent moderates, 27 percent moderate conservatives) was virtually identical across both groups. (The national CNN/ORC Poll released Thursday morning also showed Trump attracting exactly equal 32 percent support from moderates and conservatives, enough to comfortably lead the field.)
But two other distinctions emerged more clearly from the Quinnipiac and Marist surveys that could loom larger as the race develops. Trump drew somewhat more support from men than women in the Quinnipiac and Marist surveys. And he consistently ran more strongly among Republicans who did not hold at least a four-year college degree than those who did. Those blue-collar Republicans are growing in influence in the GOP nominating process, as a torrent of White working-class voters have realigned from the Democratic to Republican Party over the past generation.
The class and gender dynamics playing out in the GOP field compound each other, as figures provided to Next America by Quinnipiac and Marist make clear. The two polling organizations analyzed the results among White Republican voters (who comprise nearly all of the GOP electorate in Iowa and New Hampshire, and about 90 percent nationally) based on gender and education, and found that Trump's support generally followed consistent patterns.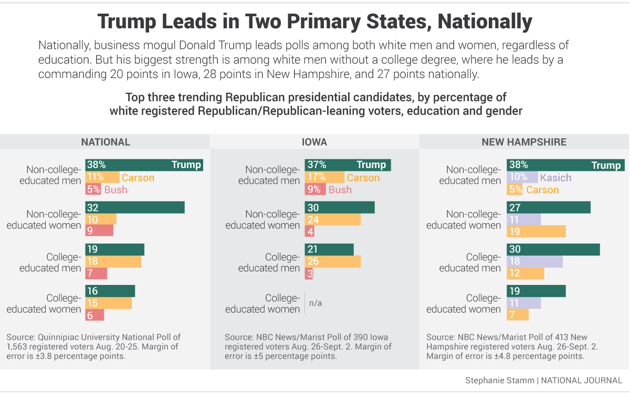 In each of the three surveys, Trump runs best among White men without a college degree, the blue-collar core of the modern Republican coalition. These working-class White men give Trump 38 percent of their support both nationally and in New Hampshire, and 37 percent in Iowa. Those are stunning numbers in a field with 16 candidates dividing the vote. No one comes close to Trump among these men in any of the three polls. In the national survey, surgeon Ben Carson ranks second with these men at just 11 percent. No other candidate attracts more than 17 percent of these men in Iowa or 13 percent in New Hampshire.
Trump's showing among White women without a college education was also strong, though not quite as dominant: He drew 32 percent of them in the national poll, 30 percent in Iowa, and 27 percent in New Hampshire. Trump led among them in all three surveys, though Carson (at 24 percent in Iowa and 19 percent in New Hampshire) showed competitively with the so-called "waitress moms" as well.
Trump's performance among college-educated Republicans wasn't nearly as strong in all three polls. In both the national and New Hampshire polls Trump garnered the least support from White women with at least a four-year college degree. (The Marist sample in Iowa did not include enough of them to break out.) Nationally, Quinnipiac found Trump drawing 16 percent of them, almost even with Carson's 15 percent; in New Hampshire, Marist put him at 19 percent with them, ahead of Ohio Gov. John Kasich and Carly Fiorina at 11 percent each.
Trump also registered relatively modest support from college-educated White men in the national Quinnipiac poll (19 percent compared with Carson's 18 percent) and Iowa Marist survey (21 percent, trailing Carson's 26 percent); Trump ran better with these well-educated men in New Hampshire (drawing 30 percent to 18 percent for Kasich, his best group.)
The CNN/ORC Poll released Thursday showed Trump gaining substantial ground among college-educated Republicans since their previous survey in August. But it still found his support higher among Republicans without degrees (at 33 percent) than those who have obtained advanced education (28 percent).
These results suggest that at this early point, class beats gender in assessments of the unconventional candidate. In fact, the Quinnipiac survey found that Trump drew exactly twice as much support among both Republican men and women without a college degree than among their counterparts holding advanced education.
If that pattern holds, Trump could benefit from the increasingly blue-collar tilt of the Republican electorate.
In the 2012 GOP primaries, voters without a college degree cast a majority of the vote in 13 of the 20 states where exit polls were conducted, and at least 45 percent in four others. Those voters also generally display much more receptivity than college-educated Republicans to the sharp anti-immigration message Trump is delivering.
In the past two GOP presidential races, candidates leading the national polls in the fall before the first votes were cast ultimately faded without capturing a single state. But Trump's resilience through repeated controversies over the past several months have suggested that his rivals cannot count on support for him simply evaporating: They will need to find a way to eclipse him.
Eventually, the other candidates who had been counting on mobilizing the GOP's "populist" voters—led by Wisconsin Gov. Scott Walker and Sen. Ted Cruz of Texas—will need to find a way to dent Trump's strong early standing with these volatile, deeply disaffected, blue-collar Republicans. Meanwhile, the Republicans aiming more at the party's more upscale "managerial" wing—a list headed by Kasich and former Florida Gov. Jeb Bush—will need to consolidate the college-educated Republicans who are already proving the least susceptible to the Trump wave.