Ted Cruz Wanted to Talk Policy at the Iran Rally. Donald Trump Was There to Campaign.
The "romance" between the two candidates could be jeopardized by Trump himself.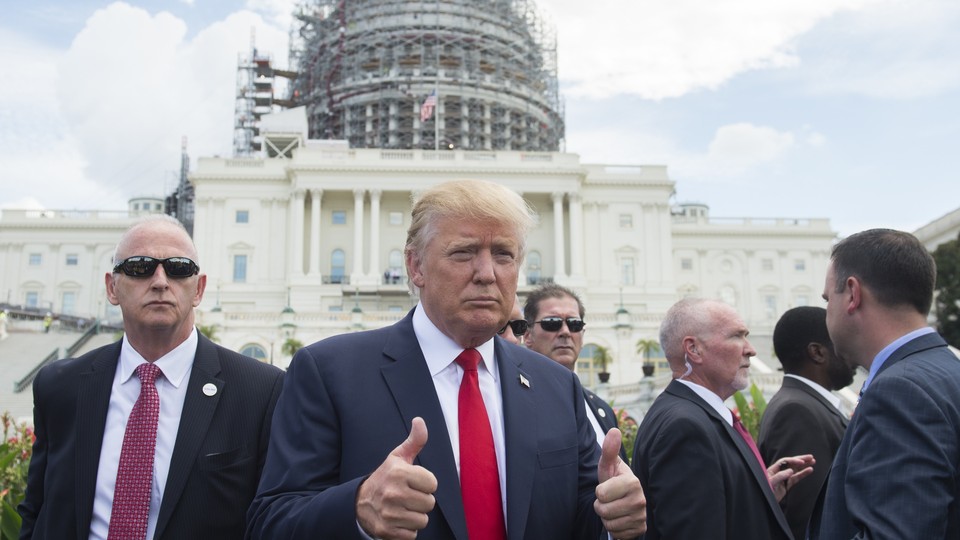 Donald Trump and Ted Cruz showed up on Capitol Hill for the Stop Iran Rally on Wednesday, ostensibly united in their aim of maligning the Obama administration's nuclear deal.
But once they actually started speaking, Cruz sounded like the senator he is, while Trump sounded unmistakably like a presidential candidate.
Cruz railed against the Iran nuclear deal in his roughly 12-minute remarks, sticking largely to policy, and only briefly weighing in on the presidential race. Trump, on the other hand, was there only because of the race.
"We will have so much winning if I get elected that you may get bored with winning," Trump said at the end of his address, before rethinking his pessimistic phrasing. "You will never get bored with winning. We never get bored. We are going to turn this country around."
Only after presenting a litany of detailed arguments against the accord brokered by the Obama administration did Cruz get around to mentioning the 2016 race. "There will come a president who is not named Barack Obama," he said to cheers, though he did not go so far as to pointedly say that the next president may, in fact, be Cruz himself.
Wednesday's rally marks the first time the two presidential candidates have jointly headlined such a high-profile event. The side-by-side gave Cruz an opportunity to benefit from the media spotlight that follows Trump everywhere. But Cruz also risked having his voice drowned out by Trump's presence, by now notorious for sucking up most of the oxygen in nearly any room.
Trump didn't attempt to wade into in-the-weeds arguments against the agreement, saying at the top of his five-minute address that "Ted and everyone else have gone through all of the details."
Instead, he used the West Lawn pulpit to trumpet how he'll get the four American hostages in Iran out of imprisonment ("they will be back before I ever take office because [Iran knows] that's what has to happen"); praise his own deal making (a frequent bit of Trump self-aggrandizement since the agreement's announcement); and criticize the U.S. officials who worked on the deal ("we are led by very, very stupid people").
Cruz has worked hard so far to draw subtle distinctions between himself and Trump, all the while praising the real estate mogul in the hopes that it may endear him with Trump's loyal supporters.
Cruz's most passionate remarks on the race, which arrived at the tail end of the speech, offered up one area of potential contrast between him and Trump, who's suggested he wouldn't immediately scrap the deal as president. "Any commander-in-chief worthy of defending this nation should be prepared to stand up … and rip to shreds this catastrophic deal," Cruz called out.
To some extent, Cruz's strategy has paid off. Trump has been quick to heap approval on Cruz, and has not directed the kind of vitriol towards the Texas senator that he has lobbed in abundance at Jeb Bush.
"Well, it is a little bit of a romance. I like him. He likes me," Trump said in an interview with CNN's Dana Bash after the rally when asked about his relationship with Cruz. "He's backed me 100 percent, when I came about illegal immigration, he was the one person that really—and there were a couple of others, of the candidates—but Ted Cruz was out there and he really backed me very strongly, as you know as well as anybody else. And I always respected that. I thought that was very nice."
In interviews with National Journal ahead of the rally, two of its organizers credited Trump for boosting its profile. Jenny Beth Martin, cofounder of the Tea Party Patriots, said Tuesday that she expected Trump's appearance, along with that of Cruz, would bring more attention to the deal and perhaps encourage more detail about the agreement to come out.
But while Cruz stands to benefit from Trump's spotlight, he may also end up overshadowed by it.
During his address, Trump almost made it seem like Cruz, who'd invited him to the rally, was there to introduce him. After he strode out to the lectern to R.E.M.'s "It's the End of the World as We Know It (And I Feel Fine)," he told the crowd how he'd gotten to be on the stage.
"I was called by Senator Cruz a few days ago, and he said, 'Do you think we can get a really good crowd out here to protest this incompetent deal?'" he said, marveling at the audience in front of him and implying that he'd brought them there.
And as Cruz works to build momentum for his campaign, he is no stranger to the difficulty of attempting to stand out in a crowded Republican field.
On Tuesday, Cruz was at a rally in support of Kim Davis, the Kentucky county clerk who was jailed after refusing to grant marriage licenses to same-sex couples. At that event, however, Mike Huckabee was the presidential contender who made it onto the stage and into many of the widely circulated photos with Davis, not Cruz. A Huckabee aide went so far as to physically strong-arm Cruz out of the spotlight.
At times during the anti-Iran deal rally, it appeared that Cruz might have been overshadowed once again.
"I'm going to get rushed off stage because I've got a senator behind me, and then I've got Mr. Trump behind me," Michael Pregent, the director of Veterans Against the Iran Deal, said during his turn at the podium, failing to mention Cruz by name.