Ted Cruz and Donald Trump Forge an Alliance of Convenience
The Republican presidential candidates made their case against the Iran deal during a rally Wednesday, but they also secured supporters who are angry with the leadership in Congress.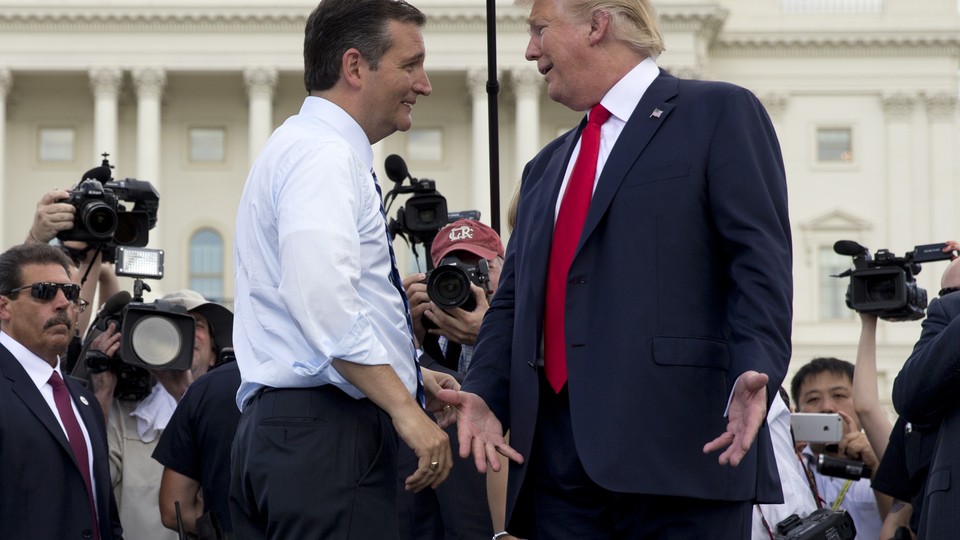 If one thing was made abundantly clear during a rally Wednesday to protest the Iran deal, it was that Ted Cruz's effort to appeal to Donald Trump's supporters seems to be working.
"I'm a huge supporter of both," said Dave Herman, 46, who came from Pennsylvania with his family to attend the rally. But Trump, he added, was able to say the things that politicians like Cruz could not.
Cruz and Trump headlined the "Stop the Iran Deal" rally on Capitol Hill. Cruz invited Trump to attend in what seems to be a play to capture Trump's supporters if the real-estate mogul falters. And Trump knows it. "I'm not worried about giving someone else exposure, especially if that someone else is a person who deserves respect," Trump told Politico in an interview.
The two Republican presidential candidates are appealing to an overlapping set of conservatives who are angry with the establishment. The agreement with Iran provided them with an opportunity to denounce the party's leadership.
Hundreds attended Wednesday's rally. Many came decorated in pins, t-shirts, and signs to protest the Iran deal. Others sat on blankets with their families as if waiting for a concert to begin.
In July, Iran, the U.S. and other nations agreed to a deal aimed to curb Iran's nuclear program in exchange for sanctions relief. This week, the White House secured the votes it needed to sustain a filibuster of a resolution of disapproval.
During the rally, Cruz and Trump warned of the consequences of the deal. Cruz said the upcoming vote was "likely the most important" to face this Congress. And Trump promised that, if elected, he would ensure the return of the four American hostages currently being held in Iran.
Remarks from both Republican presidential candidates were met with cheers and applause from the audience. Many people echoed their words, particularly jabs at the leadership. "We are led by very, very stupid people," Trump said. "Traitors!" a man yelled in the crowd. But anger with the establishment wasn't reserved to just them.
People in the audience traveled from around the country to express their frustrations with the Iran deal and what many view as a broken Congress. Every mention of the House Speaker John Boehner and Senate Majority Leader Mitch McConnell quickly received boos from the crowd.
Kathleen Crosby, 62, drove up from South Carolina to attend the rally in hopes of dissuading senators from backing the deal. And even though she wasn't convinced anything would change, she'd at least try to show her support for Cruz, whom she touts as the most "consistent conservative."
Speaking with those in the crowd, it seemed as though their support for Trump or Cruz was fueled by their anger with Congress. One woman visiting Washington, D.C., from Las Vegas told me she was fed up with Congress. "We need to make changes," said Jill Flynn. And Trump, for her, represented change.
"I grew up in Washington," agreed Maryland native Adol Owen-Williams. "I've heard all the B.S." Owen-Williams, an ardent supporter of Trump, said that the Iran Deal "scares me to death."
A recent Pew Research survey found that 49 percent of Americans oppose Iran deal in contrast to the 21 percent who support it. A CNN/ORC poll also found that 56 percent of Americans believe Congress should reject the deal.
Denise McCafferty, 52, traveled from Pennsylvania to protest the deal. "What Part of Death to America Death to Israel Don't You Understand Some Read," her sign read. "I like Trump," she said, although she insisted she was strictly there to oppose the deal.
After Trump and Cruz delivered their remarks, though, the crowd quickly melted away.