Susan Collins Has Perfect Attendance: She Hasn't Missed a Senate Vote in 18 Years.
Not even a broken ankle will keep Collins from voting.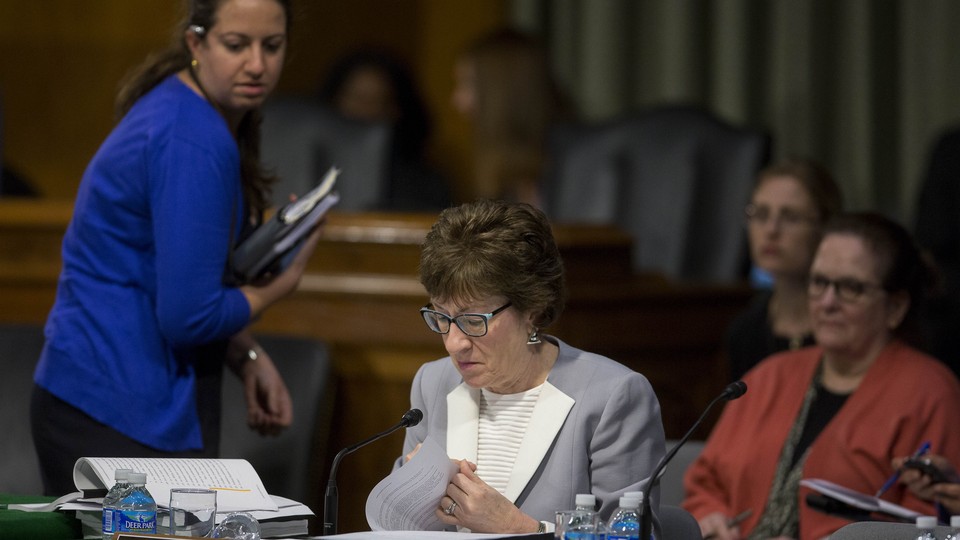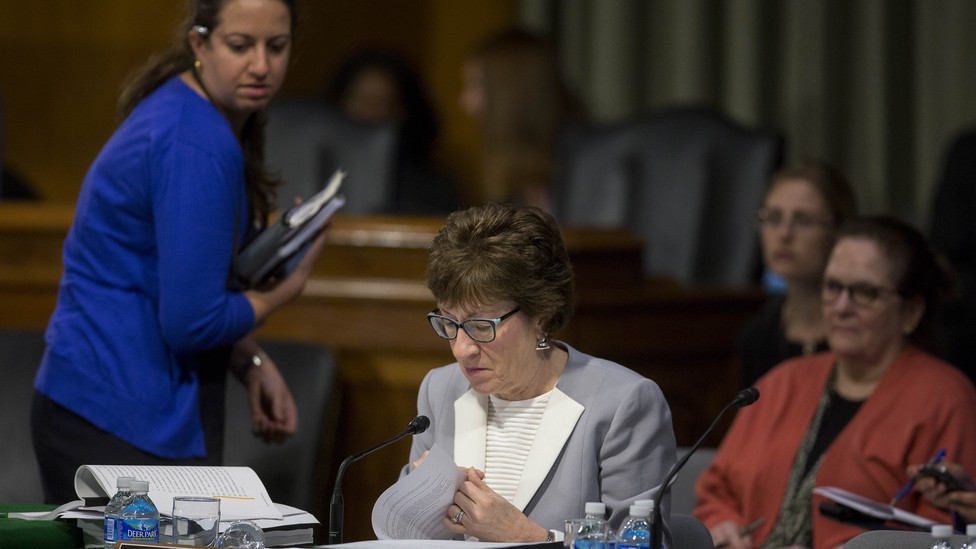 Sen. Susan Collins would do just about anything to make it to a Senate vote.
The Maine Republican once managed a homeland security bill from the Senate floor with a 102-degree fever. (She says she passed her flu to former Sen. Joe Lieberman.)
She is no stranger to rushing off of a plane when last-minute votes are scheduled, and Collins gives up her rare off days—Sundays—to travel just to ensure her record is not interrupted by an airline delay.
In 2008, as she ran to the Senate floor for a vote, she broke her ankle. "I ran in high heels. I got there. They were holding the doors open for me absolutely frantic because the gavel was really about to come down," Collins recalls. " I twisted my ankle on the way, and it turns out that I broke it and didn't know it until I re-broke it last December."
Thursday, Collins was recognized for that devotion just before she cast her 6,000th consecutive vote. Majority Leader Mitch McConnell quipped that he was not sure "a surgery, a tsunami, [nor] the most wicked Maine nor'easter" could ever stop Collins from making a vote.
Colleagues stayed in the chamber–a rarity–to recognize Collins and shower her with applause. Her Maine colleague, independent Sen. Angus King, joked that he once he bragged about his own 98.6 percent attendance ratings to Collins only to have her reply, "You'll never catch me."
"She was right," King said.
There are only two other senators who've surpassed Collins's perfect voting record: The late Sen. William Proxmire of Wisconsin (10,000 votes) and Sen. Chuck Grassley of Iowa (7,440 votes).
But in her 18 years of service, Collins says her prioritization of voting is no different from the way Mainers prioritize their own work. She hopes to continue her streak.
"It is a way for me to demonstrate to my constituents how much it matters to me that I serve them in every way that I can," Collins says. "I know someday, something will happen that causes me to have to miss a vote, but so far, through a lot of hard work and some sacrifice of personal time, I have been able to make everyone in 18-and-a-half years."