Stephen Colbert's Late Show Gives Presidential Candidates the Mega-Platform They Need
At least four declared candidates, including Ted Cruz and Rand Paul, are making plans to visit Colbert's new show.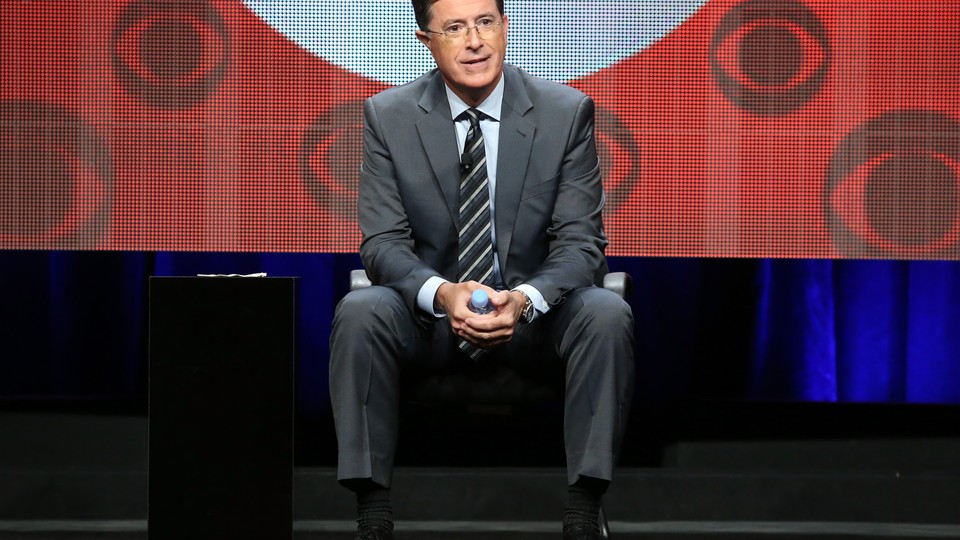 When Stephen Colbert debuts Tuesday as the new host of CBS's Late Show, he's expected to mostly leave the Colbert of Comedy Central behind. That means he probably won't openly mock his guests—though that'd make for great network TV—or to launch into the satirical rants that became his signature on that show.
But if the roster of guests for his first weeks on the job are any indication, Colbert plans to remain as politically engaged as ever—and in the process, give White House hopefuls the chance to reach what's bound to be a uniquely wide audience.
A handful of contenders are making plans both publicly and behind the scenes to visit the Late Show set in the honeymoon period of the show's first several weeks. Jeb Bush, Bernie Sanders, and potential candidate Joe Biden are all coming on within the show's first nine days. National Journal has learned that Ted Cruz is booked for September 21 and that Rand Paul's staff is working with Colbert's team to arrange an interview in the near future.
For campaigns, booking with the new Late Show seems like a PR no-brainer, especially if a candidate can appear within the first few days or weeks of the show's debut. The candidates could have the eyeballs of a varied group of voters: Viewers who'd typically tune into The Colbert Report might end up migrating to CBS; David Letterman fans could tune in simply out of habit; while still others might watch the show out of pure curiosity.
And the number of viewers is likely to be high, an advantage to campaigns still looking to boost candidates' profiles. Advertisers "are banking" on Colbert's debut to draw viewers, a forecaster told Adweek in an interview last week, and they expect the show to sustain high viewership even after its premiere. As Bloomberg Businessweek noted last year, Colbert is a hit with viewers 18 to 49 years old, a key advertising demographic. The lower end of that spectrum also represents a key voting demographic: Since before the 2014 midterms, younger voters, who typically skew Democratic have looked increasingly in play for either party.
Jimmy Fallon's early successes when he took over The Tonight Show in early 2014 also provide a glimpse into Colbert's potential draw. Fallon's premiere drew 11.31 million viewers, the show's third-highest audience in about five years, according to Variety. (Fallon was bested only by Conan O'Brien's debut in 2009 and Jay Leno's last shows before Fallon took over.) If Colbert pulls similar numbers, it'll be a boon to all involved.
But there are advantages to appearing on Colbert that go beyond demographics, as he has the potential to lend each candidate some smart-aleck credibility. Though Colbert won't be in character any longer, reports from Late Show's trial shows last week indicate some segments have retained his signature snark. If the candidates are able to keep up with his quick mind, they could get some points from Colbert's biggest fans. Relatedly, the candidates will have the opportunity to show their lighter sides (qualities that often get lost on the cutting-room floor of a campaign).
The candidates aren't the only ones who win here, either. By going on Colbert's program in its debut weeks, the contenders help him cement the idea that his show will be a twist on typical late-night TV. It'll have the quick-witted comedy element of the Letterman days, but with a news focus typical of its host. CBS CEO Les Moonves told The New York Times recently that Colbert's penchant for politics sets him apart from other late-night hosts. "Frankly, that's not what Fallon or Kimmel does, particularly," Moonves told the Times.
CBS has been proactive in getting at least two candidates booked early: Sanders spokesman Michael Briggs confirmed to National Journal that it was CBS who asked the senator to come on the show. Sanders, who'll be on the September 18 episode, is a "big fan" of Colbert, Briggs said. Catherine Frazier, Cruz's spokeswoman, said CBS inquired about booking the senator shortly after his presidential announcement.
A CBS spokeswoman declined to comment on any invitations extended to presidential contenders. But she noted that Emily Lazar, one of the show's co-executive producers, has relationships with politicos going back to her days on The Colbert Report and Charlie Rose.
Not only do these early 2016 appearances fit with the Colbert brand, but they could be newsmakers for reasons that go beyond the novelty of the show.
Bush will be on the program's debut episode alongside uber-liberal George Clooney, an enthusiastic supporter of Hillary Clinton who once hosted a $40,000-a-plate fundraiser for President Obama. The booking of these two foils is likely not a coincidence. But having Bush on has comedic potential in and of itself after last week's ticket-raffle drama. And Colbert is bound to have some fun with socialist Sanders—who was once on The Colbert Report—and serious-minded conservatives Cruz and Paul.
That's all not to mention the recent speculation about Biden, that famously loose-lipped pol who's weighing a presidential run. He could pull a John McCain by announcing his bid on Thursday's episode, surprising viewers and perhaps even himself.
A previous version of this story referred to Colbert's new show several times as Late Night.