Stephen Colbert Does Something Reporters Have Failed to Do
At his first show Tuesday night, the new host got Jeb Bush to give a substantive answer about what makes him different from his brother.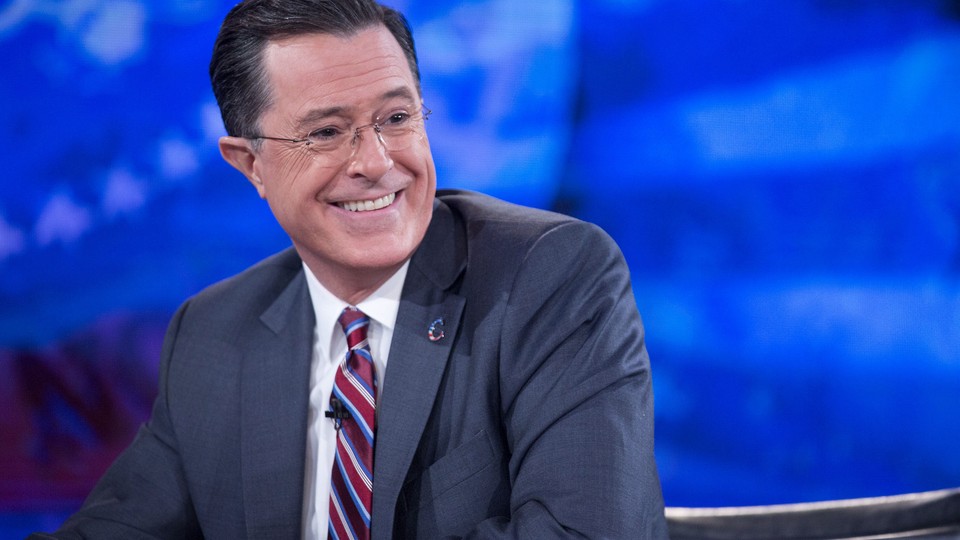 Stephen Colbert may have left his conservative blowhard alter ego behind with his Comedy Central show, but the brand-new, late-night host iteration of Colbert proved himself to be just as deft an interviewer on Tuesday night.
During his first performance hosting The Late Show on CBS, Colbert mixed his characteristic wryness with a more mainstream sensibility. (This is network television, after all.) And in his interview with presidential candidate Jeb Bush, Colbert was able to draw out a more substantive answer on differences between Bush and his ex-president brother than many actual journalists have been able to do.
Of course, there were silly questions, too. Colbert asked Bush why he insists on using an exclamation point in his "Jeb!" logo. "It connotes excitement," Bush said in a characteristic understatement. Colbert also asked Bush about when Barbara Bush said there have been enough Bushes in the White House. "It was a little embarrassing," he admitted, but insisted his mother was only joking.
"There is a nonzero chance that I would vote for you," Colbert admitted at one point. "You seem like a very reasonable guy who believes that governing is something that the government should do."
Colbert then pointed out his own brother in the audience, whom he said he disagrees with politically. Then, Colbert pivoted to Bush, asking how he differs with his own brother, former President George W. Bush.
"I'm younger, much better-looking," Bush joked at first.
But when Colbert pressed him on policy differences, the younger Bush gave a surprisingly detailed answer:
Bush: I think my brother probably didn't control the Republican Congress's spending. I think he should have brought the hammer down on the Republicans when they were spending way too much, because our brand is limited government. You can take care of people, the people that need to be at the front of the line, the developmentally disabled, people that are really struggling. That's a core value of our party. But we shouldn't spend so much money on everything else. And that's what we were doing in the last three or four years of my brother's tenure. He didn't veto things. He didn't bring order and fiscal restraint.

Colbert: So the way you differ from your brother, George, is that he was not conservative enough?

Bush: On spending. Look, they call me Veto Corleone in Florida, because I vetoed 2,500 separate line items in the budget.

Colbert: You know, he is an antihero in that movie.
While this is the most meaty answer Bush has given, he was careful to phrase it in a way that absolves his brother of his own role increasing spending, through cuts and the war in Iraq. Instead, Jeb Bush only blamed his brother for not being able to keep Congress in line and "bring the hammer down."
Colbert and his former boss, Jon Stewart, both have long insisted that they are comedians, not journalists. Nonetheless, the answers they are able to draw out of their subjects are invariably more interesting than any other talk-show host.
Washington politicos may glue their eyes to the coveted Sunday shows for morsels of news, but with Colbert's new show, and a bevy of political guests slated to appear on his show, weeknights on CBS are about to get a lot newsier.