Stephen Colbert Chides Jeb Bush for Fundraising Off First "Late Show"
In response to a VIP ticket raffle from the Bush camp, Colbert launched a fundraiser of his own.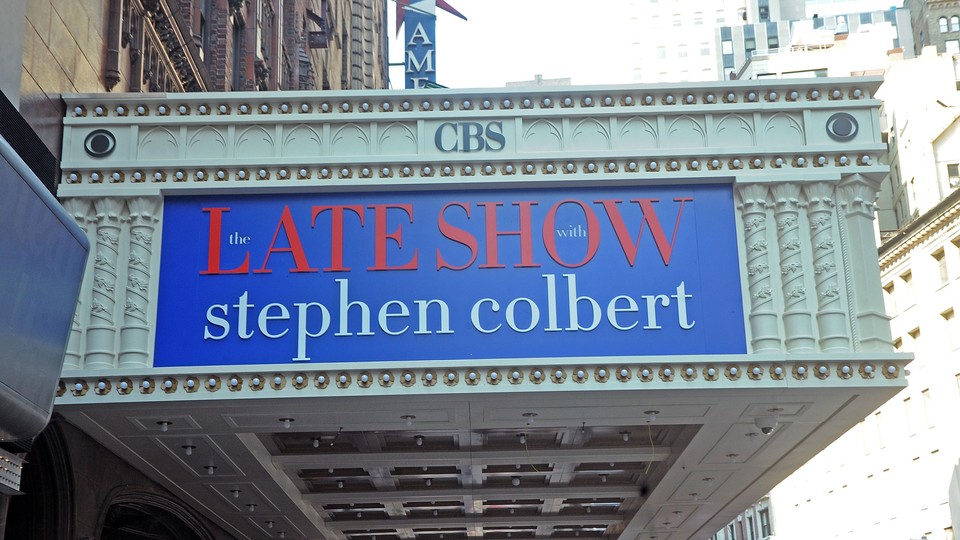 Hell hath no fury like a Late Show host scorned.
Stephen Colbert took presidential candidate Jeb Bush to task Wednesday afternoon for raffling off a VIP ticket to Colbert's premiere Late Show on Sept. 8 as part of a campaign fundraiser. Bush and known Hillary Clinton supporter George Clooney are slated to be the host's first guests.
The about-to-hit-primetime TV host, formerly of The Colbert Report, displayed his typical snark in poking at Bush for offering up the ticket to supporters for at least a $3 contribution. The campaign launched the fundraising attempt late last week.
"No one from Jeb's campaign asked me if this was OK with me to raise off my first show," Colbert said in the video. "Where's my cut of that sweet 3 bucks, governor?"
The video seems straight out of The Colbert Report playbook, even though Colbert adopted an ultrasassy persona for that program that won't be around for Late Show. But the Bush campaign, in an email to National Journal, suggested the video was all in good fun. Spokeswoman Kristy Campbell said the campaign got permission from the show to raffle off the ticket.
"We think Stephen's piece is hilarious," Campbell said. "It's a comedy show, folks!"
CBS News could not be immediately reached for comment. A Wednesday-evening story posted to CBS's website seemed to support Colbert's claim that the Bush camp didn't ask for permission, but Campbell said the campaign has asked CBS to update its story.
In the video, Colbert also notes that in a move to encourage people to donate, the campaign has "sweetened the pot" by giving the winner of the ticket a dinner with Woody Johnson, Bush's national finance co-chair and the owner of New York's least successful football team. ("Smart move by Jeb to associate his campaign with the winning tradition of the New York Jets.")
And Colbert is making sure Bush won't be the only one fundraising off the first show: In response to the campaign's fundraiser, Colbert himself is raffling off tickets in support of the Yellow Ribbon Fund, which supports U.S. veterans. Bush, for his part, thinks Colbert's fundraising effort is "great," Campbell said.
In two tweets Wednesday night, Bush himself responded to Colbert's video, saying he's lowering the contest fee to $1 and would be donating to the host's fundraiser as well.
In his email to supporters about the raffle, the Bush campaign pegged the Late Show taping as "something you'll still be talking about 20 years from now." Colbert, teasing about the enthusiastic marketing, agreed that the event will still be buzzy 20 years from now, "when the next Bush is running for office." George P.?
This story has been updated with a response from Jeb Bush's spokeswoman and tweets from the governor.