State Department Releases New Trove of Clinton Emails
The approximately 6,000 new emails mostly date from 2010 and 2011.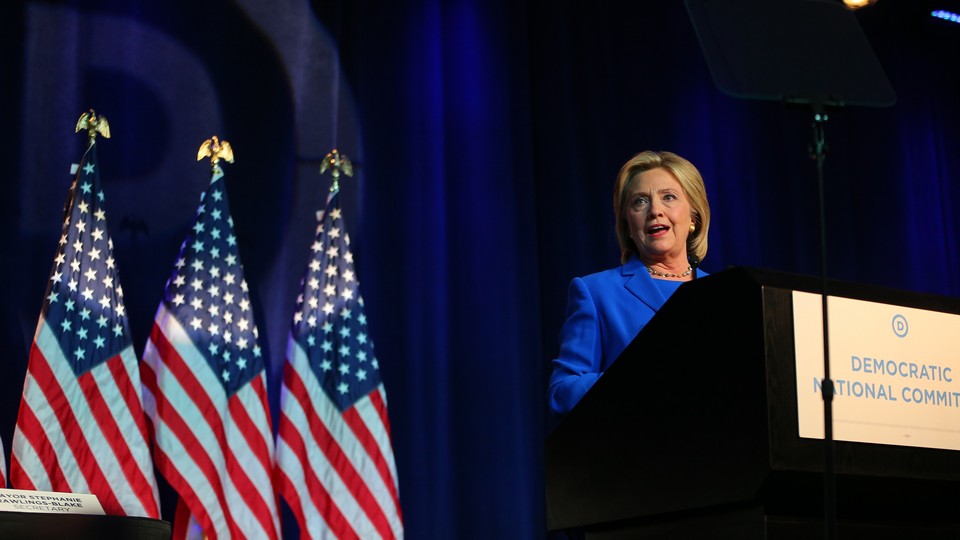 The State Department released 6,300 pages of Hillary Clinton's emails Wednesday afternoon, a move that will provide more insight into Clinton's four-year tenure as secretary of State but is unlikely to provide any bombshells.
The new trove of emails—the fifth such release from State—focuses largely on missives from 2010 and 2011, the State Department said.
Clinton turned over more than 55,000 pages of emails to the State Department back in December 2014. Her use of a private email address, hosted on a private server at the Clintons' Chappaqua, N.Y., home, came to light in a New York Times report in March.
The staggered release of the emails—several thousand at the end of each month, through January of 2016—has become what Clinton herself called a "drip, drip, drip" of stories and information that's proven harmful to her campaign. With the sustained bad headlines over her email practices, Clinton has seen her favorability rating and trustworthiness drop, and Vermont. Sen. Bernie Sanders has quickly gained on her in national and state-level polling.
The biggest news from Wednesday's email release is that it included more than 200 additional emails with classified material—more than doubling the total number of emails released thus far that included classified information. Clinton and her campaign have argued that classified information is an inter-agency issue and that the information that is now classified wasn't classified at the time it was sent.
Perhaps the most memorable exchange in the new email cache is one in which Clinton complains to aide Huma Abedin about a White House operator not believing they were actually talking to Hillary Clinton.
"Right now I'm fighting w the WH operator who doesn't believe I am who I say and wants my direct office line even tho I'm not there," she wrote in the 2010 email. "I told him I had no idea what my direct office # was since I didn't call myself and I just hung up and am calling through Ops like a proper and properly dependent Secretary of State--no independent dialing allowed."
The new emails included one thread between Clinton, former State aide Anne-Marie Slaughter and state chief of staff Cheryl Mills about the topic of non-State email addresses—exactly the decision that has caused Clinton so much trouble this year. In the email from June 2011, Slaughter emailed to suggest that a current or former State employee should point out how "antiquated" the technology was.
"It would be a great time for someone inside or outside to make a statement/ write an op-ed that points out that State's technology is so antiquated that NO ONE uses a State-issued laptop and even high officials routinely end up using their home email accounts to be able to get their work done quickly and effectively," she wrote.
Clinton replied that this "makes good sense," and Mills followed up with a concern that "I am not sure we want to telegraph how much folks do or don't do off state mail b/c it may encourage others who are out there."
The emails again showed the frequent missives Clinton received from Sidney Blumenthal, a longtime confidant of the Clintons. His correspondence with her ranged from commentary on the Tea Party and the 2010 midterms to Mitt Romney's presidential campaign to how to sell the administration's Libya policies.
"This sounds credible," Clinton wrote to adviser Jake Sullivan when she forwarded an email from Blumenthal about the location of Libyan dictator Muammar Qaddafi. "Can we verify?"
Blumenthal also sent Clinton an Election Night memo on the 2010 midterms, when Republicans made major gains and retook control of the U.S. House. The memo outlined what he "hear[s] from Republican sources and elsewhere and what it means for Republican strategy." (Clinton replied thanking him for his "insights," and noting that she is "so distressed over all of this.")
In another, Blumenthal advised her to use the phrase "successful strategy" when speaking about the Obama administration's policy on Libya. "Do not skimp on the reasons in the US interest behind the successful strategy," he wrote. "We prevented a humanitarian tragedy on a vast scale."