So Much for That Veto Fight on Iran
Democrats now have 41 votes in the Senate in favor of the nuclear agreement, meaning a resolution of disapproval might not even make it to President Obama's desk.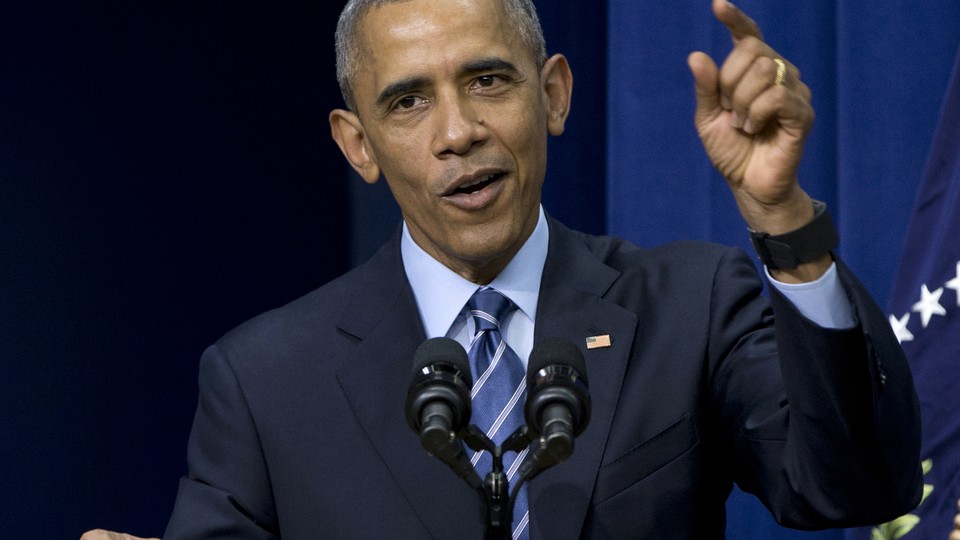 All summer long, the question in the congressional debate over the Iran deal has been whether opponents could muster a veto-proof majority to block the agreement from taking effect.
Now it looks like President Obama might not have to use his veto pen at all.
Within minutes of each other Tuesday, three more Senate Democrats—Richard Blumenthal of Connecticut, Gary Peters of Michigan, and Ron Wyden of Oregon—all came out in favor of the nuclear deal, bringing the total number of supporters in the Senate to 41. That means Democrats have enough votes to filibuster a resolution of disapproval and block it from coming to a final vote.
It doesn't quite guarantee the resolution won't pass—it remains possible that some supporters would vote with Republicans on a procedural motion on the grounds that such an important matter of foreign policy deserves an up-or-down vote. Toward that end, Minority Leader Harry Reid has offered to forego a filibuster if Majority Leader Mitch McConnell agrees to raise the threshold for final passage to 60 votes. But that wouldn't change the outcome if Democrats stick together.
For Obama, the announcements cap a successful summer of lobbying his own party to stand by him on a critical piece of his foreign-policy legacy. Aside from Senator Chuck Schumer, nearly every top Democrat in Congress will be supporting the agreement. The chairwoman of the Democratic Party, Debbie Wasserman Schultz, announced her support over the weekend after weeks on the fence. And Obama has won a few noteworthy endorsements from Republicans outside the Capitol, including Colin Powell, Dick Lugar, and Brent Scowcroft. But the result is properly seen more as a loss prevented than a victory achieved. After all, when Congress votes on the deal over the next few weeks, a majority of lawmakers will still be voting against the Iran agreement—they just won't be able to stop it.