So Is the Pope a Democrat, or What?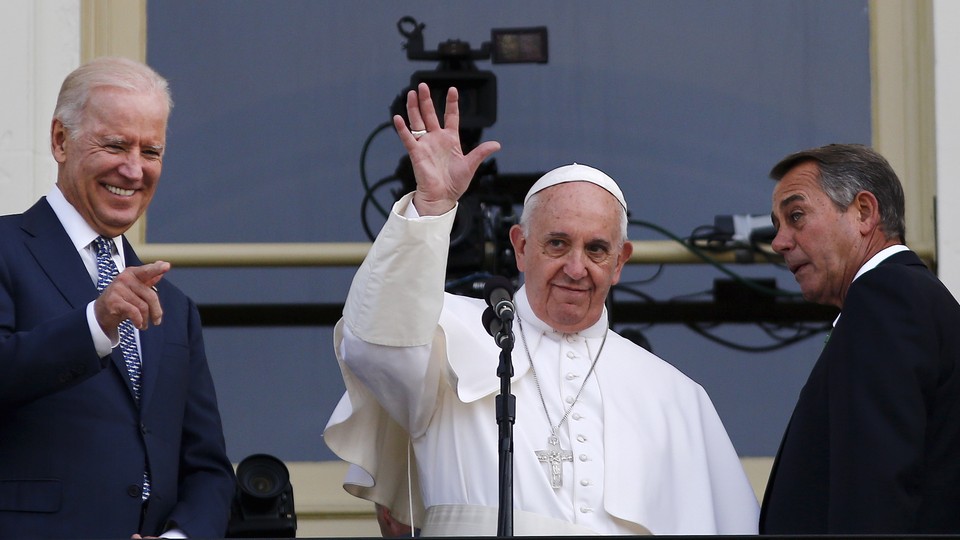 Editor's Note:
This article previously appeared in a different format as part of The Atlantic's Notes section, retired in 2021.
Molly has a piece up this morning pushing back on my argument that Pope Francis is not a 'progressive'—he's a priest. "Religion writers never tire of reminding us that, as revolutionary as Francis may appear, he actually believes the same things as previous popes," she writes. (True: still not tired.) "But what makes Francis different is really a matter of which Catholic beliefs he has elevated to the level of communal concerns—public policy—and which he has framed as individual choices."
She makes a persuasive argument: Francis has taken on issues that matter to U.S. Democrats, like climate change and immigration; he has pushed for government action on these issues, in both his writings and his speeches; and Republicans fear him, sometimes even using the "priest, not politician" line to put him down.
These facts may be true, but they still miss the broader point. In his speech to Congress today, Francis put forth a challenge to Republicans and Democrats alike, speaking on immigration, the environment, war, traditional families, and more. As I wrote in my article on the speech:
In a room where almost all Democrats voted to authorize the Iraq war more than a decade ago, it's hard for politicians of any party to take credit for authentically ending global war.  In a country which continues to be a leader in carbon emissions, it's hard for anyone to claim leadership on climate issues.
I have a personal policy of never Francisplaining to others, (a) because I'm Jewish and (b) because that's the single fastest way to end up looking like a dummie on the topic of this unpredictable and strong-willed pope. So instead, consider these ecumenical-ish thoughts:
The first thing to note is that Francis's worldview is one with continuity. There's a reason that, in his encyclical on climate change, Laudato Si, he criticizes international-development organizations for using birth control as a panacea to issues like hunger and extreme poverty. The topics Americans call "social issues"—birth control, abortion, sexuality—are intimately connected, in the teachings of both Francis and the Church, to economics and politics. One of the phrases Francis repeatedly uses is "throwaway culture," and this includes a lack of appreciation for marriage, widespread abortion, and use of birth control. "A widespread and insensitive mentality has led to the loss of the proper personal and social sensitivity to welcome new life," he said in September about the sin of abortion.
Contrary to Molly's argument, Francis does believe this is a concern for governing institutions—they are "communal concerns," or public policy, as she puts it. The whole reason Francis is in the United States is for the World Meeting of Families, which is all about traditional marriage, the welfare of children, the importance of life-giving. And the topic of that synod Molly mentioned at the end of her article? Marriage, divorce, sex, and family.
In the encyclical he co-authored with Benedict XVI, Lumen Fidei, he writes that marriage and family are the root structures from which community improvement flows. "I think first and foremost of the stable union of man and woman in marriage," he writes. "This union is born of their love, as a sign and presence of God's own love, and of the acknowledgment and acceptance of the goodness of sexual differentiation, whereby spouses can become one flesh and are enabled to give birth to a new life."
Granted, the pope and his confidants have been critical of clergy who focus narrowly on issues like birth control and abortion. For example: In an interview in 2013, the pope criticized bishops for being "obsessed" with gay marriage, abortion, and birth control. And yet, on Wednesday, the pope made an unscheduled visit to the Little Sisters of the Poor, who are suing the government over the birth-control mandate of the Affordable Care Act. As I wrote in July, these are the poster-sisters of right-wing religious-freedom advocacy in the United States; the pope is showing solidarity with a fight against the government on birth control.
Molly writes that "priests can and do have ideologies." Above all, Francis hates ideology. "In ideologies there is not Jesus: in his tenderness, his love, his meekness," he said during a mass in 2013. "Ideologies are rigid, always. Of every sign: rigid. And when a Christian becomes a disciple of the ideology, he has lost the faith: He is no longer a disciple of Jesus, he is a disciple of this attitude of thought."
As our colleague David writes, Francis's words and actions will almost certainly have political ramifications, including his speech to Congress on Thursday. That does not make Francis a politician, and it definitely doesn't make him a Democrat. As political writers never tire of telling us, the American political system is broken. Why try to punish the pope by twisting him into its forms?