Senators Set to Unveil Bipartisan Criminal-Justice-Reform Deal
Long in the making, the bill would change the way the system handles nonviolent offenders.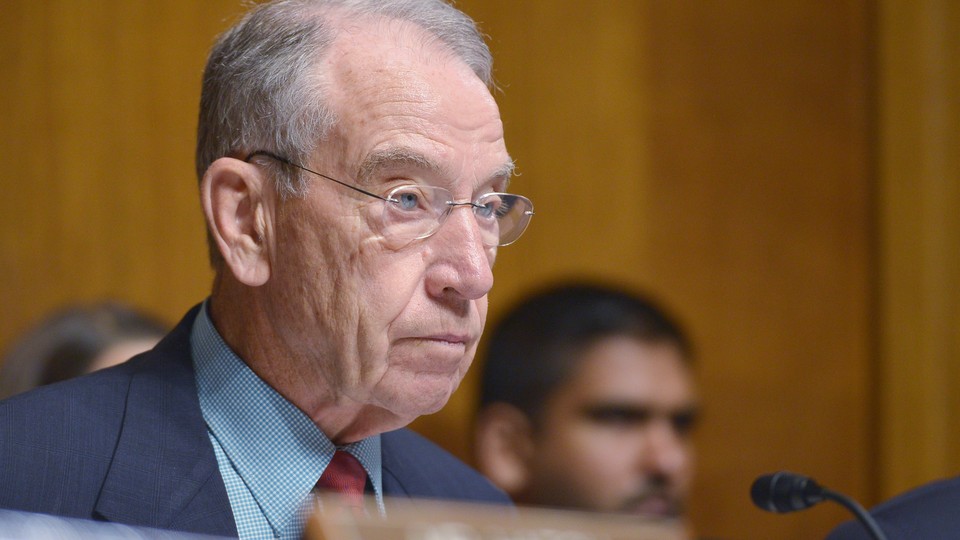 A bipartisan group of senators is about to breathe back life into the criminal-justice reform debate on Capitol Hill.
Lawmakers are expected to introduce a bill Thursday that will reshape the way nonviolent prisoners are reintegrated into society and will give judges more flexibility in sentencing nonviolent drug offenders.
Judiciary Chairman Chuck Grassley—who was once seen as an unlikely advocate for criminal-justice reform—helped lead the effort alongside Minority Whip Dick Durbin, Majority Whip John Cornyn, Sen. Sheldon Whitehouse of Rhode Island, and Sen. Mike Lee of Utah.
Reducing mandatory minimums was always the goal for Democrats and a handful of more libertarian-minded Republicans such as Lee and Sen. Rand Paul of Kentucky. Those lawmakers blamed sentences set at the height of the war on drugs in the late 1980s as substantially contributing to an unmanageable prison population that boomed from 25,000 in 1980 to 219,000 by 2013. More than half of those inmates in federal prison today are serving time for drug crimes.
But the bill is expected to be a bit lighter on reforms in that realm than some Democrats would like to have seen. It is not expected to be as comprehensive as the Smarter Sentencing Act, which passed out of the Senate Judiciary Committee in 2014 and cut some mandatory minimums for nonviolent drug offenders by half. Instead, an aide close to the negotiations confirmed the new bill expands the so-called safety valve to give judges more discretion in sentencing nonviolent drug offenders.
A large chunk of the bill is based off of an earlier proposal of the Corrections Act, legislation authored by Cornyn and Whitehouse, which seeks to set nonviolent inmates up for life beyond bars. Under the bill, inmates earn credits to reduce their sentence if they enroll in a program that addresses root causes of recidivism. A Justice Department study found recidivism to be a major driver of ballooning prison populations, with 70 percent of released individuals being arrested again within three years of their release.
Even if it is incremental, the bipartisan proposal provides a rare moment for Senate Republicans and Democrats to come together. And senators say the bill has a good chance at getting some floor time in the Senate after the body works through debt-ceiling and budget negotiations.
The announcement comes as the White House has invested its own resources and focus on criminal-justice reform. The legislation may be an unusual moment for Republicans and the president to work together.