Senate Will Vote on 20-Week Abortion Ban, as GOP Hopes to Defuse Shutdown Fight
Republican leaders hope a vote on the measure will assuage conservatives who are demanding a showdown over Planned Parenthood funding.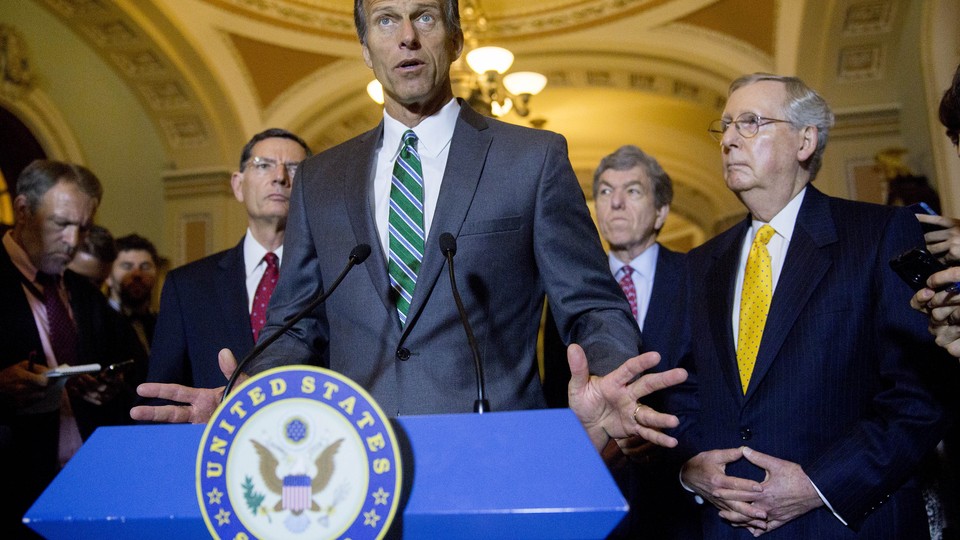 The Senate will vote on legislation banning abortions after 20 weeks as a way to pacify enraged abortion opponents who are calling for an end to federal funding of Planned Parenthood, according to a key GOP leader.
Leadership in both the House and the Senate has steadfastly rejected calls to remove Planned Parenthood funding from a spending bill that needs to be passed by Sept. 30 to keep the government running, saying they will not take legislative action that could result in a shutdown.
"I think that [Senate Majority Leader Mitch McConnell] is going to put the 20-Week Pain-Capable bill on the floor and then I think there'll be obviously a big vote, something that the pro-life community is very passionate about getting a vote on," Sen. John Thune, the No. 3 Republican in the chamber, said in an interview. "I think it's going to be very difficult on the funding issue simply because if we do what … some of our folks are talking about doing, you end up with a bad outcome."
The bill that will be voted on is the one sponsored by Sen. Lindsey Graham and introduced earlier this year, according to a GOP aide. There is "no firm timeframe yet," he added. A similar bill was passed in the House in May.
But banning late-term abortions is certainly not the same as defunding Planned Parenthood, which has come under intense congressional scrutiny following a string of sting videos over the summer, and it is questionable whether those who want the organization targeted by Congress will quiet down after a vote on Graham's bill. The videos allegedly show Planned Parenthood selling fetal tissue, which is illegal, but the organization says it charged only for the overhead costs of donating the tissue for medical research.
"I think there's a good, strong coalition behind that bill who want to see that bill debated, voted on, and so I think it's certainly something that's consistent with advancing the pro-life movement," Thune said of the 20-week abortion bill. "I think a lot of the pro-life movement also recognizes that a scenario that might end up in a government shutdown would not be good for the cause."
It almost certainly won't be good enough for Sens. Ted Cruz and Rand Paul, who are running for president and would like to see a removal of Planned Parenthood funding from the spending bill. This would result in Democratic opposition and, most likely, a presidential veto.
Both House Speaker John Boehner and McConnell have said they will not do anything that could result in another government shutdown, having presumably learned their lesson after the 2013 shutdown that was largely blamed on Republicans.
"What's currently being discussed is a non-plan, because the shutdown scenario is a terrible mistake," Majority Whip Sen. John Cornyn said in an interview. "It's harmful to the pro-life agenda, and it's harmful to Republicans. So I think you'll be hearing more about an alternative, positive agenda that will actually advance the pro-life cause and won't allow it to be discredited by this crazy shutdown scenario that people are discussing right now."