Senate Republicans' Brewing Super PAC Fight
Allies of Mitch McConnell formed a new super PAC this year to bring order to the haphazard world of Republican Senate groups. But allies of senators seeking reelection are challenging its supremacy.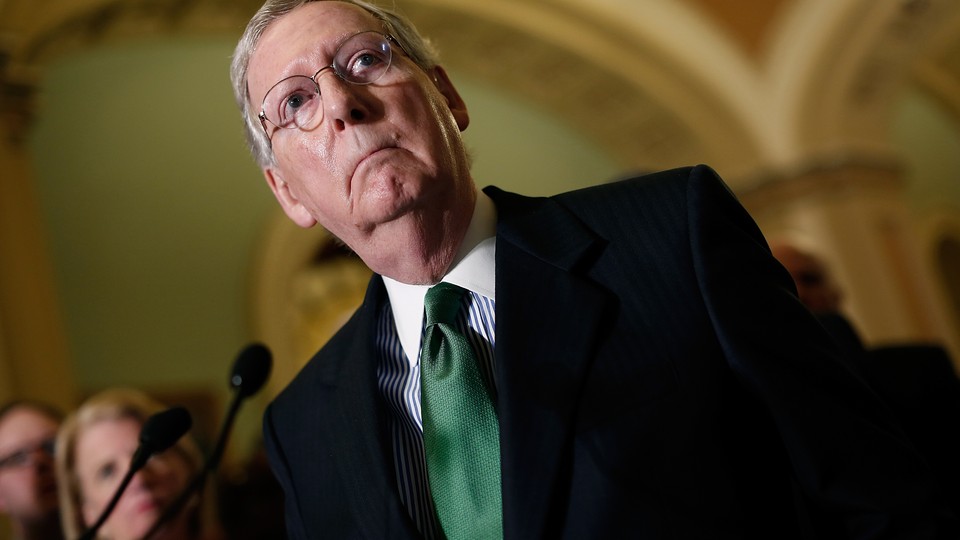 Republicans are confident that their efforts to protect the Senate majority will be well-funded in 2016. What they worry about is whether all that money will be spent effectively.
That question prompted top operatives connected to Majority Leader Mitch McConnell to create the Senate Leadership Fund in January. The super PAC was widely seen as an important tool that would bring order and centralization to the chaotic world of Republican political groups.
So far, it hasn't worked out that way.
Despite the creation of a single GOP conduit focused on the Senate landscape as a whole, former aides to vulnerable Republican senators have pushed ahead with plans to create individual super PACs focused narrowly on each incumbent's reelection. Already, onetime advisers to three of the Democratic Party's top targets in 2016—Pat Toomey of Pennsylvania, Rob Portman of Ohio, and Kelly Ayotte of New Hampshire—have formed super PACs dedicated to helping former bosses win second Senate terms. Supporters of two more incumbents, Mark Kirk of Illinois and Richard Burr of North Carolina, are readying their own super PACs, according to sources.
That has sparked early friction with Washington-based SLF over who is best suited to look after the Senate GOP's interests in 2016 and control the millions of dollars donors are already giving to protect the majority. Ultimately, Senate Leadership Fund and the individual PACs each regard the other as ill-equipped to tackle the challenges of tense, complicated races.
Democrats have long said their structure—funneling most of their Senate super PAC money through a single entity, the Senate Majority PAC—is more efficient, providing a one-stop destination for donors who then don't have to worry their money is being misspent on redundant or conflicting messages from rival liberal groups. The challenge for Republicans, which SLF's creation was supposed to ease, is whether their multitude of different groups can work together cohesively to produce the same effect.
"SLF plans on being very active in high priority states, regardless of whether there is a local effort as well," said Ian Prior, a spokesman for Senate Leadership Fund. "As we move forward in those states, we will certainly be monitoring these homegrown super PACs and whether they are able to gain critical mass."
Yet strategists with the individual super PACs maintain they have no plans to step aside, pointing to their own early fundraising as proof that they're not going anywhere. Many of them said they were unsure what role, if any, the Leadership Fund would play in their states' Senate races. They also worry, in a criticism echoed frequently about large GOP organizations, that a national group unfamiliar with the nuances of their home states' electorates will produce punchless ads that fail to stand out in a crowded media marketplace. "You look at these sort of some of the main ads, they're the same ads every cycle," said one Republican strategist granted anonymity to speak candidly. "They're cookie-cutter."
Privately, officials close to SLF—a spin-off of the GOP mega-group American Crossroads that employs many of the same leaders—say they are skeptical that many of the groups created to back the individual incumbents will still exist in a meaningful way by this time next year, arguing that recent history shows they rarely work out in the long run. They say their own prodigious fundraising in the year's first half—roughly $4.9 million, more than tripling Senate Majority PAC's take—proves that donors are keen to support their group.
But as one official at a single-race super PAC put it, he hasn't seen any "follow-up" from SLF since its January rollout. The super PAC's donors, the source added, haven't been pressured to channel their money into a centralized vessel like SLF.  The source requested anonymity to speak candidly about a sensitive subject.
"I've talked to every one of our donors and potential donors and not heard one person bring that up," he said.
The best-funded of the individual super PACs, Prosperity for Pennsylvania, raised more than $800,000 in the first half of the year. Created in 2014 and run by former top Toomey adviser Mark Dion, it already had more than $900,000 in the bank to start July. Other groups have raised less: Fighting for Ohio, run by former by former Portman adviser Barry Bennett, has collected less than $200,000. Granite State Solutions, a group run by former Ayotte campaign manager Brooks Kochvar, raised a half-million dollars—from a single donor, according to its Federal Election Commission disclosure.
Their early fundraising has been complimented by the early spending of a handful of other groups both local and national in their focus. GOP-leaning groups have already spent more than $12 million on a handful of major Senate battlegrounds, according to tabulation by The Huffington Post.
In New Hampshire alone, Republican groups have spent roughly $2.5 million on air, much of it attacking Gov. Maggie Hassan, who many consider the Democrats' strongest possible Senate candidate there.  The effort has come from a multitude of groups that, for now, don't appear to be coordinating.
Dave Carney, a New Hampshire-based consultant for one of those outside groups, Commitment Kept N.H., said he wasn't aware of any plans from Senate Leadership Fund.
"Quite honestly, I don't have a clue," he said. "I could care less about Washington machinations. We got our program. There are a bunch of groups doing good work in New Hampshire."
But only just last year, Republicans felt the multitude outside groups working New Hampshire without common goals. One former strategist for Scott Brown recalled the former Republican senator excitedly persuading a major donor to contribute to a super PAC in 2014—only to discover, days later, that the donor had given to an outside group that the campaign thought was producing ineffectual and shoddy work. That's the kind of confusion that Senate Leadership Fund was designed to address.
"The question facing Republicans now: Is it really possible to corral all that money into one group?" said Elizabeth Wilner, who tracks campaign advertising as the senior vice president at Kantar Media/CMAG. "That seems like a difficult thing to undertake."
"There's certainly some potential for advertising bumper cars," Wilner added.
Other operatives expressed concern that, without super PACs of their own, the Senate Leadership Fund was another tool for McConnell to control his GOP colleagues.
"It's a difficult position to put a senator in, that they now need to kind of be beholden to Senate leadership for them to spend the money on the race," said one former aide to another GOP senator. "So does that start to influence how senators react, how they act on the floor?"
The relationship between different super PACs isn't antagonistic in every case. But operatives involved in many of those efforts say the senators themselves feel more comfortable with a personalized super PAC dedicated to just their race, though they remain happy to receive help from Senate Leadership Fund, too.
"A lot of these folks are saying, 'Hey, we have the ability to do this and we know somebody who was close to us or knows our state well can head this up,' " said another strategist involved in the creation of a super PAC for a Republican senator.  "Not to say Crossroads isn't good and helpful, because I think they are, but they're looking at bunch of different races. … If you're an elected official, you want somebody who is just focused on you, rather than 20 other races."