Senate Democrats Save Iran Deal
President Obama's party stuck together just enough to block a resolution that would disapprove of his signature nuclear deal.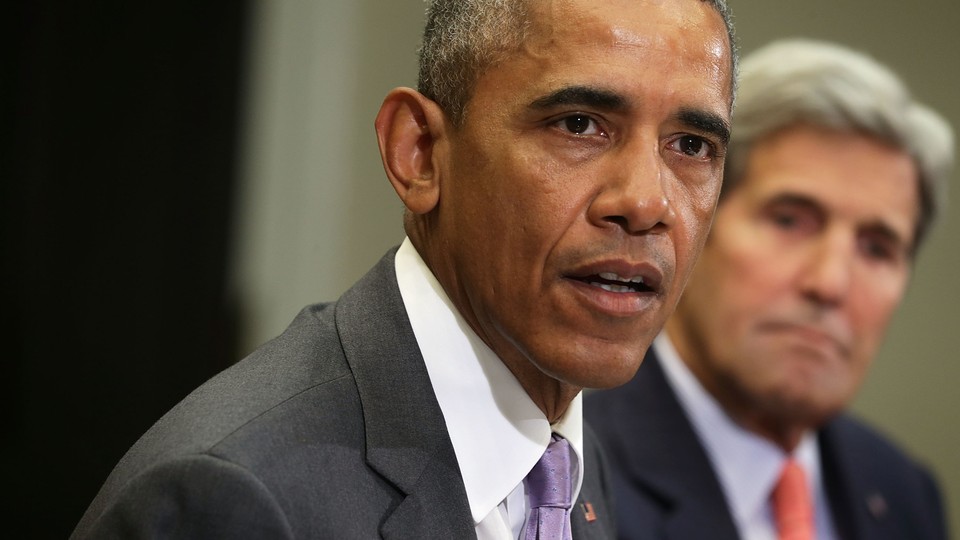 Senate Democrats delivered President Obama the assurance he needs Thursday to carry out the historic Iran nuclear deal signed by the U.S. and five other global powers a few months ago.
While there will be other votes—and potentially lawsuits—raised by the GOP, the vote Thursday to block a resolution disapproving of the deal shows there is enough congressional support for the administration to implement the agreement, which significantly limits Iran's nuclear program for 10 to 15 years in exchange for lifting sanctions worth approximately $100 billion, without having to use a presidential veto.
The vote—a 58-42 tally, when 60 votes were needed to continue—was pure anguish for many Democrats. Senate Foreign Relations Chairman Bob Corker, who helped write the bill defining the pact's congressional review process, said Obama was "figuratively breaking legs and arms over this.
"I'm talking to colleagues who say they have never ever seen the personal vitriol by the president and by those around him," Corker told National Journal.
Obama quickly praised the Senate's action, saying in a statement that the "vote is a victory for diplomacy, for American national security, and for the safety and security of the world."
One Democratic swing vote, Sen. Christopher Coons of Delaware, said that he really wrestled with the input of Corker, who he called and talked to for almost an hour while in Ethiopia a few weeks ago, and Israeli Amb. Ron Dermer, a "very aggressive but very compelling" deal opponent. At the end of August, Coons was in his office until midnight writing a speech laying out his position and seriously considered delaying his announcement a few days until he received a signed letter from the president outlining seven different points just hours before greeting the cameras.
Weeks later, Coons is still grappling with his support of the pact, recalling conversations with those who have known him before politics, neighbors and friends who've invited him into their homes to have dinner with their families.
"Those are the folks who are really, really painful to disappoint," he said. "Because they believe in me."
But Coons, like many Democrats, supports the agreement because he believes there isn't a better deal to strike.
"The key factual difference I think in all these discussions is can we use our unique role in the world banking system to force our allies back to the imposition of sanctions and back to the table," he said. "We're not.
"The uncertainty and the disruption caused by what would be a year or two of fighting with all of our key allies—while they would likely proceed with implementing the deal with Iran—would cause more harm and isolation to us than the alternative, which is going ahead with the deal, eyes wide open about its limitations, and really implementing it," he added.
Republicans and a few top Democrats disagree. Sen. Chuck Schumer of New York said on the chamber floor Thursday that it would be "better to keep U.S. sanctions in place, strengthen them, enforce secondary sanctions on other nations, and pursue the hard-trodden path of diplomacy once more, difficult as it may be."
"Democratic Senators just voted to filibuster and block the American people from even having a real vote on one of the most consequential foreign policy issues of our age," added Senate Majority Leader Mitch McConnell after the vote.
While Schumer—the presumptive next Senate Democratic leader—was seen as an influential opponent of the administration, his opposition to the deal was ultimately shared by only three other Democratic senators. "If we walk away from this deal, we are doing so alone," said Sen. Angus King of Maine, recalling an "extraordinary" meeting before the August recess with ambassadors from the other global powers.
If passed by a veto-proof majority in both chambers of Congress, the resolution would have barred the administration from lifting congressional sanctions, allowing Iran to back out of the agreement and claim Obama didn't keep up to his end of the bargain. Republican leaders may bring up the vote again next week before a Sept. 17 deadline, but there is little reason to believe that the votes will change. About 1,000 members of the pro-Israel lobby AIPAC were on the Hill Wednesday to oppose the agreement; they left, and on Thursday the grassroots contacted congressional offices, according to an AIPAC official.
Republicans believe that there will be a political price to pay; almost all Senate Democratic candidates who are trying to take back the majority next year have agreed to support the deal.
"I think when [the Iranians] continue their terrorist activity—their proxy war against the United States and our allies—you will be able to point to that and say, well, this is something that would not have happened but for the $100 billion of additional funding that went in to fund this activity," said Senate Majority Whip John Cornyn. "Or the lifting of sanctions which allow the sale of 1 million barrels of oil a day."
Some Democratic supporters of the agreement are already planning for the aftermath. Sen. Richard Blumenthal of Connecticut said this week that he is going to propose legislation. "If Iran increases its terrorist funding, there should be a crackdown with overwhelming sanctions," he warned.
After a summer battle over the airwaves—and a $20 million push by the opposition—the chamber debate and the vote itself was much less heated than expected. McConnell had asked on Wednesday for senators to sit at their desks to hear and debate their colleagues, but on Thursday, one after another senator spoke to few more than the usual array of staffers and itinerant members.
"You could roll a bowling ball through the Senate today," said Sen. Thomas Carper of Delaware. "It's kind of ironic that 24 hours later it's like, 'We got to get out of here,' and 'When can we vote?'"