Scott Walker Needed a Breakthrough Debate. Instead, He Was Lost in the Shuffle.
The Wisconsin governor, lagging in polls, didn't stand out during Wednesday night's debate.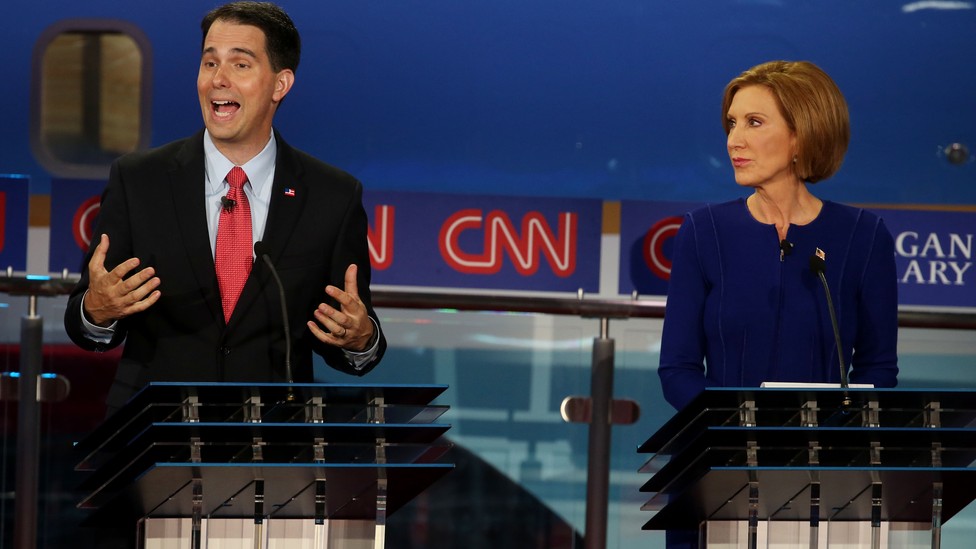 Teetering on the edge of irrelevance, Wisconsin Gov. Scott Walker was steady as he shared the stage with 10 fellow candidates. There was only one problem: He was far from memorable.
NPR reported Wednesday night that Walker spoke for just eight minutes and 29 seconds during a three-hour debate. That's the least of any candidate on stage by nearly a minute.
Perhaps of all the candidates, Walker needed Wednesday night's debate the most to assure donors and make up ground with a conservative base that seems to have deserted him for a slew of candidates with more flash.
Walker was once able to capture voters' hunger for anti-Washington sentiment and spin it in his favor. But an influx of candidates with shorter political resumes have undercut his image as the anti-Washington candidate in the race and put his candidacy in serious jeopardy.
As recently as July, Walker was considered the front-runner in Iowa. A Quinnipiac poll had him in first place in the state with 18 percent of the vote among likely Republican caucus voters. Today, Walker is registering in the single digits, with just 8 percent support according to a Des Moines Register/Bloomberg Politics poll earlier this month. RealClearPolitics' polling average has Walker at 3 percent nationally, putting him well toward the back of the large pool.
Wednesday night, Walker tried to remind voters that he had a solid conservative record as the antiunion governor in a Democratic-leaning state. He brought up billions in tax cuts he won for his state.
"America needs a leader who will go big and bold again, someone who has been tested. I am ready to be that leader," Walker said in the early moments of the debate.
But Walker faded into the background as outsiders such as Carly Fiorina and Donald Trump became the centers of attention. Other governors, such as New Jersey's Chris Christie, had far less of a problem standing out. Christie—who has been polling below Walker in the low single digits—memorably interrupted an exchange between Trump and Fiorina on who had a better business record.
"While I'm as en­ter­tained as any­one by this per­son­al back-and-forth by the his­tory of Don­ald and Carly's ca­reers, for the 55-year-old con­struc­tion work­er out in that audi­ence who doesn't have a job, who can't fund his child's edu­ca­tion, I got to tell you the truth, they could care less about your ca­reers, they care about theirs," Christie said.
He also warned Fiorina that she ought not interrupt him on the debate stage.
Former Florida Gov. Jeb Bush earned his own laughs for admitting he smoked marijuana 40 years ago and then later joking that his secret service code name would be "ever ready," a dig at Trump who has often attacked Bush as being "low energy." Even Trump had to crack a smile at the joke. Bush and Trump shared a high five.
But Walker mainly stayed true to script and in turn failed to make up lost ground. He contended that he was "the only one on the stage that has a plan ... to repeal Obamacare on Day One," and he promised viewers that he wouldn't deploy troops to the Middle East unless he could guarantee that his administration had a clear path to victory. In a release following the debate, his campaign said "even when he wasn't speaking, Walker's ideas—terminating the Obama-Clinton Iran deal and canceling China's state visit—dominated the discussion."
To win Wednesday, however, Walker needed to do more.
Walker's slip in the polls has been compounded by the candidate's struggle to clearly define positions on contentious topics from birthright citizenship to whether Boy Scouts should reinstate a ban on gay Scout leaders.
In the first Republican debate, Walker barely made an impression. He played it safe as others used the stage to raise their profiles. Surrounded by enigmatic personalities and high-stakes squabbles, Walker's humdrum performance did little to give him momentum.
In the second debate, it appears, Walker didn't learn his lesson.