Scott Walker Leaves Behind A Lot of Money to Fight Over
A super PAC worth millions and a small group of big donors are part of Walker's failed campaign's legacy.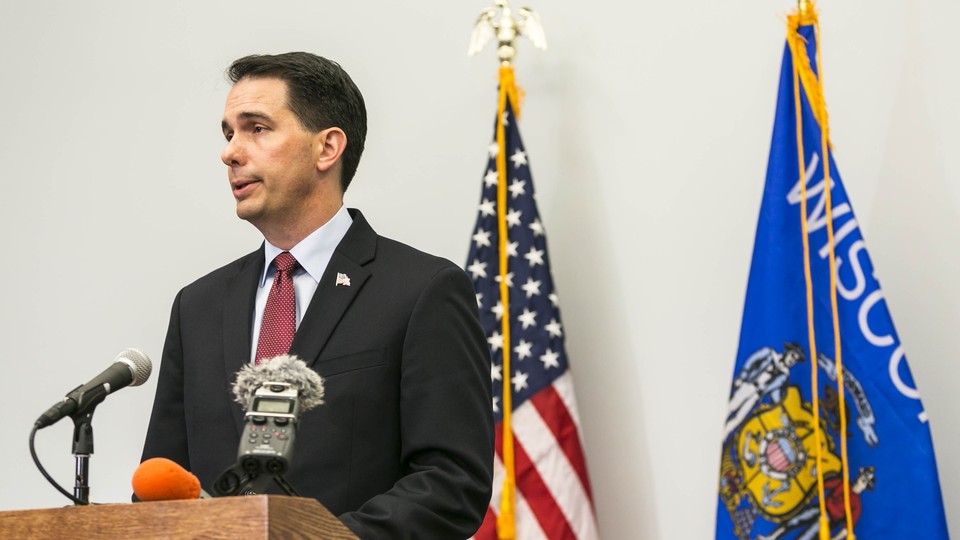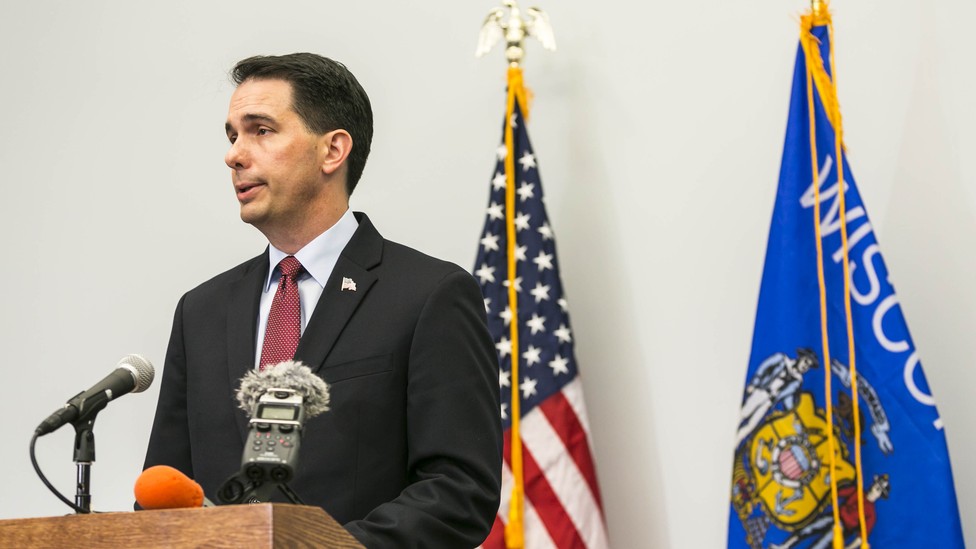 Scott Walker is officially out as a 2016 contender, but his supporters are back on the market.
From high-rolling donors to grassroots organizers, Walker's exit from the 2016 race frees up a treasure trove of campaign cash and human resources for the remaining 15 Republican candidates to battle over.
In the less than 24 hours since Walker exited the presidential race, loyal state advisers have jumped ship and fellow Republicans have gleefully boasted new endorsements.
In Iowa—where Walker had built an aggressive and, in retrospect, perhaps too-expansive team—Sen. Ted Cruz announced in a press release Monday night he had recruited three of Walker's county cochairs to work for him.
The Washington Post reported Monday night that state lawmaker Terry Baxter—a once-strong Walker ally—introduced Jeb Bush at an event.
And in the early postmortem hours, Marco Rubio's campaign director Terry Sullivan announced at a National Review forum that Walker's New Hampshire state cochair Cliff Hurst was going to get behind Rubio.
But campaign cash is the next conquest of the remaining 2016 field.
Walker's super PAC Unintimidated had raised more than $20 million this cycle, and under the law, there are few rules governing what happens to that money. When former Texas Gov. Rick Perry dropped out of the race earlier this month, his super PAC refunded much of the money back to donors, but doing so is not required.
"There are no real constraints on what they could do with the money," says Viveca Novak, a spokeswoman for Open Secrets, a campaign finance watchdog group. "They could take themselves out for nice dinners or they could start spending for or against another candidate."
Even if Walker's super PAC refunded its money to donors, the families behind the cash may be ready to invest in another Republican hopeful.
Eyes are on some of Walker's biggest backers.
Of the $20 million that Walker's super PAC raised, a large chunk of it came from just two donors. Diane Hendricks, a Wisconsin-based businesswoman, donated $5 million, and Marlene Ricketts, the wife of former TD Ameritrade CEO Joe Ricketts, also gave nearly $5 million.
Stanley Hubbard, a Minnesota-based media-mogul donor who had been close to Walker, said he was "shocked" Monday when Walker decided to suspend his campaign. Hubbard said after Wednesday night's debate, he had put out a call to Walker that went unreturned. He had a few pointers for the governor who had barely made an impression and spoke fewer than 10 minutes on stage in a three-hour debate.
"He was not getting across," Hubbard said. "If you cannot make it on national television, you cannot make it in the national polls. You have to be a TV star."
Hubbard said he had no indication that Walker was so close to quitting the race. If he had known, he said he may have been willing to lend more financial support.
"I would have stuck with him through Iowa. I would have," Hubbard told National Journal.
Hubbard—like other Walker donors—is in the process of auditioning another crop of candidates. He's doling out his support to former Florida Gov. Jeb Bush, Sen. Marco Rubio, and New Jersey Gov. Chris Christie. But in a race where outsiders have reigned supreme, Hubbard said he isn't just looking to the party favorites. He is also supporting Dr. Ben Carson and businesswoman Carly Fiorina.
"I am looking for someone who is smart, but someone who has street smarts that understands how to reach the average citizen," Hubbard said. "Obviously, Trump has done that so far. I think he is a short-term flash in the pan, but he obviously opened people's minds that there is too much doggone political correctness."
As National Journal's Scott Bland reported, some of Walker's big donors have already been giving to numerous candidates. Robert McNair, the owner of the Houston Texans gave $500,000 to Walker. He also gave that much to Lindsey Graham, Bush, and Cruz. Home Depot cofounder Bernard Marcus gave $600,000 to Walker, but $1 million to Bush, a clear indication of where some of the money may be flowing.