Why Scott Walker Isn't Running Anymore
The Wisconsin governor dropped out of the presidential race on Monday.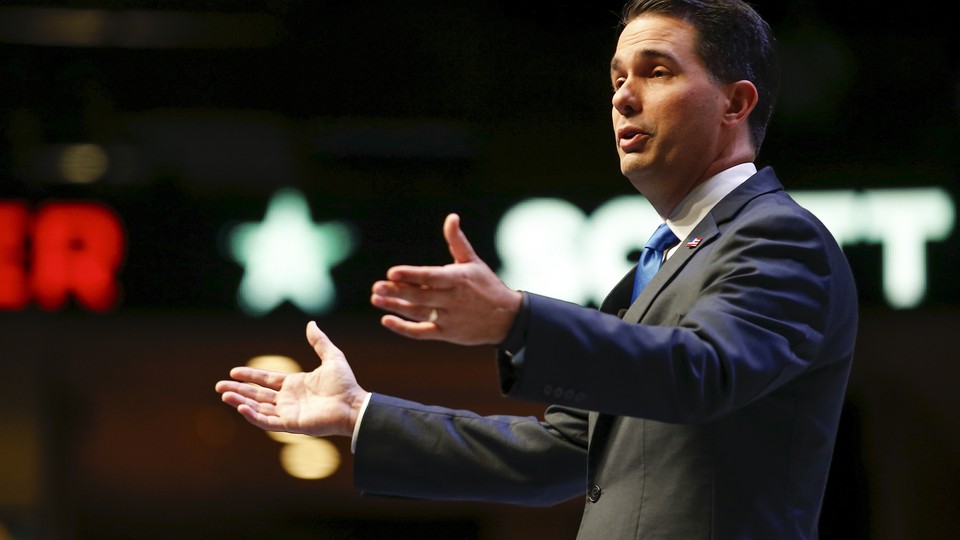 When a lackluster Scott Walker walked off stage after the Republican primary debate last week, his supporters had one question: What was he thinking?
The Wisconsin governor gave one answer on Monday, when he announced he was ending his campaign for the Republican presidential nomination.
"As a kid, I was drawn to Ronald Reagan because he was a Republican and a conservative. Most of all, I admired him because of his eternal optimism in the American people," Walker told his supporters at a hotel in Madison, Wisconsin. "That thought came into my head when we were all standing on the stage at the Reagan Library last Wednesday."
That debate, Walker said, had "drifted into personal attacks," and away from "the basics of our party."
"I believe that I'm being called to lead by helping to clear the field in this race so that a positive conservative message can rise to the top of the field," he said. "With this in mind, I will suspend my campaign immediately."
News of Walker's exit was first reported by The New York Times.
Walker appeared to be the perfect candidate when he announced his run in mid-July. He had a strong record of winning elections, he was polling well in Iowa, impressing conservative activists, and wooing powerful donors. Then came the dog days of summer and Donald Trump, whose "caricature of a strong-willed populist conservative overwhelmed Walker's chances at effectively running as a real strong-willed populist conservative," as my colleague David Graham puts it. Other outsiders, like neurosurgeon Ben Carson, pushed Walker further into the background. Walker did some of that pushing himself, thanks to a handful of flip-flops and gaffes, particularly on foreign policy. One example: his comparison of Islamic State militants to union protesters in Wisconsin.
By September, Walker had sunk in the polls. Donors were itching for him to make some staffing changes in an attempt to reenergize the campaign. He didn't crush either of his debate appearances, and he barely spoke at last week's event. The latest national survey put him at less than 1 percent.
Walker follows former Texas governor Rick Perry, who ended his campaign on September 11. On Monday, Walker gave candidates who remain in the race a small piece of advice: Get out.
"I encourage other Republican presidential candidates to consider doing the same, so that the voters can focus on a limited number of candidates who can offer a positive, conservative alternative to the current frontrunner," Walker said, referring to Trump. "This is fundamentally important to the future of the party and more importantly to the future of our country."
The man who seemingly drove Walker out of the race tweeted about the governor Monday night.
"He's a very nice person," Trump said, "and has a great future."