Scott Walker Is Dropping Out of the 2016 Race
The Wisconsin governor is the second Republican candidate to pull the plug on his campaign.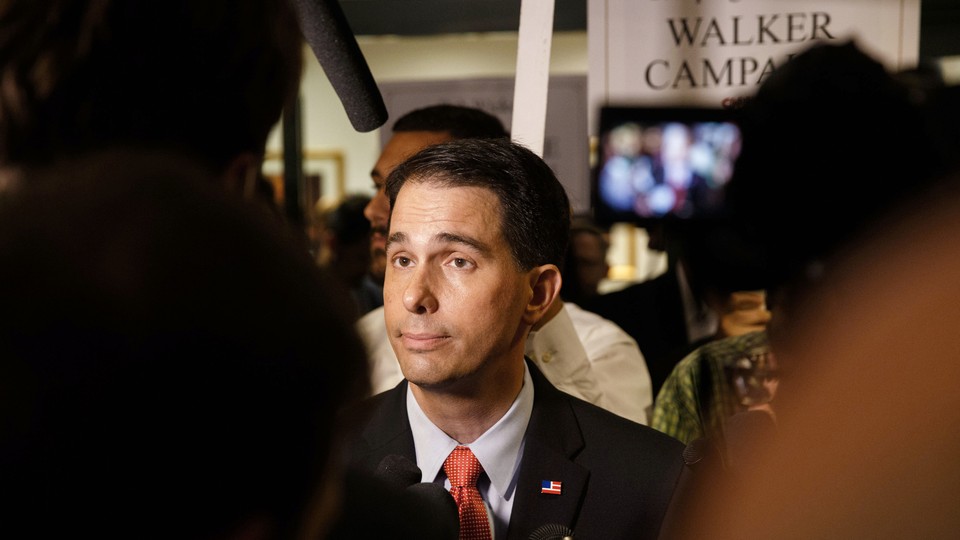 And another one bites the dust.
In a press conference Monday night, Scott Walker dropped out of the 2016 presidential race, the second candidate in two weeks to do so. The New York Times first reported the decision. Former Texas Gov. Rick Perry dropped out on Sept. 11.
"Today, I believe that I am being called to lead by helping to clear the field in this race," Walker said at a press conference Monday evening, "so that a positive conservative message can rise to the top of the field. With this in mind, I will suspend my campaign immediately."
During the four-minute-long press conference, Walker said the Republican race for president had "drifted into personal attacks," and the race wasn't consistent with the example set by conservative forebearer Ronald Reagan.
"Ronald Reagan was good for America because he was an optimist," Walker said. "Sadly, the debate taking place in the Republican Party today is not focused on that optimistic view of America."
He called on other, unnamed Republican contenders to consider dropping out to help clear the field.
"I encourage other Republican presidential candidates to consider doing the same so that voters can focus on a limited number of candidates who can offer a positive, conservative alternative to the current front-runner," Walker said.
One source, an adviser to Walker's campaign, suggested the decision reflected Walker's lack of campaign cash. "No amount of Super PAC $ can suffice for hard dollars," the adviser emailed.
In recent weeks, Walker's star has fallen: His poll numbers have plummeted and donors had become skittish. In the race for just over two months, he's been unable to gain visibility in a field distracted by the bluster of Donald Trump and other outsiders like Dr. Ben Carson. Though he presented himself at times as an "unintimidated," union-busting, big-time governor, he also took pride in an "aggressively normal" persona.
During the second Republican debate last week, Walker appeared stymied by talking points and unable to break through. In a debate he needed to dominate, he barely registered with voters.
In Wisconsin, Walker had built a reputation for disrupting the power of union bosses, but that message failed to translate on a national scale. A CNN/ORC poll over the weekend revealed Walker had 0 percent support. But until just a few hours ago, the governor was still active on social media, touting his policy positions. And in an interview on Sunday in Iowa, Walker suggested he could be considered one of the "outsiders" in the 2016 field.
"If people were asking to hire someone, ... I wouldn't be your person … to build condos in New York City, I wouldn't be the person you'd hire to be a neurosurgeon, I wouldn't be the person you'd hire to run HP, because I don't have experience in those areas," Walker said, identifying Trump, Carson, and Carly Fiorina by occupation. "But I do have experience taking on the Washington-based special interests, and if people want an outsider—someone who's taken on Washington before and been successful—then I think in the end that's what voters are going to look for and we're in the best position to make that case."
Once a steady leader among Republicans in Iowa, Walker's decline has been rapid. In recent months, he has stumbled to define clear positions on everything from birthright citizenship to his overall immigration platform. He caught heat for suggesting in August that a Canadian border wall with the U.S. might be a "legitimate" idea.
Walker was also losing in the donation battle to establishment favorite Jeb Bush. National Journal reported in July that around half of the $20 million raised in Walker's super PAC drive came from two donors. Former Florida Gov. Bush's super PAC had raised more than $100 million at that point in time. The Times report cites a Walker supporter who blamed lack of funds as the reason for Walker's dropping out: "He's made a decision not to limp into Iowa."
At a Monday event hosted by National Review editor Rich Lowry, campaign managers for competing Republican 2016 candidates reacted to reports that Walker would drop out.
Danny Diaz, Jeb Bush's campaign manager, said he was surprised by the news. "I think these campaigns are tough; I think Mr. Walker, Scott Walker is a good guy. … He's a good man."
Marco Rubio campaign manager Terry Sullivan was more blunt. "People don't stop running for president because they run out of ideas, or run out of a desire to give speeches; they stop running because they run out of money."
Sullivan said that the Rubio campaign had "just nailed down [Walker's] New Hampshire state cochair to endorse Marco," adding: "We're working hard. … We're prepared as people move on from the race to kind of capitalize on it and pick up their supporters."
Liz Mair, a veteran Republican strategist and former Walker aide, took to Twitter to offer a postmortem of the campaign. Mair accused Walker of a series of missteps, ranging from "misunderstanding the GOP base, its priorities and stances," to "becoming so invested in winning, no matter what it took, that he lost sight of his real identity as a political leader."
Walker returns to his day job as the governor of Wisconsin, where he's serving a second term after surviving a recall election. Although there are no term limits for the governorship in the state, the numbers for another Walker victory at home, if he chooses to go that route, aren't great. In a late-August Marquette University Law School poll, his approval rating sat at 39 percent, with 57 percent of voters disapproving of the job he's doing. Sixty-three percent of Wisconsinites in the poll said they disapproved of his run for president. The full poll had a margin of error of 4.3 percentage points.