Scalise Faces Key Test in Majority Leader Race
The majority whip has to overcome challenges in a high-profile contest.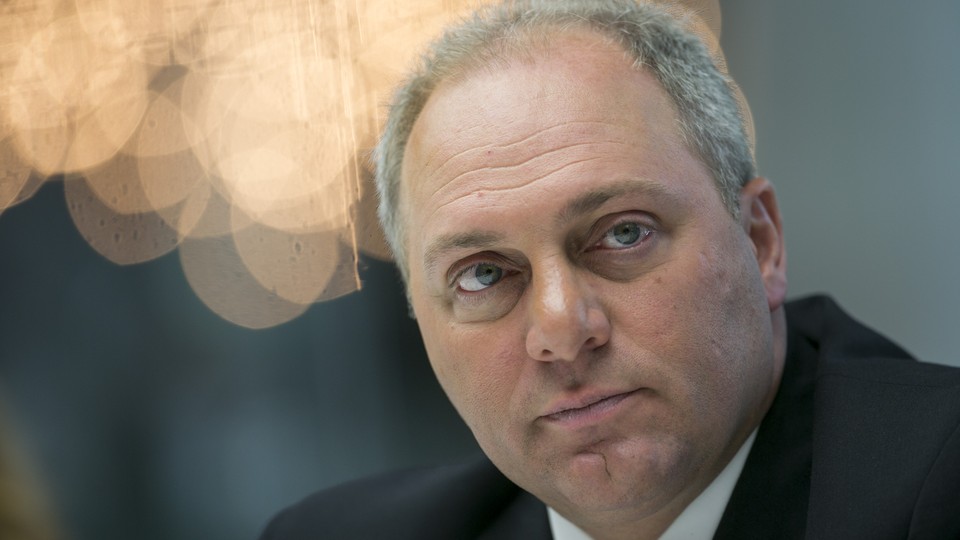 Majority Whip Steve Scalise became the House's third-ranking Republican by touting Southern pride and conservative bona fides. But just more than one year into his tenure, both attributes come with major downsides in his attempt to become the next House Majority Leader.
His shaky first year on the job, mixed reviews from the conservative base he pledged to represent, and persistent news reports that he may have spoken at a white supremacist rally when he was a state legislator in 2002 could hamper the Louisianan's continued rapid rise, according to several Republican members and aides.
Scalise and Budget Committee Chairman Tom Price are vying to succeed Majority Leader Kevin McCarthy, who made his candidacy to succeed Speaker John Boehner official Monday and who is widely expected to ascend to the top job. The contest for leader is turning out to be the marquee leadership race of the free-for-all set off last week when Boehner announced that he will resign Oct. 30—and it is still possible more candidates will enter the fray.
Scalise got a major boost Monday night when, as Politico first reported, GOP Conference Chair Cathy McMorris Rodgers decided to forego a run for majority leader. Despite questions about her own candidacy, she was likely to secure the moderate Boehner-land vote. Several defense-minded members who earlier this year squabbled with Price over military spending would not likely support the Georgian, leaving a large swath of members open to Scalise.
Although Scalise won a three-way race for whip in 2014, the landscape is different now. At that time, Scalise's campaign touted him as the conservative voice at the leadership table. Now, Scalise is no longer the fresh face for whom conservatives were clamoring. Particularly for those in the rightmost wing of the conference, he has lost his luster because he did not push as forcefully as they had hoped for the hardline tactics they prefer.
"While he has been fair, he hasn't used the whip position to advocate for conservative issues, which is what many expected of him when he was elected," said a conservative member who requested anonymity and has not decided who to support.
That leaves an opening for Price, who Monday was endorsed by Ways and Means Committee Chairman Paul Ryan and Financial Services Committee Chairman Jeb Hensarling—both good friends and influential conservatives. It is still very early in the race, but Price, by virtue of his committee leadership and close loss to McMorris Rodgers for the conference chairmanship in 2014, is already perceived as a stronger candidate than Rep. Marlin Stutzman, who challenged Scalise from the right in the majority whip race that also included then-Chief Deputy Whip Peter Roskam.
"He'll definitely take some votes away from Steve," Rep. Lynn Westmoreland, who is uncommitted, said. "But when you're in that whip job, you're in communication with the members almost on a daily basis. So you build some relationships that Price doesn't have."
That, his allies said, is Scalise's key selling point. He is a good retail politician who has built wide support, even if it is patchy. Scalise's allies point to a border-security bill and abortion legislation, both of which Scalise played a role in salvaging by helping craft a compromise between warring camps in the conference.
"Steve's been very attentive," said Rep. Marsha Blackburn of Tennessee, who is supporting him. "When you look at his record of accomplishment as whip and the way he worked with the members, I think he came in, rolled his sleeves up, got to work and has done a very good job."
The conservative House Freedom Caucus, which includes 30 or 40 members, met Monday night to discuss their strategy. They have said they will vote as a bloc, and their chairman, Rep. Jim Jordan, is close with Price. The House Republican Conference will meet Tuesday evening to discuss their next steps as a group for the first time since Boehner's announcement.
Some Southern conservatives, meanwhile, may be more inclined to support one of their own without the baggage. Although the facts of Scalise's 2002 speech are murky, Democrats and the political Left are already intimating that Republicans are poised to elevate someone with odious associations. That has given Republicans across the political spectrum some pause in promoting him, according to several GOP members who spoke on the condition of anonymity to discuss the internal leadership dynamics.
But Rep. Bill Huizenga, who is supporting Scalise, said those attacks are off base, and pointed to Rep. Cedric Richmond, an African-American Democrat, who defended Scalise against charges that he is aligned with white supremacists.
"I don't think it's fair," Huizenga said. "You've got a guy like Cedric Richmond coming out and at the time said, 'I know Steve, this isn't who Steve is, and I've never seen a whiff of that.'"
However, some members feel Scalise simply has not built the track record to deserve the majority leader post. Scalise's allies said laying the conference's troubles solely at Scalise's feet would be unfair. But the fact is, House Republicans hit a very rough patch early this year, when several bills were pulled from the floor for lack of support, and Scalise has fired members of his whip team for voting against leadership.
"He's been whip for like 30 seconds and he's had a rocky start," said one moderate Republican who is undecided in the race. "I'd almost prefer he just stay there and get that right first."