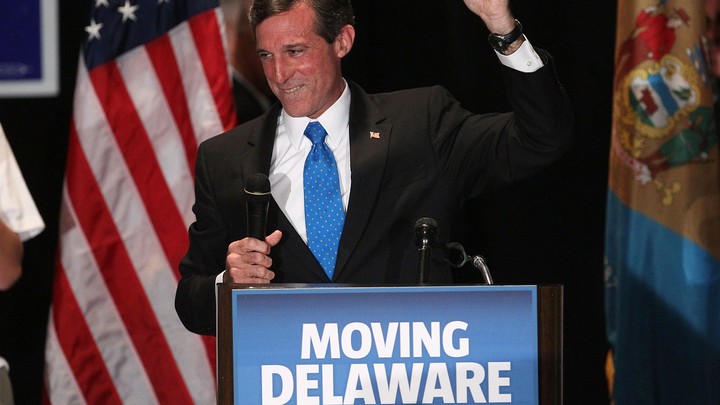 Democratic Rep. John Carney announced Wednesday that he will run for governor of Delaware in 2016, taking the baton from the late Beau Biden, the state's former attorney general and son of the vice president who intended to run for governor before he passed away earlier this year after a battle with brain cancer.
Carney, a Democrat, will be the prohibitive favorite to win in liberal-leaning Delaware.
"I had intended to support Beau Biden as our state's next governor and continue my work in Congress," Carney said in the statement announcing his gubernatorial campaign. "Beau knew there are big challenges facing our state—and he would have been the man to meet them. Like so many across our state, I wish he'd had that chance. Yet, a season after Beau's passing, we're confronted with the fact that those same challenges Beau was ready to face still loom large along our state's horizon. And someone has to step up to meet them."
Carney held off on announcing his plans for a few months out of respect for the Biden family, who remain highly regarded in the state. Vice President Biden represented Delaware in the Senate for decades. Joe Biden has opened up publicly in recent weeks about his grief over losing his son and confronting yet another family tragedy. The vice president lost his wife and infant daughter in a 1972 car accident, and he viewed Beau as part of his legacy. Beau's death has simultaneously dampened and fueled speculation over whether or not the vice president will consider a last-minute 2016 presidential bid. 
Term-limited Gov. Jack Markell has praised Carney's qualifications for governor in the days leading up to his announcement. "He would bring a deep knowledge of state government, a proven ability in Washington to get stuff done, and I think he'd be by far the leading candidate," Markell, a Democrat, told National Journal a day before Carney's announcement. Markell had been among the many Delaware Democrats enthusiastic about Beau Biden's campaign before he died.
Carney said he doesn't intend to begin campaigning in earnest until next year, but he wrote that "the reality of modern campaigning requires that certain planning activities be conducted well in advance of Election Day." Before winning his seat in Congress, Carney served two terms as Delaware's lieutenant governor between 2001 and 2009.

We want to hear what you think about this article. Submit a letter to the editor or write to letters@theatlantic.com.
Kimberly Railey is an editorial fellow for National Journal Hotline. Prior to joining National Journal, she covered Congress at the Washington bureau of The Dallas Morning News. She has also written for The Boston Globe, USA TODAY, and The Christian Science Monitor. Originally from South Florida, she graduated from the Medill School of Journalism at Northwestern University, where she served as managing editor of The Daily Northwestern.