Rand Paul Tries to Reclaim the Spotlight
The struggling GOP contender tries to regain his footing by squeezing into the Planned Parenthood fight.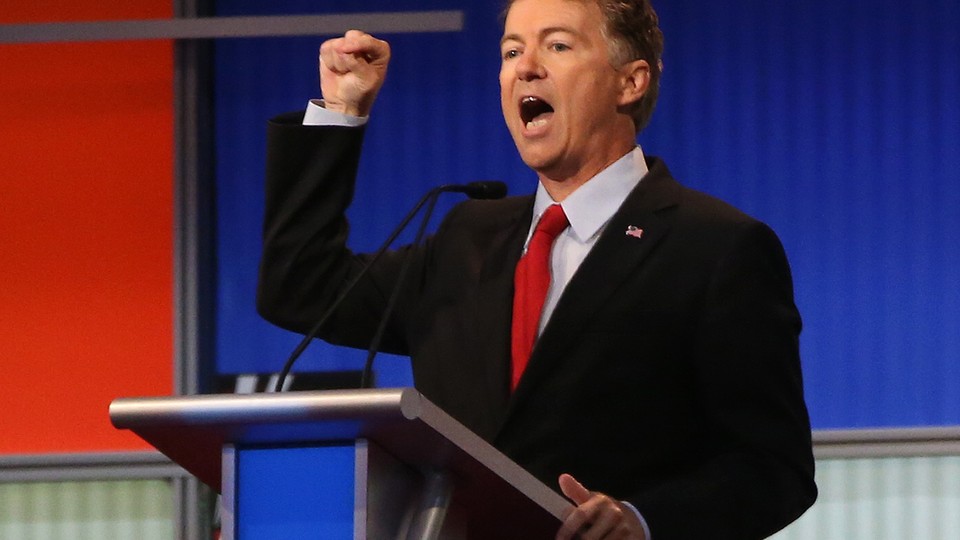 The race for the Republican presidential nomination has devolved into vehement denunciations, and Rand Paul's voice seems to have gone a bit hoarse in recent weeks.
The novelty of his libertarian brand has worn off as Republicans have swung back toward a hawkish foreign policy on Iran, and as he concludes his fifth year in the Senate, Paul's outsider credentials now pale in comparison to the actual political novices now leading the GOP polls. Once considered a top-tier contender for the nomination, he's now struggling just to stay in the top 10 and qualify for the primetime debates this fall.
On Thursday, Paul sought to reclaim his standing in the campaign by turning to this year's most-popular method of attention-grabbing: yelling just a little bit louder and challenging his party's leadership. Paul headlined a rally on the National Mall to demand that Republicans defund Planned Parenthood in the coming budget fight. Standing alongside Sarah Palin and a group of conservative women, Paul said Republicans "must hold our ground," even if it results in a government shutdown that his party leader, Mitch McConnell, is trying to avoid. The event came a day after two of Paul's rivals, Donald Trump and Ted Cruz, joined forces for a Capitol rally against the Iran deal (which also featured an appearance by the former Alaska governor and 2008 vice presidential nominee). Cruz, in fact, has been doing double-denouncing duty as he seeks to marshal support to defund Planned Parenthood and derail the nuclear agreement.
The bigger question for both Cruz and Paul is whether they can actually do anything inside the Capitol to make a real difference in the fights. McConnell, who has become Cruz's sworn enemy over his handling of the Senate, has already dismissed the possibility of defunding Planned Parenthood while President Obama is in office. Cruz has, for the moment, eclipsed Paul in the campaign and stands solidly in the middle of the pack. Yet more than anyone else running, Paul has been able to use the Senate floor to draw attention to himself and his issues, be it drone policy or NSA spying. With four senators running for the presidency, McConnell will have to decide how much grandstanding he's going to tolerate as the primaries draw near. But another dramatic display might be Paul's best chance to seize back his fading spotlight in the GOP race.