Is Outsourcing Next for Chicago's 311 Operation?
The city was a pioneer in expanding the popular non-emergency government hotline. But it's become so costly that Mayor Rahm Emanuel now wants to privatize it.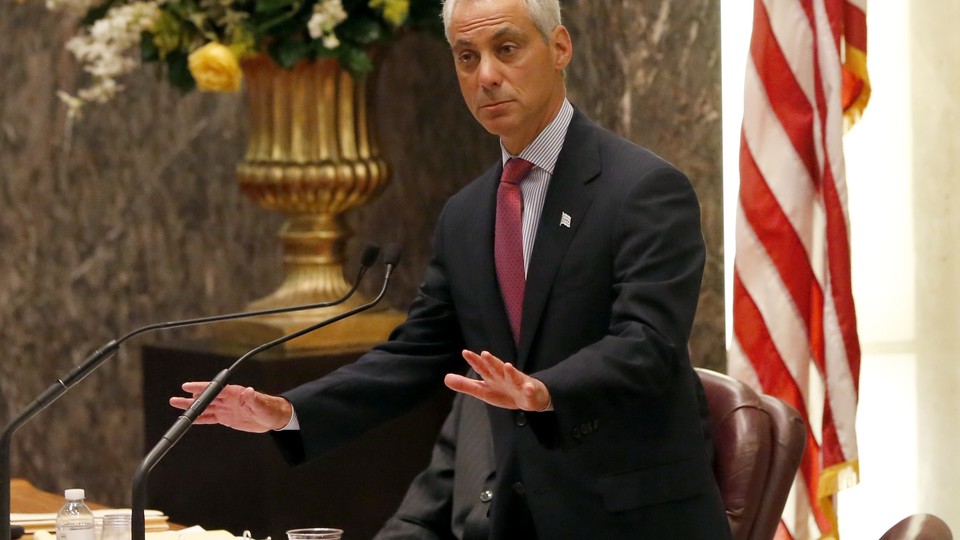 There's a reason why 311 call systems have become one of the most popular innovations for cities big and small over the last 15 years: They create a direct link between residents and their local government, allowing people to register complaints without clogging emergency phone lines and providing city officials with better data about what aggravates their constituents.
But does that connection depend on a resident hearing the voice of a city worker on the other end of the line?
Buried in the middle of a budget address last week, Chicago Mayor Rahm Emanuel announced that the city which "invented" 311 would also become the first to privatize its operations—a move that he said would save the Windy City upwards of a $1 million. The proposal caught many by surprise, including the public employee union whose members man Chicago's 311 call center. It also raised questions about just who would be answering the phone when a Chicagoan called to report a pot hole, a stray animal, or a broken street lamp. Would it be an operator who actually knew and lived in the city, or would calling in a simple noise complaint morph into the same frustrating experience as dialing up the cable or insurance company?
"This is not just a financial decision," said Mitchell Moss, a professor of urban policy and planning at New York University. "This is the link between the citizens and the residents of Chicago and their government. This is not whether you're buying a lambswool sweater or a cotton sweater."
"This has to be carefully done," Moss continued, "because otherwise you will have a lot of people who will say this has weakened my relationship to government rather than strengthen it."
Chicago officials say the city's 311 hotline receives 4 million calls a year and that outsourcing its operations would help improve its performance during peak hours as well as its ability to serve the city's many non-English speakers. But they had few details as to how a privately-run system would work because the city has yet to put out a request for bids from outside vendors. The city has already outsourced the call-center operations for water billing, but those private operators are based in Chicago, not overseas.
"The reforms proposed in the 2016 budget are aimed at making 311 more responsive to the Chicagoans who depend on it, more reliable and more efficient," Emanuel spokeswoman Molly Poppe said. "Similar to recent efforts with the city's water bill call center, we will expect any new call center operator to have a local presence."
Cash-strapped cities have long looked at privatizing services or selling off assets as a way to save money, but Chicago in particular has a spotty record with the practice. In a move orchestrated by Emanuel's predecessor, Richard Daley, the city sold off its parking meters to a private firm, allowing the company to reap the revenues in exchange for a one-time, upfront payment. But the deal has been widely criticized as a loser for the Windy City. The firm has already made well over half as much revenue as the $1.2 billion lump sum it paid to Chicago, and it will continue to  earn 100 percent of the revenue for nearly seven more decades under the agreement. Selling off the parking meters and privatizing services is  like "burning your furniture to heat your house," said Anders Lindall, a spokesman for the AFSCME Council 31, the union that represents city employees.
Emanuel, a Democrat, ran for office criticizing the parking-meter deal, and in his budget speech last week he specifically pledged not to sell off city assets. That sale, and the political blowback it generated, is now cited as a cautionary tale for mayors nationwide and has slowed the move to privatization that began more than a decade ago.
"I think since then the enthusiasm for privatization has tempered somewhat," said Ron Littlefield, the former mayor of Chattanooga, Tennessee. Littlefield, who left office two years ago, told me that when they looked at privatizing services, they focused on those "that don't touch citizens directly."
In some ways, the 311 hotlines have become a victim of their own success. The more calls come in, the more people you need to answer the phone. The system had grown so popular in Chattanooga, a city of 170,000, that the call center frequently ran behind, Littlefield said, "because you just cant get people to keep up with the calls." But rather than outsource its operations, the former mayor said that, like other cities, Chattanooga focused on encouraging residents to contact 311 through its mobile app when possible. Reporting a pot hole, for example, is now as easy as sending a photo with embedded GPS coordinates—no phone call and no operator needed.
Chicago is going mobile as well, through an initiative called Open311 that allows residents who submit complaints or requests online to track the response. But the city says its technology is outdated, and that's part of the reason it wants a private company to come in and modernize the 311 system. While Baltimore is credited with being the first city to launch 311 on an experimental basis in 1996 as a hub for non-emergency citizen calls, Chicago became the first city to expand it in a comprehensive way in 1999, according to a timeline by CityLab. That system is now "near the end of its life," the city says, and needs up to $30 million in upgrades over the next five to six years.
Emanuel's plan has quickly run into opposition from local aldermen and, more predictably, from the AFSCME local, which represents about 50 of the city's 72 employees of 311. Lindall said the proposal came "out of the blue," and he argued that if private contractors became the middle men between Chicagoans and their government, "the public interest is no longer foremost in mind. The profit is."
Privatizing 311 might be the least of Emanuel's political problems, since the recently-reelected mayor is also proposing a record increase in property taxes to balance the city's budget. But in any city—and especially heavily-Democratic Chicago—anyone proposing explicitly to outsource jobs is going to face a fight, as Littlefield knows from experience. "Good luck," he said with a chuckle, "to Mayor Emanuel."