Presidential Candidates, Loath to Criticize Pope Francis, Go Diplomatic
Most candidates were wary of politicizing the pope's speech, but they could all agree that he is on their side.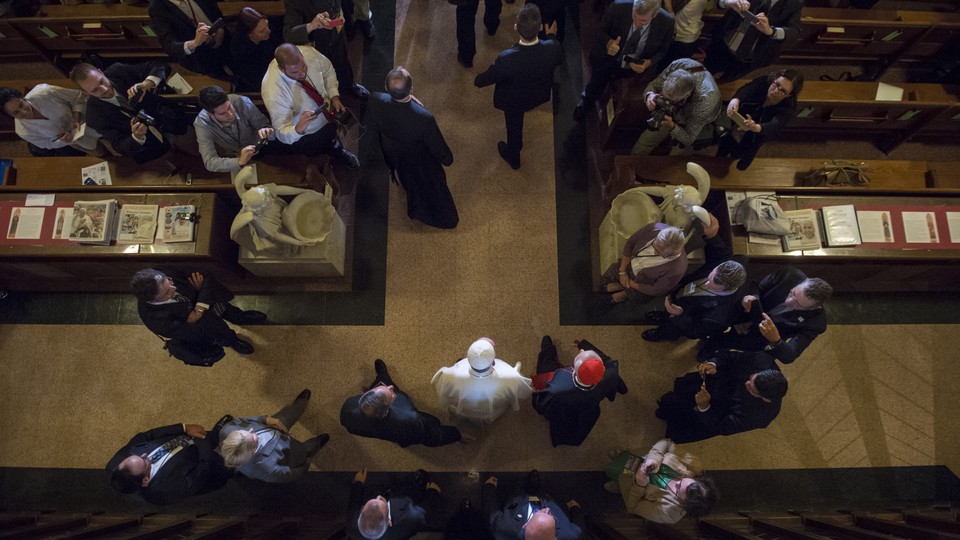 Pope Francis was greeted with thunderous applause Thursday morning, both inside the House chamber where he spoke, and by the thousands of supporters gathered on the West Lawn outside the Capitol.
Several presidential candidates were present at the Catholic leader's address to Congress—seven, to be exact. (Eight, if you include Vice President Joe Biden and believe the rumors.) And pretty much to a man, despite their ideological differences, all of the candidates present at the historic address voiced support for what the pope had to say. That is, when they could understand what he was saying.
The candidates that did speak up were careful to not ascribe political labels to the pope, while others shied away from speaking about his address at all. As of early Thursday afternoon, Sen. Rand Paul (who missed the address because he was "under the weather") and New Jersey Gov. Chris Christie, who did attend the address, had not weighed in with their reactions.
Sen. Bernie Sanders
The pope is right in saying all of us must address the grotesque income and wealth inequality we are seeing throughout the world.

— Bernie Sanders (@BernieSanders) September 24, 2015
In an interview after Pope Francis's address, Sanders said the pope's references to social justice stood out to him, and said he was "very impressed" by his reference to Dorothy Day, a Catholic socialist who founded the Catholic Worker Movement in 1933.
"Dorothy Day is not a household name in America. She was a socialist who stood up based on her religious beliefs and fought for the poorest people in this country and for workers against the wealthy and the powerful. I was very impressed that he cited her," Sanders told National Journal. "There were a lot of people he could have cited, but he chose her, so I'm very impressed."
When Sanders was asked if he thinks Francis has a bit of a socialist streak, the self-described democratic socialist laughed.
"Of course he does," Sanders said, then paused. "Well, I don't want to put a political label on it. I would view him as a world leader who is fighting for social justice who understands that the function of the economy is not just to make the rich richer, but to provide a decent life for all people, including the least well off of all of us."
Sanders clearly thinks highly of this pope, who some have labeled as more liberal than his forebears. In a speech at the evangelical Liberty University this month, Sanders quoted Francis: "We have created new idols. The worship of the ancient golden calf has returned in a new and ruthless guise in the idolatry of money and the dictatorship of an impersonal economy lacking a truly human purpose."
On Thursday, Sanders posted an Instagram of the pope with the caption: "Pope Francis has forcefully reminded us that greed, and the worship of money, is not what human existence should be about."
Dr. Ben Carson
I am delighted to have had the opportunity to hear @Pontifex share his message of faith and love today in our nation's Capitol. #PopeInDC

— Dr. Ben Carson (@RealBenCarson) September 24, 2015
Rep. Mark Sanford invited Carson to watch the pope's congressional address on Thursday, and while the GOP presidential candidate said he was "delighted" to see the pope speak, he admitted in an interview after the address that he could not understand much of what the Catholic leader was saying.
"I didn't understand what he was saying about climate change," Carson told reporters. "I certainly agree that any intelligent person will try to take care of the environment, not only for themselves, but for everybody around them."
Carson had a similar answer when asked for his reaction to the pope's call for a global abolition of the death penalty.
"I did not hear that. I was straining, really, to try to understand. Without a transcript, it was tough," Carson said. "As far as the death penalty is concerned, I think that's a civil issue, and as such, I think that people in the region should make their own decisions."
When asked if he thought it was controversial to have the pope come to the Capitol and speak this way to Republicans, Carson said it was "very reasonable."
"He's talking about the things that hopefully transcend partisanship, things we should all be thinking about. We may have different approaches for them, but they're issues that we all should be thinking about," Carson said.
Jeb Bush
The former Florida governor was not present at Thursday's speech, but he and his wife, Columba Bush, did attend the papal mass that Francis gave in Washington on Wednesday at the National Basilica.
After the pope finished speaking Thursday morning, Bush tweeted his gratitude for "the inspiring words" and offered a short campaign video titled "The Power of my Catholic Faith" via Twitter.
In the video, Bush says he converted to Catholicism "because of my wife and because of the inspiration Pope John Paul has given to my life."
Hillary Clinton
Thank you, @Pontifex. We have much to do to care for our planet, strengthen economic opportunity, and defend the rights & dignity of all. -H

— Hillary Clinton (@HillaryClinton) September 24, 2015
A pretty generic statement!
Sen. Ted Cruz
A beacon of righteousness and dignity, @Pontifex has been a steadfast voice for the virtue of life, marriage, and religious liberty.

— Senator Ted Cruz (@SenTedCruz) September 24, 2015
The senator from Texas cheered the pope on for his leadership on three religious issues.
Yesterday, Cruz contributed an opinion piece to The Federalist, arguing that the pope "continues to proclaim the truth" on three important issues: abortion, same-sex marriage, and religious liberty. He reiterated that sentiment in a statement released after the speech:
"It was an honor to have Pope Francis address Congress. It was a powerful call for all of us to set aside pettiness and partisan divides and come together with shared values to solve the very real challenges facing this country, and I hope that is a message that is heard on both sides of the aisle. Pope Francis is a powerful voice for life. He is powerful voice for marriage. He is a powerful voice for religious liberty. Pope Francis is a great spiritual leader, and his message inspires us to work tirelessly to protect the dignity of each person, born and unborn, and to, like President Lincoln and Reverend King, pursue justice for all, and to engage in public dialog with humility and wisdom. Right now, as Pope Francis highlighted, the family is threatened from within and without. It is our duty to cultivate the 'richness and the beauty of the family life' that is 'essential to the building of this country.' I hope his words renewed our resolve to inspire our young people to rekindle the dream that has made this the land of the free."
However, Cruz broke with Francis on one issue: the death penalty. After the speech, Cruz told Politico that he respects but does not agree with the pope's stance against capital punishment.
Sen. Marco Rubio:
During a passage in which Francis talked about the immigrant origins of many American families, the Cuban-American senator from Florida could be seen wiping away tears.
Afterward, Rubio said the pope's speech was "excellent," but declined to comment further.
Rubio later released a video calling the speech an "inspiring moment" that reminded listeners "that, whatever our policy differences might be, we are all called to put the good of our people above all."
Sen. Lindsey Graham:
Graham simply said he was "honored to be present," on both his personal and official Senate Twitter accounts.
Donald Trump
Speaking on CNN on Thursday afternoon, Trump took issue with the pope's call to welcome immigrants into the United States.
"I think his words are beautiful and I respect the pope and I like the pope very much," Trump started. "I will say this: We have a country that is going through tremendous problems. We owe $19 trillion. So No. 1, we can't afford this process. We have tremendous crime problems. As you know, the illegal immigrants are coming in, and you just have to look at San Francisco and Kate [Steinle] or so many other instances, California two weeks ago, where a woman was absolutely decimated, killed, raped by an illegal immigrant."
On climate change, Trump did not agree with the pope that climate change is a pressing problem.
"I am not a believer in climate change," Trump said. "It's because weather changes and you have storms and you have rain and you have beautiful days. But I do not believe we should imperil the companies within our country."
Martin O'Malley
The former Maryland governor thanked Sophie, a 5-year-old Mexican-American girl who slipped past the barricades on Wednesday to deliver a letter to Francis asking him to talk to President Obama about immigration reform.
This story has been updated.