President Obama Probably Won't Have to Use a Veto to Save His Iran Deal
The White House got crucial support for the agreement Tuesday morning.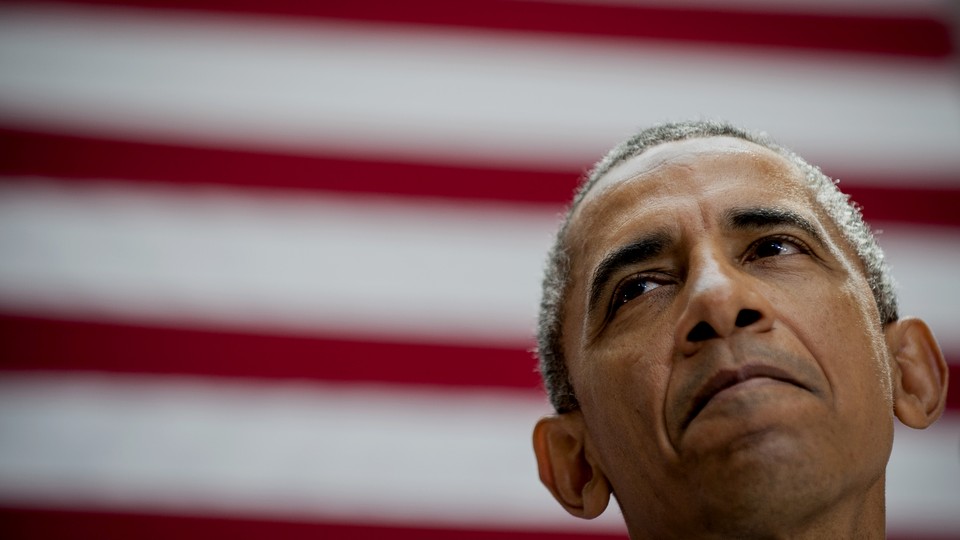 The Re­pub­lic­an-con­trolled Con­gress apparently won't be able to vote down the Obama ad­min­is­tra­tion's leg­acy-de­fin­ing Ir­an nuc­le­ar deal, as four more Demo­crat­ic sen­at­ors an­nounced their sup­port Tues­day.
On Tuesday morning, Sen­s. Ron Wyden of Ore­gon, Richard Blu­menth­al of Con­necti­c­ut, and Gary Peters of Michigan brought those in fa­vor of the deal to 41 sen­at­ors. And Tuesday evening, Sen. Maria Cantwell said she would also back it, bringing the total to 42. That's just enough to block a res­ol­u­tion of dis­ap­prov­al, which is ex­pec­ted to be voted upon with a 60-vote threshold—either to invoke cloture or to pass the measure—in the next week or so, maybe even on Sept. 11, a date that Senate Majority Whip John Cornyn tweeted would be "ironic."
On Tuesday, Senate Majority Leader Mitch McConnell invited every senator to come to the chamber floor to debate the deal Wednesday afternoon.
The ad­min­is­tra­tion had already reached enough con­gres­sion­al sup­port to over­ride a po­ten­tial veto and im­ple­ment the deal, which lim­its the Ir­an nuc­le­ar pro­gram for at least a dec­ade in re­turn for grant­ing sanc­tions re­lief worth bil­lions of dol­lars. A res­ol­u­tion of dis­ap­prov­al would im­per­il the deal by bar­ring the ad­min­is­tra­tion from lift­ing con­gres­sion­al sanc­tions. It also would, according to deal opponents such as the pro-Israel lobby AIPAC, scare off investors interested in Iran.
Wyden, Blumenthal, and Peters were hardly en­thu­si­ast­ic in their sup­port.
"This agree­ment with the du­pli­cit­ous and un­trust­worthy Ir­a­ni­an re­gime falls short of what I had en­vi­sioned," said Wyden in a state­ment. "However, I have de­cided the al­tern­at­ives are even more dan­ger­ous."
"Des­pite my ser­i­ous con­cerns with this agree­ment, I have un­for­tu­nately be­come con­vinced that we are faced with no vi­able al­tern­at­ive," said Peters.
"While this is not the agree­ment I would have ac­cep­ted at the ne­go­ti­at­ing table, it is bet­ter than no deal at all," ad­ded Blu­menth­al.
The question now isn't whether the deal goes through, but how. White House press sec­ret­ary Josh Earn­est im­plied Tues­day that the pres­id­ent ex­pects Demo­crats to fili­buster the dis­ap­prov­al res­ol­u­tion, al­though it isn't yet clear if that will oc­cur.
"We cer­tainly would ex­pect that those mem­bers of Con­gress who sup­port the agree­ment to take the ne­ces­sary steps in Con­gress to pre­vent Con­gress from un­der­min­ing the agree­ment," he said.
On Tuesday, McConnell said that after the Senate overwhelmingly passed legislation to review the bill—by a 98 to 1 vote—the disapproval resolution should get an up-or-down vote, which typically only needs a simple majority.
"I expect that every senator who voted for that measure is now entitled to an up-or-down vote—not a filibuster or artificial limits on passage, but an important vote—on this resolution," said McConnell, who criticized the deal for leaving Iran with "a threshold nuclear capability recognized as legitimate by the international community."
Sen­ate Minor­ity Lead­er Harry Re­id re­it­er­ated his sup­port for the deal Tues­day in a speech be­fore the Carne­gie En­dow­ment for In­ter­na­tion­al Peace, re­mind­ing the audi­ence that Demo­crats had "agreed to forgo our op­por­tun­ity to fili­buster" but that pas­sage would require 60 votes.
"It is clear to me and to the over­whelm­ing ma­jor­ity of my caucus that this agree­ment gives us the best chance to avoid one of the worst threats in today's world—a nuc­le­ar-armed Ir­an," he said. "In fact, I be­lieve this agree­ment is not just our best chance to avert what we fear most—I fear it is our last best chance to do so."