Potential Self-Funding Republican Businessman Moving Closer to Colorado Senate Race
Robert Blaha, who ran for Congress in 2012, is looking for campaign staff and preparing a campaign depending on Michael Bennet's Iran position.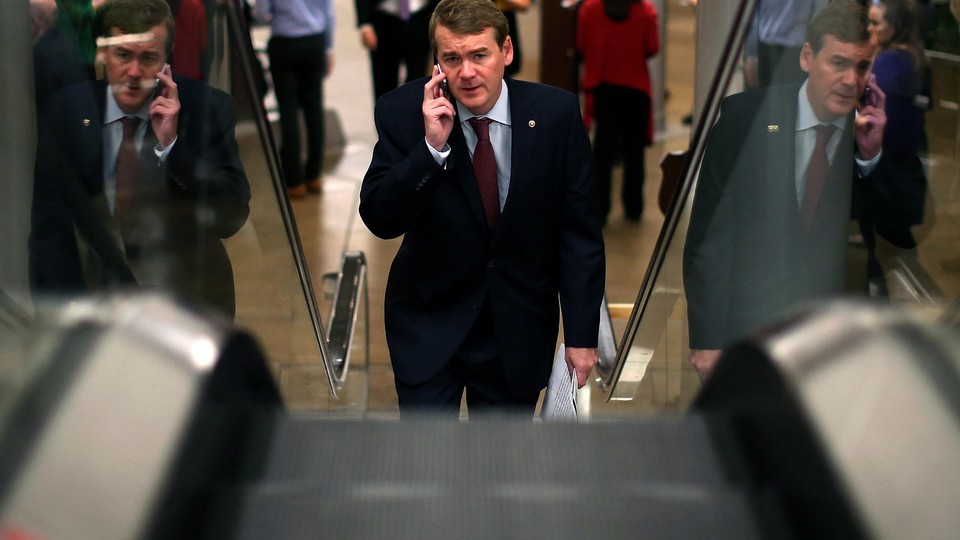 Robert Blaha, a Republican businessman from Colorado Springs, is preparing to run against Democratic Sen. Michael Bennet in a 2016 race that suddenly looks like it could get crowded with Republican candidates.
Blaha, who moun­ted an un­suc­cess­ful, self-funded primary chal­lenge to GOP Rep. Doug Lam­born in 2012, released a statement Thursday saying he'll make his decision purely based on Bennet's vote for or against the Obama administration's nuclear agreement with Iran.
"If Colorado Senator Michael Bennet votes to support this deal, he must be defeated in 2016 and I will announce my candidacy for U.S. Senate," Blaha said in the statement. "If he votes against the deal, I will stand down—period."
Blaha told National Journal on Thursday that he is actively seeking campaign staff. Patrick Davis, a Colorado Republican consultant and Blaha ally, posted to Facebook on Tuesday that he was "in the market for a campaign manager and finance director for Federal candidate," and Blaha confirmed that the search was on his behalf. Blaha's website from his congressional campaign was active as recently as Tuesday but now displays the message, "Stay tuned… updates coming soon."
Blaha's announcement comes as a handful of other Colorado Republicans have indicated interest in opposing Bennet this past week. Though Rep. Mike Coffman disappointed GOP leaders by turning down the Senate race this spring, national Republicans have turned their attention to District Attorney George Brauchler, who is considering running now that he has finished prosecuting the high-profile murder trial of Colorado theater shooter James Holmes.
Though some of Brauchler's allies have said he has the potential to clear the field and prevent other Republicans from running for Senate, Blaha maintained that the DA's decision would not affect him.
"The best way for Republicans to win in the general is to have a competitive but not divisive primary," Blaha said.
In an interview late last week, Blaha said he had been to Washington multiple times to meet with national conservative groups about the election, and he said he'd talked with GOP Sen. Cory Gardner—who he called a personal friend—about the Senate race, too. Avoiding a primary may have helped Gardner win his 2014 election against Democrat Mark Udall by giving Gardner the space to change his position on "personhood" legislation early in the campaign.
Blaha described himself "conservative fiscally and socially," and touted his status as an outsider to the political world. Though he's never served in the state legislature, he said he would have supported some form of Colorado's controversial "personhood" legislation, if it had made specific exceptions.
And he said he would be willing to invest some of his own money in a Senate race. In 2012, he listed assets totaling at least $2.8 million and as much as $8.7 million, according to The Denver Post, and he gave his own House campaign more than $770,000.
Aside from Brauchler and Blaha, the Post reported Thursday that freshman state Sen. Tim Neville is looking at the 2016 Senate race, as is Doug Robinson, a managing director of the audit and tax consultancy KPMG and a nephew of Mitt Romney, according to Politico.