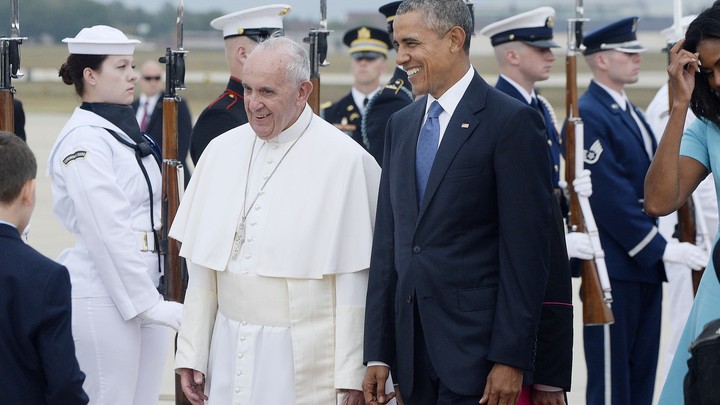 By the second sentence of his speech Wednesday morning, Pope Francis made his intention clear: He's diving headfirst into heavy political issues during his visit in Washington.
The pope opened his remarks, given from the South Lawn of the White House, by identifying himself as "the son of an immigrant family" and praising America's immigrant heritage: "I am happy to be a guest in this country, which was largely built by such families."
The pontiff also wasted no time congratulating the president on his effort to take action on climate change, an agenda that has provoked fierce criticism from congressional Republicans.
"Accepting the urgency, it seems clear to me also that climate change is a problem that can no longer be left to a future generation," Francis said. "When it comes to the care of our common home, we are living at a critical moment of history. We still have time to make the change needed to bring about a sustainable and integral development, for we know that things can change."
The South Lawn ceremony formally welcomed Francis to America, after President Obama and Vice President Biden greeted the pontiff on Tuesday when his plane, known as Shepherd One, touched down at Joint Base Andrews in Maryland. Obama and the pontiff will meet privately in the Oval Office following the South Lawn ceremony.
The two men can agree on a lot: The need to address climate change is a major issue they both consider a priority. But there are also areas, such as abortion and same-sex marriage, where Obama and Francis do not agree.
Wednesday's formal ceremony was preceded and accompanied by music from the Marine Corps Band, a mark of how much more elaborate the roll out was than those staged for other heads of state this year.
The president noted the substantial South Lawn audience at the top of his remarks, indicating that it's a testament to the pope himself. There were more than 11,000 people attending the ceremony, according to a pool report.
"Our backyard is not typically this crowded, but the size and the spirit of today's gathering is just a small reflection of the deep devotion of some 70 million American Catholics," Obama said, and "the way your message of love and hope has inspired so many people, across our nation and around the world."
Washington has been anxiously anticipating the pope's arrival. His visit this week marks his first time ever setting foot in the United States. It will also mark the first time that any pope has spoken to a joint meeting of the House and Senate. Francis is widely expected to urge Congress to speak out in favor of protecting migrants and refugees as well as action to tackle the threat of climate change when he speaks to Congress on Thursday.
Obama had strong words of praise for the pope in his remarks Wednesday, describing how Francis's personality, not only his position, has generated "excitement" in the nation's capital.
Obama said Francis calls "on all of us, Catholic and non-Catholic alike, to put the 'least of these' at the center of our concerns" and to be merciful.
"That means welcoming the stranger with empathy and a truly open heart—from the refugee who flees war-torn lands to the immigrant who leaves home in search of a better life," Obama said. And the pope reminds "us of the costs of war, particularly on the powerless and defenseless, and urge us toward the imperative of peace."
The president used his opening remarks to draw commonalities between his political agenda and that of the pope's, touching on Francis's support for improved relations with Cuba and his emphasis on environmental stewardship. Obama also emphasized their shared belief in religious freedom—a subject that's popular in the GOP presidential field.
Francis also stressed inclusivity: "Mr. President, together with their fellow citizens, American Catholics are committed to building a society which is truly tolerant and inclusive, to safeguarding the rights of individuals and communities, and to rejecting every form of unjust discrimination."
After meeting with the president on Wednesday, Francis is scheduled to give a mass at the Basilica of the National Shrine of the Immaculate Conception, the largest Roman Catholic church in America. During the mass, he'll be canonizing Junipero Serra, a Spanish missionary who worked in 18th-century California.
We want to hear what you think about this article. Submit a letter to the editor or write to letters@theatlantic.com.
Clare Foran
is a former associate editor at
The Atlantic
.