Pope Francis Has Landed in the United States
Get ready to rumble, America.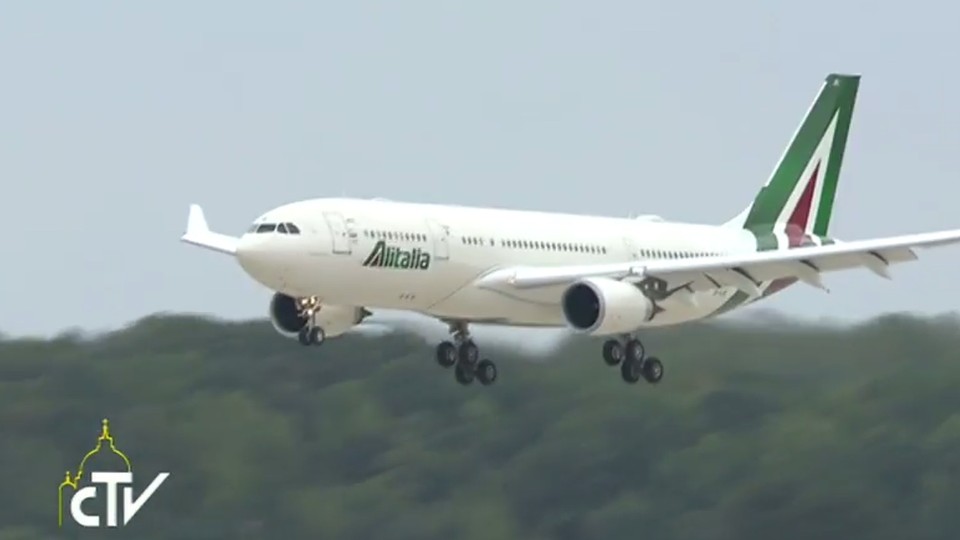 On Tuesday, Pope Francis arrived in the United States for the first time in his life. He landed at Joint Base Andrews—a little bit late, thanks Obama—to a crowd of press, politicos, and Church officials.
As the plane drew closer, the crowd chanted: "I believe that we love Pope Francis!" and "We love Francis, yes we do, we love Francis, how 'bout you?"
President Obama walked with his daughter Sasha to greet the plane. With his customary grin, Pope Francis emerged, battling the wind a little but looking generally cheerful for a 78-year-old who's been on the road for days. He did some waving and smiling and hand-shaking, and then drove away in a charmingly tiny papal car. Obama stayed behind to schmooze for a moment or two with some priests.
This trip will be historic for this pope and for the United States. Francis will be visiting the White House, addressing Congress—a first for a pope—and addressing the United Nations. He'll conduct masses, meet with bishops, and see the offices of Catholic Charities. He's also meeting school kids in New York, seeing Independence Hall, and visiting a prison in Philadelphia. Along the way, expect to hear about stewardship of the environment, care for the unborn and the elderly, and most of all, the gospel: a pastor has arrived in the United States.